#HootHelps ~ Tell us How HootSuite Helps You!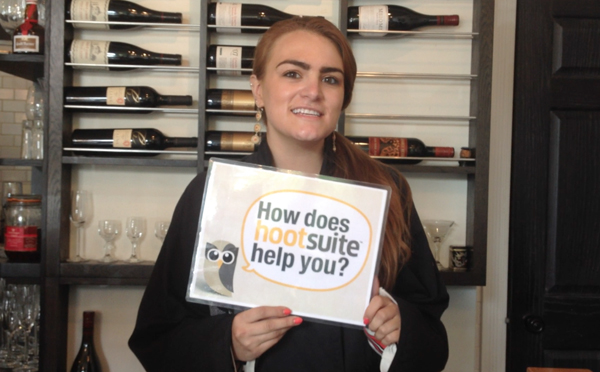 Tell us a Story
We often hear remarkable stories from HootSuite users from all across the globe. From Enterprise clients using HootSuite to manage dozens of social accounts, to non-profits helping create positive change in the world, to local businesses building their brand with a free account, the feedback we get is truly inspiring.
Whether a kind Tweet, email, picture, blog post or hand-written letter, each story of how our tool helps people manage their social media brings a smile to the face of everyone at HootSuite HQ.
The problem is highlighting and sharing these awesome stories… Lucky for you – and us – we've found a solution: The "HootSuite Help Me" video series starring you! Read on for the details to bring you fame and treats.
#HootHelps is Born
#HootHelps is a video series created to give passionate Hootfans a chance to share their story and bring awareness to their efforts – including HootSuite's role in their success.
Whether you're using HootSuite for personal or professional, large business or your solo operation, we invite you to shoot a fun video answering one key question: How does HootSuite help you?
For more details and some inspiration to get your creative juices flowing, have a look at our intro video. The video features some fun samples of how HootSuite helps businesses.
[youtube //www.youtube.com/watch?v=wO_pX6KGlck]
Inspiration
We're surprised daily with new innovative uses for HootSuite; from hospitals live-tweeting a surgery, to people pre-scheduling messages to Twitter and Facebook in order to observe secular holidays like the Sabbath. With that, we invite you to have a laugh and shoot a quick 30 second to one minute video.
The guidelines are simple, grab a camera – cheap or pro – and tell us the following:
What is your name?
Where are you from?
What do you do?
How does HootSuite help you?
That's it! However HootSuite may help you, we want to hear about it!
Upload your video wherever you please, just make sure you tag it #HootHelps and Tweet us @HootClub so we can find it!
Fame & Treats!
The videos will be featured on our #HootHelps Pinterest board. The top videos will receive shoutouts on HootSource TV, the official HootSuite Twitter and Facebook accounts and of course, oodles of HootSwag for the most awesome videos.
Have a look at one of the first #HootHelps videos sent in – funny and hot off the press from our friend John Haydon, plus, queue up some more inspiration from a HootUp in Campbell River, BC.
[youtube //www.youtube.com/watch?v=IaP7WLmP6q8]
We look forward to hearing how #HootHelps you.