HootLandia! Saying Hello to #Portland Owls – @deschutesbeer, @thedorisdiaries, @jupiterpdx ~ Look Hoo's Hooting Portland
We can't wait to share what the #PDX owls are up to and what better way to show off what's happening here than by featuring the people who make Portland the best place to eat good food and drink good beer. From legendary breweries like @deschutesbeer to innovative groups like @sisterspdx, to re-modeled landmarks like the @jupiterpdx to the wonderful character of @thedorisdiaries, the city has officially turned social.
Portland has established itself as THE place to be for a fresh glass of craft-brew, paired with a plateful of the tastiest organic and local eats from one of the – apparently 3 million foodtrucks –and HootSuite is pleased to be part of the conversation.
Today we're going to profile two Owls who represent the unique landscape of the city. Here's to you, Portlandia! Now if we could just get the folks at @PortlandiaTV to start using our dashboard.
#HootUpPortland
Join resident Community Wrangler, Connor Meakin at Lucky Lab on Hawthorne on Monday March 4 circa 6pm for drinks, casual convos and some fun. He's passing through Portland on the first leg of his #HootTrak journey to SXSW, and is looking forward to meeting Hoot friends in Portland. Register to attend #HootUpPortland here. To find out more about Connor's trip, follow @ConnorMeaks and stay up to date on all of his train-travelling and #HootUp updates.
HootProfile: The Doris Diaries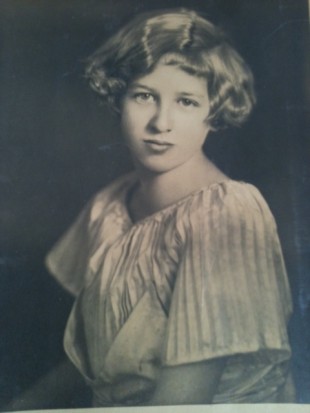 When Doris Bailey was fifteen, she decided to start keeping a diary. Now, more than ninety years later, her romantic ramblings have re-surfaced in an entirely new world — and yet her words have managed to maintain a resonance as they're frothing out of @thedorisdiaries and into the heart of the Twitter universe.
The woman behind the Twitter handle is Julia Park Tracey, the niece of Doris, and an accomplished writer, journalist, and online columnist. When Doris passed away at the age of 101, Julia inherited her old diaries. While she was reading them, she started to transcribe small passages for her Facebook page, and eventually, @thedorisdiaries was born. It's the perfect dose of historic Americana: a lightning-fast glimpse of a fun and romantic girl, weaving her way in and out of the streets of 1920s Portland.
HootProfile: Deschutes Brewery
It's true that the actual brewery isn't in Portland, but with a brewpub that has nestled it's way into the streets of the Pearl District, the Deschutes Brewery is the perfect example of craft beer done right.
The brewery was established in 1988 by Gary Fish, a newcomer to Oregon AND to brewing. An interesting move indeed, considering his lack of experience. Plus, his was the first brewery to open in the region. But Fish had the right attitude when he said: "we want people to feel like, in a lot of ways, this is theirs." It got off to a slow and difficult start, but thankfully, was able to find it's own kind of groove. With a commitment to the community and to making a great bottle of beer, the Deschutes Brewery has become an institution in the Oregon craft brewing culture. Our own VP of Community, Dave Olson, is particularly fond of relaxing with a few bottles of their Black Butte Porter.
Groups and Causes
@sisterspdx Sisters of the Road: inviting the hungriest in Portland to their tables since 1979
@feedourfamilies @ginarau's healthy family food blog, featured as 'blog of the month' by Jamie Oliver's food revolution campaign
@jupiterpdx A renovated, mid-century motor inn-turned-boutique hotel at the heart of #pdx
@theportlandpick A group of friends dedicated to showcasing local music talent in the city
@pdxmindshare  Portland's career community
@ORPoliticsGuru Conservative Watchdog focused on political issues in Oregon
@greatergiving Technology and fundraising solutions for nonprofit and charity events
@urbanmamas An online community created by five 'Portland mama's'
@thedorisdiaries Aforementioned
@amapdx Portland's branch of The American Marketing Association
@marinesportlandThe Marines. In Portland
@thefriendc A collaborative blog about.. well.. Everything
Breweries & Restaurants
@deschutesbeer One time, their craft beer was awarded the title of the 'World's Best Beer'
@rockbottompdx Handcrafted beers and food made from scratch
@alamedabrewing Home to some of the best beers around, and with a house root beer that will bring any DD to their knees
@pouregon A love letter from Mike Rohig to great beer, wine, and coffee throughout Oregon
@theRAM independent and family-owned restaurant, since 1970
News and Information
@theluvofbeer Award-winning documentary that showcases women in the Pacific NW beer crafting industry
@edibleportland Quarterly magazine telling the often overlooked stories of the regional food system
@redtricyclepdx Local news for "hip people who happen to be parents, too"
@informedguides Mobile apps and field guides for first responders
@freefunportland Info on things that are both free and fun in and around Portlandia@joshuawaldman Public speaker and author of Job Searching with Social Media for Dummies
@bundlepost Social content management system straight from the Silicon Forest
@nnpdx Local news and event source for the independent restaurant owners and neighbours that make the city so great
Businesses
@hotelmodera Boutique Hotel in downtown PDX
@kimpton With 3 destinations in Portland: Hotel Monaco, Vintage Plaza, and RiverPlace
@digitalc4 Helps boost online brand awareness through search marketing
@boutiika The app that keeps track of what's on the shelves of the best neighborhood stores
@luxebridalevent For a wedding that's "more like party than a trade show"
@imaginepropdx Helping companies with effective visual communication tools
@saporifine Get trained on coffee, and drink it, too
@anvilmedia Digital marketing agency specializing in search engine marketing, pay-per-click technology, and social media
@ecotrope Environmental news and analysis from Oregon Public Broadcasting
@tranghammco Your modern day marketing company
@embarkcreative Home of Jala Smith-Huyes: connector, social media strategist, and sticky rice connoisseur
@successpacific International consulting group
@atbauto High-quality service, great people, fair prices
Portland Remodel Custom home remodeling
StumpTown #HootFans
@wiedenkennedy The guys behind this: http://ow.ly/hHcV7
@stumptownDG Nothing screams Portland quite like 'disc golf'
@stumptowncoffee Your Annex coffee go-to
@kelseyivey freelance writer and social media strategist at @sparkloft
Brooke Carsner Matchmaker extraordinaire
@lindajellison into cycling, speedskating, animals, and travel
@lawduck not your average duck: lawyer, gamer, dad, and founder of #pdxbreakfast
@kentjlewis entrepreneur, and founder of Anvil Media
@harrisja Writer and Community Consultant
@wordstrumpet Writer and novelist, living in the "lush, green (read: rainy) Portland, OR"
@cprofita "Modern day newsie with Midwestern roots"
@tylerhollist Husband, entrepreneur, jockey-geek, and real estate techie
@todcordill General manager at SharedInk slash part-time soccer coach and dad
@pinsondigital Marketing professional
@sengsaychow HootSuite U Grad, and philosopher: "insomnia is slightly better than communism"
@bobschnyder Internet Marketing Addict, SEM, SEO, PPC, Social Media Maverick, Analytics junkie, domaing enthusiast, soccer player, Japanese speaker, world traveler, husband
@mikepopnoe Residential lending specialist
@ginarau Former ad girl, turned storyteller. Raising little Oregonians.You can find her running, on a coffee date or advocating for real food at Feed Our Families
@damorelaw Lawyer, husband, dad
@nomadpdx Writes when she finds she has run out of things to distract her from writing
But wait, there's more!
We want to get to know more of you. After all, Portland is like our cousin down the road from Owl HQ in Vancouver BC. To all fans and brands using HootSuite, please add a comment and/or tweet us @HootClub to raise your hand and introduce yourselves – Hoo knows, if you're lucky, you may even get a #HootKit in the mail!