#HootTip: Using the Hootlet for Google Search
The dashboard is chock full of features and tools to help you make the most of your social media management. To help get you acquainted with the various functionalities, or just give you a refresher, we have a new #HootTip all about a handy HootSuite feature.
To help simplify your everyday online browsing experience, we've created a free Chrome extension called Hootlet. With Hootlet, you can seamlessly search the web and social networks for content and share it with your followers instantly. As a chrome extension, Hootlet goes wherever you go online. Search for social content while you browse the web. Share your finds across multiple social networks, without ever leaving the webpage. Highlight any text online and automatically compose a message to share to your social followers.
Today, we're specifically interested how the Hootlet Chrome extension works with Google searches.
How does Hootlet work in Google?
Once you Google search a term, our extension will display tweets containing that keyword search term in a side panel. From this results panel, you can continue to follow this search term by adding a new tab or stream to your dashboard. You can also follow or retweet users that are discussing the subject – directly from the web search page. Use this feature to search for brand or industry-related social messages, to listen to what people have to say about a certain topic or to find social content on a subject.
Here's How It Works:
First, download Hootlet for your Chrome browser by visiting Hootlet.com and following the steps provided there.

Now that Hootlet is added to your browser, go to Google.com.

Google search for your keyword or subject, as you would regularly.

Next to the list of Google search results, on the far right of your browser window is a translucent icon of Owly in a semicircle.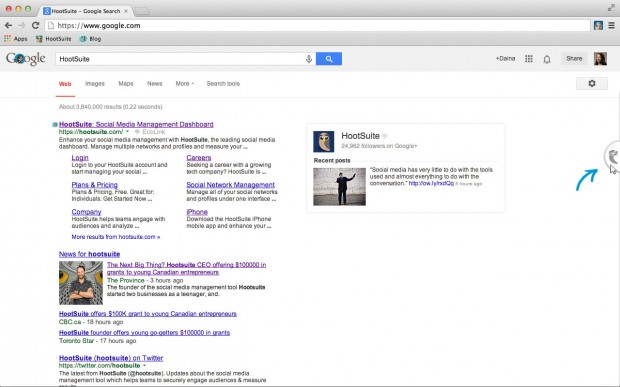 5.  Click the icon to view the side panel containing tweets revolving around that particular search term.
       6.  From the side panel, you can reply or retweet to specific social messages without leaving the browser window. By clicking either reply or retweet, a Hootlet window will popup to allow you to edit your message, schedule, autoschedule and share out over selected social networks.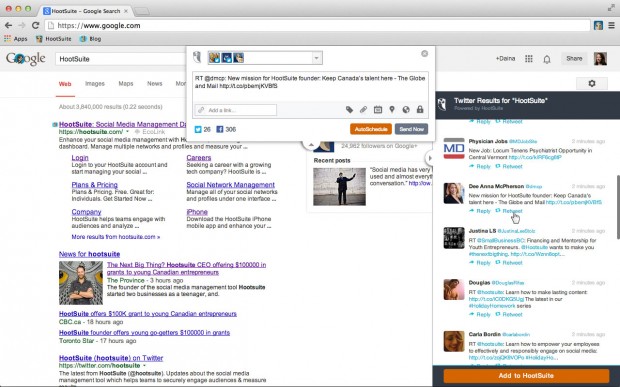 7.  To save this search stream of tweets in a tab in your HootSuite dashboard, click the Add to HootSuite orange button at the bottom of the panel. Choose to either add this stream to an existing or new tab.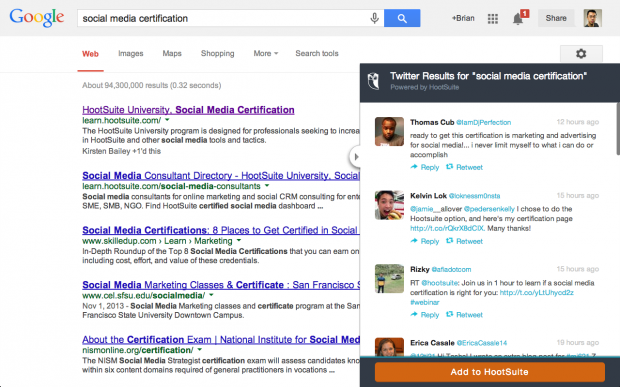 To minimize this window with results, click on arrow tab on the left side of the panel. To turn off this functionality of the Hootlet extension, go into your Chrome Preferences, click Extensions, find Hootlet and click Options, underlined below. In this popup window, turn off Show social search results beside web results.
Like many updates, we've added these handy features based on your helpful feedback. What's your next idea? Let us know on our Feedback Channel. Also, keep an eye out for a new #HootTip each week – they're short, sweet and retweetable so you can share your HootSuite expertise with your friends and followers.