HootSuite Moves: Making Room for Growth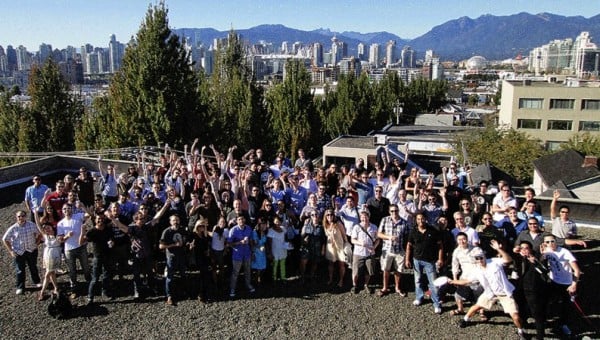 It's official. After years of cramming more and more owls into an ever-expanding space, today, HootSuite has finally moved and we've brought everything in our nest along with us. Gone are the days of CEO Ryan Holmes sledgehammering walls and duct taping styrofoam doors together to make room for our growth spurts. Saying goodbye to our Railtown home and neighbours is bitter-sweet, indeed.
But if there's one thing that we'll never leave behind, it's our culture. Woven into the fabric that makes up HootSuite are the memories and daily hints of our humble and kitschy beginnings. Like a waft of interesting smells, the first step into HootSuite will always produce the same sense of thrifty, creative and resourceful culture that every startup should embrace forever.
Like a Final Farewell to our Parents' House (and Garage, Closets)
Let's hear what our owls have to say:
"One of the top requirements was that our new space had a rooftop access because the space we've outgrown had one, and it's become a cultural fixture," says HootSuite CEO Ryan Holmes. "We have had so many great bbq's on that rooftop that I never regret the decision to move to a *slightly* rougher neighbourhood that had the key requirement of a social rooftop space. Flash forward to 2012 when I first visited our new location… guess what? It has a rooftop!"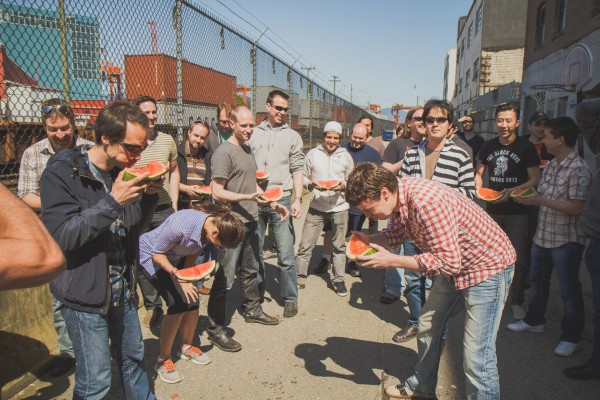 "I think our location added to our hustle culture and DIY punk-rock ethos."
"Over my three years of coming into this office some of the stories which seem intertwined with our space range from late night incidents including the Egyptian revolution, Amazon outages and the night we invited our users to pay for our product. I think our location added to our hustle culture and DIY punk-rock ethos. I look forward to the new stories we create and seeing how our culture evolves." – Dave Olson, VP Community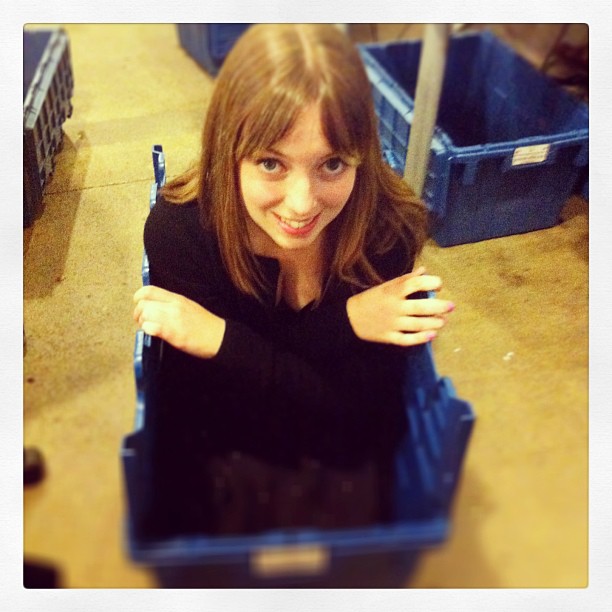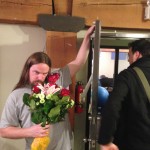 "I remember moving into this office (with Invoke) and for the first 6 months or more, half of the office was used as a dance floor as there was nobody to fill the room… Every milestone, achievement and shotgun has taken place in this office, so a lot has been achieved here." – Paul Donnelly, Creative Director
"Starting in that small space shared with the entire team made it special and easy to love. That's where the backbone of our culture started. But, wherever we go, our culture stays with us and we'll build more of these positive communities elsewhere." – Joanna Ambrosio, Art Director
"I'm trying to think of what I will miss about this place… and I can't think of anything. It's not that it wasn't a great time or space, but… all the awesomeness that happened was 99% due to the people here. And when we relocate, all those people will be there and make the new space so much more awesome than this place." – Greg Williams, QA Tester (and the man behind all the wiggly gifs in this post).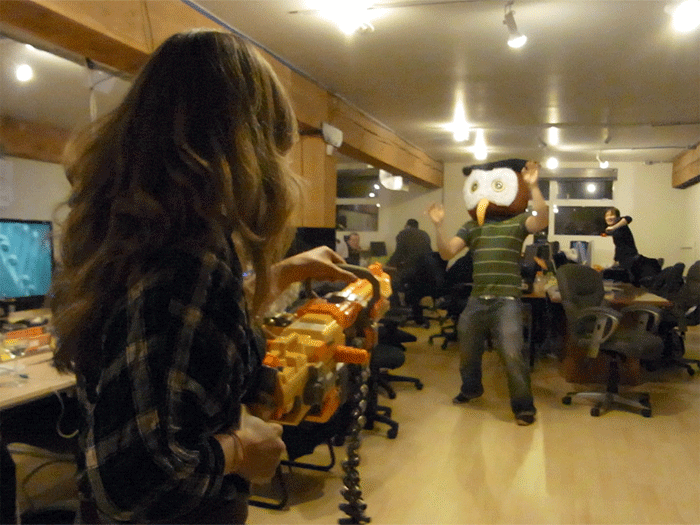 "From a team of 24 to a team of 224(ish) somehow the space has always felt the same. Sure, there are more people and more rooms, each with its own distinct climate and smell, but the characteristics remain steadfast. There's something special about building a company you love by huddling with team members around a laptop on the roof, sitting on the floor for quarterly reviews and knowing that no day is ever the same (and neither is your chair)." – Ashley Brookes, Enterprise Customer Marketing Manager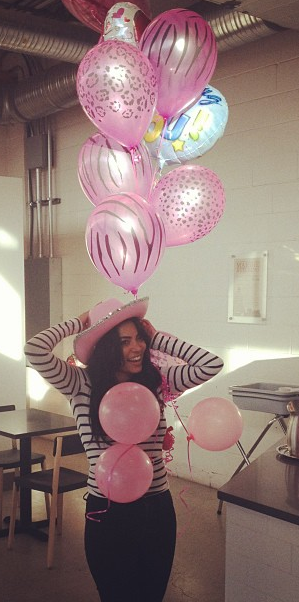 "The best part of our Railtown home is how it fosters community. We've never had enough space and it's always been cramped. This has informed our hustle though, and forced us to be flexible and patient with each other. Since the days when we shared the space with Invoke it's always felt like a close-knit family; something that's hard to find in other workplaces." – Donné Torr, Writer
"We have built an incredible community and connection with our neighbours… which has in turn helped us shape our culture. Moving to our new neighbourhood feels a bit like graduation and the first day of school combined." – Destin Haynes, Director of Community
"Dirty bikes, wandering dogs and men with pimpin' beards. Those were the first three things I saw when I walked in the HootSuite office." – Stephanie Wiriahardja, Community Coordinator
"I love the old office. It's where HootSuite kept outgrowing its surroundings, like a teenager going through a growth spurt." – Kemp Edmonds, Sales Engineer and Product Specialist
"The only thing that's kept this place together is duct tape, glue and hope." – Chris Trottier, Ambassador of Happiness
"As much as we broke it and shaped it, it did the same in turn to us."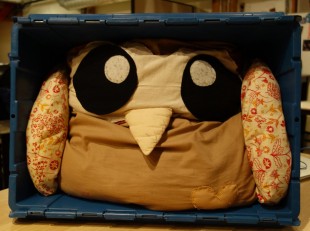 "There was never enough space, the phone lines were nonexistent, the internet was sketchy, the meeting rooms were always full, and at times, it smelled like dog pee. But despite – or probably because of – all that, HootSuite has come to embody this value of resourcefulness, of pushing the limits of every square inch that you're given. When we didn't have enough space, we punched down a wall, then took over a garage, then kicked out a parent company, then turned a closet into our customer service room," says Marcus Jung, Enterprise Account Executive. "We're about people, resourcefulness and entrepreneurialism. It wasn't about the glitz or glamour; what was important was that we had people in the same room, trying to do something awesome, making an awesome product. As much as we broke it and shaped it, it did the same in turn to us."
Day-of Thoughts on the Move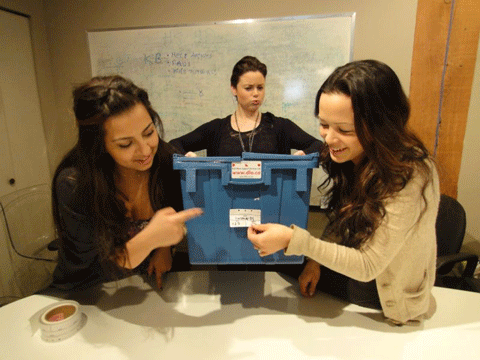 "I feel great about the move. It's been such a whirlwind of emotions. But today, I'm just excited and looking forward to seeing how everyone settles in to their new and improved nest." – Sepi Bordian, Operations Manager
We'll share the story of our new space once we've had a chance to settle in. For now, you'll have to follow some of the owls in the above post, in case they happen to leak some photos of our new home. Follow #HootMove on Twitter for updates and images.
Big thanks to our amazing Ops Team for making all of this happen.