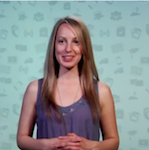 Welcome to another episode of HootSource Webisodes! Hosted by Tasia Custode, these short videos cover the latest happenings at HootSuite and emerging social media trends.
Did you catch last week's pilot episode?
HootSuite Mobile, LinkedIn Company Pages, World's Largest Webinar and more!
In this episode, HootSource Webisodes will take a peek into:
In the Director's Chair
What would you like to see in the next episode of HootSource? Let us know by tweeting @HootWatch or commenting below. Plus, don't forget to subscribe to our HootSuite YouTube channel.