¡Ululando en español! ~ Hoot in Spanish with Translated #HootSuite
We've written this post in both Spanish and English to celebrate the release of the Spanish-language version of the HootSuite social media web dashboard. Read on for the English version.
El cliente web de HootSuite, en español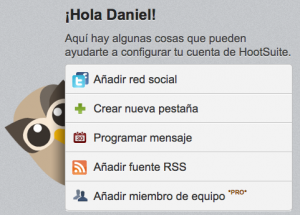 Nuestra gran e internacional comunidad de usuarios hispanohablantes nos había pedido con insistencia la traducción de HootSuite a su idioma. Por esa razón, hoy estamos realmente felices al poder anunciar públicamente el lanzamiento de la aplicación web de HootSuite en español.
Nuestros búhos están enamorados del español y ahora podrán seguir construyendo sus nidos más fácilmente en España, Latinoamérica y otros puntos del planeta para facilitar la gestión profesional de redes sociales a usuarios, organizaciones y empresas.
Apuesta clara por el español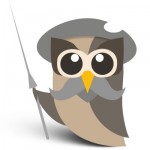 En HootSuite apostamos por el español, idioma imprescindible en nuestro plan de desarrollo. En los últimos meses, hemos lanzado una cuenta de soporte en español (@HootSuite_ES), creado una sección específica en nuestro Help Desk y publicado Hojas Informativas y Casos de Estudio, entre otras muchas acciones.
El crecimiento de la comunidad hispanohablante ha sido, en esos meses, próximo al 100%, lo cual nos reafirma en nuestra decisión. Hemos creado una infografía para compartir algunos de los datos sobre el  uso de HootSuite en los países con el español como primer idioma: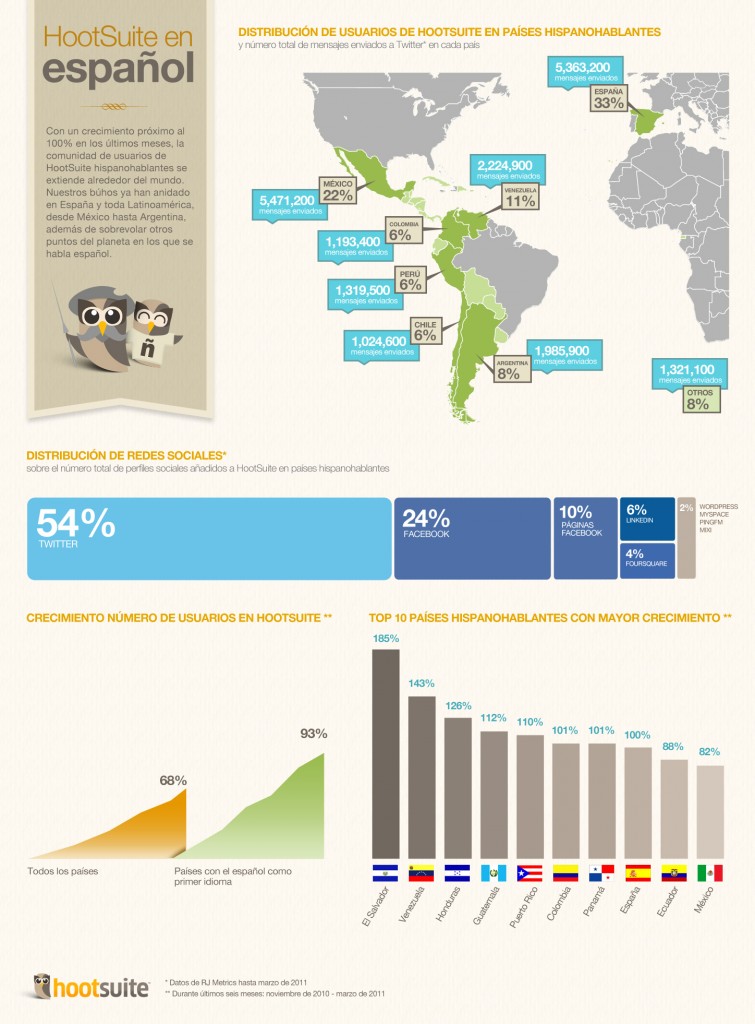 Traducción en equipo

La traducción al español de HootSuite no hubiera sido posible sin el crowdsourcing y la ayuda de muchos fans y usuarios (@argyle13, @JesusGallent, @manutazu, @Josemi, @vexerina, @abelcastosa…) que han ofrecido sus traducciones de manera desinteresada a través del Translate Project.
Todo este trabajo, además, hubiera sido en balde sin la colaboración inestimable de Rafa Merino y Lola Buendía. Ellos, además de ser los coordinadores del proyecto, han sido las personas que más traducciones han aportado.
Top traductores HootSuite al español:
@rafamerino es formador TIC de profesión y geek por definición. Su tendencia "a materializar ideas sólo por ver qué pasa" le llevó a colaborar en la traducción de HootSuite.
@lbuendia es periodista especializada en el ámbito digital y en la promoción de destinos turísticos. Fan de HootSuite.
@drobles es uno de nuestros búhos ;) (y la persona detrás de @HootSuite_ES)
Búhos en tu bolsillo y… ¡gracias otra vez!
Además de la recién estrenada versión de HootSuite en español, recuerda que dispones también de nuestras aplicaciones para iPad, iPhone, BlackBerry y Android en tu idioma. Si detectas cualquier error en las traducciones, por favor ponte en contacto con @HootSuite_ES o envía un correo a translate+es[at]hootsuite.com.
La pasión por HootSuite que estamos viendo en la comunidad hispanohablante en los últimos meses nos llena de energía. Gracias a todos, y especialmente a los traductores que han ayudado a que esto fuera posible. ¡Y bienvenidos todos los nuevos amigos que empiecen a utilizar HootSuite en español!
******************
HootSuite Web Now in Spanish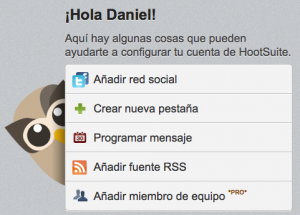 The HootSuite translation project is in full swing and today we're thrilled to release a version of HootSuite web for Spanish-speaking users.
The new Spanish option is now available for anyone to use – just choose by clicking Settings > Preferences then select your desired language from the pull-down menu.
We're big fans of this enthusiastic community, and will continue to outreach to users in Spain, Latin America and other parts of the world to encourage social media participation for individuals, organizations and businesses.
Committed to the Community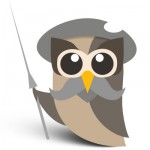 Spanish is key to our development plan. In the past six months, HootSuite has launched a Spanish support account (@HootSuite_ES), plus a dedicated section on our Help Desk as well as various Info Sheets and Case Studies translated to Spanish as well as Japanese.
The Spanish-speaking HootSuite community grew nearly 100% in the past 6 months! We created an infographic to share some facts about HootSuite owls in countries with Spanish as their first language: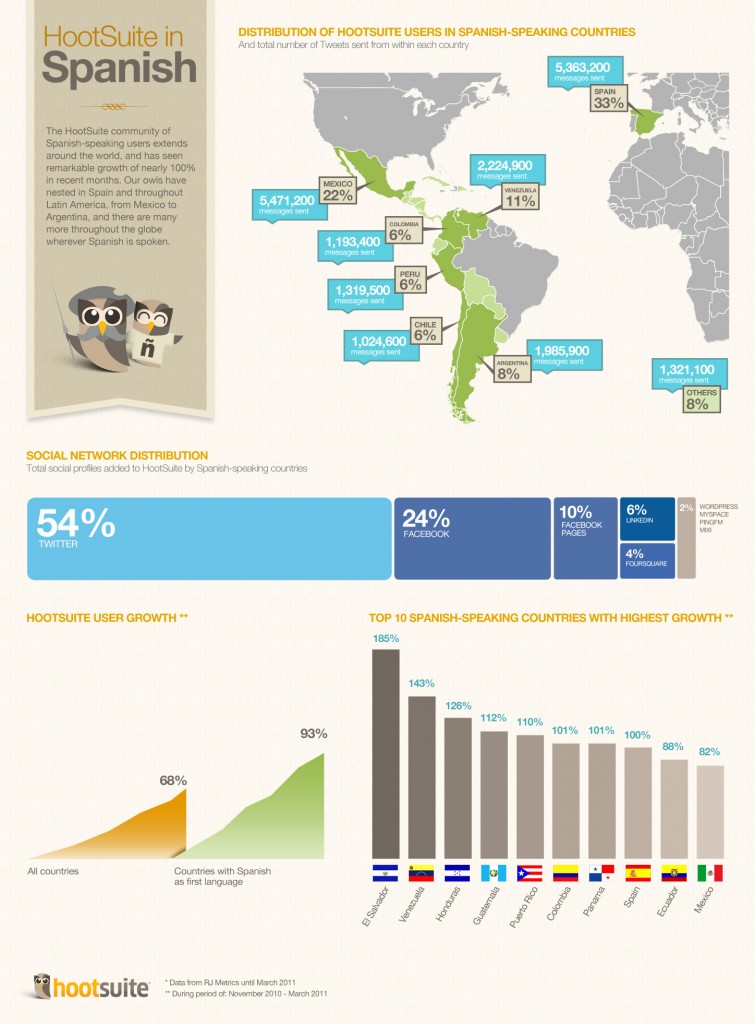 Team Work Translation

Translating HootSuite into Spanish was made possible thanks to the crowdsourcing and generous help of many fans and users – special thanks to: @argyle13, @JesusGallent, @manutazu, @Josemi, @vexerina, @abelcastosa who made a significant contribution of their time and effort to provide translations.
We also want to give huge thanks to the invaluable and tireless collaboration of the project coordinators: Rafa Merino and Lola Buendía. Not only did they coordinate this massive project, they're also the greatest contributors of Spanish translations.
Top HootSuite Spanish translators:
@rafamerino IT trainer by profession and geek by definition. He has collaborated in the project because of its tendency "to materialize ideas just to see what happens".
@lbuendia is a digital journalist specializing in the promotion of tourist destinations. HootSuite fan.
@drobles is one of our owls! ;) (and the guy behind @HootSuite_ES)
Muchos Mobile
The mobile HootSuite versions for iPad, iPhone, BlackBerry and Android devices are already equipped with Spanish translations. Whether you update from web or mobile, you can choose Spanish wherever you are!
Join The Translators & Thanks Again!
Do you want to see your language in the dashboard next? You can participate in the Translation Project to help localize the dashboard for your community.
And if you're hooting with the Spanish version, get in contact with @HootSuite_ES or send an email to translate+es[at]hootsuite.com if you see anything that needs a change.
The passion for HootSuite we're seeing in the Spanish-speaking community inspires us to keep bringing you more. Thanks to everyone and especially to the translators and coordinators.  Welcome to all our new users!