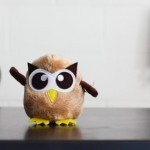 How To Win a Plush Owly
Read this post in: Español, Português, Deutsch, Français, Svenska, Nederlandse, 中文, Bahasa, Italiano
The Plush Owlys have arrived and things are getting a little crazy. We're running out of room in the Nest and we need your help! There are millions of HootSuite users, but we only have 100 Owlys to spare, so you're going to have to get creative.
Show us how much you love HootSuite in a tweet, post, video, drawing, photo, blog post, mural, song… the options are endless! The top 100 submissions will be sent their very own Plush Owly.
Share your submissions with us on Twitter by tweeting @HootClub or Instagram by tagging @HootSuite. Don't forget to include the hashtag: #PlushOwly.
The contest runs for two weeks and deadline is 11:59pm PST on October 16th, 2013. We'll announce the winners in a series of blog posts after the contest closes, so keep your eyes out on the HootSuite Twitter, Facebook and Google+ as well as the HootClub Twitter. Limited one Owly per person/submission.
Good luck, we can't wait to see what you create!
Español
Owly, nuestro búho de felpa, ha llegado y las cosas se están poniendo un poco alocadas. Nos estamos quedando sin espacio en el nido y necesitamos tu ayuda!
Hay millones de usuarios HootSuite alrededor del mundo y tenemos 100 Owlys para regalar. Es hora de ser creativo y mostrarnos tu cariño por HootSuite a través de un tuit, post, vídeo, dibujo, foto, mural, canción… las opciones son infinitas! Los mejores 100 recibirán uno de nuestros lindos y felpudos Owlys. Hay un límite de un Owly por ganador por eso debes ser muy original porque esta es tu oportunidad.
Recuerda compartir tu publicación con nosotros en Twitter mandando un tuit a @HootClub y no olvides incluir el hashtag: #PlushOwly
El concurso es válido por dos semanas y puedes mandar tu publicación hasta el 16 de Octubre del 2013 a las 11:59pm PST. Anunciaremos los ganadores en una serie de blog posts, así que manten tus ojos abiertos en HootSuite Twitter, Facebook, Google+, y también en HootClub Twitter.
Estamos muy emocionados de ver tus creaciones, buena suerte!
Português
As Owlys, nossas corujas de pelúcia, mal chegaram e já estão causando! São tantas delas que já estamos ficando sem espaço aqui no ninho e precisamos da sua ajuda.
Há milhões de usuários HootSuite ao redor do mundo e você poderá ser um dos ganhadores de uma das 100 Owlys que temos para distribuir. Esta é a hora de deixar a sua criatividade rolar e mostrar o seu carinho pela HootSuite através de um tweet, post, desenho, música… Enfim, as opções são infinitas! Os 100 melhores receberão uma coruja diretamente em sua casa. Lembrando que o limite é uma coruja por pessoa, por isso seja bem original com seu conteudo porque esta é sua chance.!
Não se esqueça de compartilhar sua postagem com o @HootClub via Twitter, exclusivamente, lembrando de usar a hashtag: #PlushOwly.
O concurso é válido por duas semanas e expira no dia 16 de Outubro às 15:59, hora de Brasília. Os vencedores serão anunciados no blog da HootSuite após encerramento do concurso, por isso fique de olho em nosso Twitter, Facebook e Google+ assim como no @HootClub.
Boa sorte e que a coruja esteja com você!
Deutsch
Bei uns sind neue Plüsch-Owlys eingeflogen und jetzt geht es hier drunter und drüber. Hier im Nest geht uns der Platz aus und daher brauchen wir deine Hilfe!
Es gibt Millionen Nutzer von HootSuite, aber wir haben nur 100 Owlys zu verschenken. Du musst also Kreativität beweisen. Zeig uns, wie sehr Du HootSuite magst in einem Tweet, Post, Video, Foto, Blogbeitrag, einer Zeichnung, Wandmalerei…alle Möglichkeiten stehen dir offen! Die 100 besten Einreichungen aus der ganzen Welt bekommen ihr eigenes, kuscheliges Tierchen (nur ein Plüschtier pro Einreichung)!
Teile deine Einreichung mit uns auf Twitter, indem Du einen Tweet an @HootClub schickst und ihn zusätzlich mit dem Hashtag #PlushOwly versiehst.
Der Wettbewerb läuft zwei Wochen und die Deadline ist am 16. Oktober, 2013 um 23.59 Uhr PST. Die Gewinner werden in einer Reihe von Blogbeiträgen nach Einsendeschluss bekanntgegeben. Behalte also HootSuite auf Twitter, Facebook und Google+ und auch HootClub auf Twitter im Auge.
Viel Glück, wir sind gespannt auf deine kreativen Ideen!
Français
Les Owlys (hiboux en peluche) sont arrivés ! Le nid est très animé mais maintenant, nous manquons de place … nous avons donc besoin de votre aide !
S'il y a des millions d'utilisateurs d'HootSuite, il n'y a que 100 Owlys à adopter, vous allez donc devoir faire preuve de créativité. Montrez-nous comment vous aimez HootSuite dans un tweet, un post, une vidéo, un dessin, une photo, un billet de blog, une peinture murale, une chanson … les possibilités sont infinies ! Les 100 meilleures participations dans le monde recevront leur propre animal de compagnie (une seule peluche par soumission) !
Partagez vos créations avec nous sur Twitter (@HootClub) sans oublier d'inclure le hashtag #PlushOwly.
Le concours se déroule pendant deux semaines jusqu'au 16 octobre 23h59. Les gagnants seront annoncés sur notre blog dans une série d'articles à la fin du concours. Surveillez donc les comptes HootSuite sur Twitter, Facebook et Google+ et sur le HootClub sur Twitter.
Bonne chance ! Nous avons hâte de découvrir vos créations !
Svenska
Våra nya Owly-maskotar har anlänt och det börjar bli trångt i fågelboet. Vi behöver din hjälp att ge de ett nytt hem!
Vi har 100 Owly-maskotar att ge bort till en av HootSuites miljontals användare. För en chans att vinna en Owly behöver du gnugga geniknölarna och vara kreativ. Beskriv hur mycket du tycker om HootSuite i en tweet, uppdatering, video, teckning, foto, blogginlägg, väggmålning, sång … Endast din fantasi sätter gränserna! De bästa 100 bidragen runtom i världen kommer få en gosig vän (endast en Owly per bidrag)!
Posta ditt tävlingsinlägg till oss på Twitter genom att tweeta @HootClub med hashtagen #PlushOwly.
Tävlingen pågår i två veckor fram till 23:59 PST den 16 oktober 2013. Vi tillkännager vinnarna i en bloggserie efter tävlingen avslutas, så håll ögonen på Twitter, Facebook and Google+ samt HootClub Twitter.
Vi ser fram emot ditt kreativa bidrag. Lycka till!
Nederlands
De plushen Owly's (Uiltjes) zijn aangekomen en de gekte daarrond is losgebroken!   We komen plaats te kort en hebben jouw hulp nodig!
Jullie zijn met miljoenen HootSuite gebruikers, maar we hebben maar 100 uiltjes weg te geven. Iedereen  zal dus zeer creatief uit de hoek moeten komen.  Toon ons hoe graag je Hootsuite gebruikt in een tweet, post, video, tekening, foto, muurschildering, liedje,… de opties zijn eindeloos.  De leukste 100 inzendingen worden beloond met een uiltje! (1 per inzending)
Deel jouw creatieve inzending via twitter @Hootclub en vergeet zeker niet de hashtag #PlushOwly niet.
De wedstrijd loopt 2 weken en de deadline is 16 oktober 2013 11:59 PST.  De winnaars worden in een reeks blogposts bekend gemaakt na de wedstrijd.  Houd dus de HootSuite Twitter, Facebook en Google+ alsook de HootClub Twitter in het oog.
Veel succes !  we kunnen amper wachten om jullie creaties te zien.
中文
长毛绒猫头鹰纷纷飞抵我们的巢穴,它们人数众多,这里地方有限——我们需要你的帮助!
HootSuite用户众多,但长毛绒猫头鹰仅有100只。因此,想要拥有这只可爱的猫头鹰,你要用创意与我们交换——例如,用Twitter, 部落格,视频,绘画、照片、壁画、音乐等方式告诉我们对HootSuite的喜爱,形式不限。我们将选择前100名得奖者,从总部寄出长毛绒猫头鹰(每位获奖者仅限一只)。
记得在Twitter @HootClub #PlushOwly,与我们分享你的作品。
这个活动将持续两周,在温哥华时间10月16日11:59pm截止。我们会在随后的系列部落格中宣布所有的获奖选手。记得在HootSuite Twitter, Facebook, Google+以及HootClub Twitter中关注活动进程。
祝你好运,我们期待你的作品。
Bahasa
Boneka imut Owlys telah tiba dan kami butuh bantuan kamu karena kini hal-hal menjadi sedikit gila!
Ada jutaan pengguna HootSuite, tetapi kita hanya memiliki 100 Owlys untuk dibagikan, jadi kalau kamu mau mendapatkannya, kamu harus kreatif! Tunjukkan kepada kita betapa kamu mencintai HootSuite dalam bentuk tweet, posting, video, gambar, foto, blog, mural, lagu… apa saja deh! Kami akan kirim 1 boneka Owly ke top 100 peserta di seluruh dunia.
Jangan lupa tweet kamu di Twitter @HootClub dan dengan hashtag #PlushOwly.
Kontes ini berlangsung selama dua minggu dan tenggat waktu adalah 13:59 WIB pada 17 Oktober 2013. Kami akan mengumumkan pemenang dalam serangkaian blog setelah kontes ditutup. Ikuti terus perkembangannya di Twitter, Facebook and Google+ dan HootClub Twitter. Ikuti juga #PlushOwly untuk lihat hasil kreasi dari teman-teman di sekeliling dunia.
Semangat ya! Kita tidak sabar untuk melihat hasil kreasi kamu!
Italiano
Gli Owlys di peluche sono arrivati, e la situazione sta quasi precipitando. Non abbiamo quasi più spazio qui nel nostro nido, ci serve una mano!
Ci sono milioni di utenti HootSuite, ma abbiamo solo 100 Owlys da regalare, quindi per ottenere il tuo, dovrai dare libero sfogo alla tua vena creativa. Basta mostrarci la tua passione per HootSuite con un tweet, un post, un video, un disegno, una foto, un post sul tuo blog, un murale, una canzone… le possibilità sono infinite! Le migliori 100 idee da tutto il mondo, riceveranno un Owly di peluche da coccolare tutto per loro (solo uno per candidatura!)
Condividi su Twitter la tua partecipazione scrivendo a @HootClub, e non dimenticare di includere il nostro hashtag: #PlushOwly.
Il concorso dura due settimane e termina alle 20.59 (ora italiana) del 16 ottobre 2013. Comunicheremo i vincitori in una serie di post sul nostro blog, quindi tenete gli occhi aperti sui nostri account Twitter, Facebook e Google+, e anche sul nostro profilo HootClub su Twitter.
In bocca al lupo, non vediamo l'ora di scoprire le vostre idee!