HootSuite Owls Go Green in Their New Office Habitat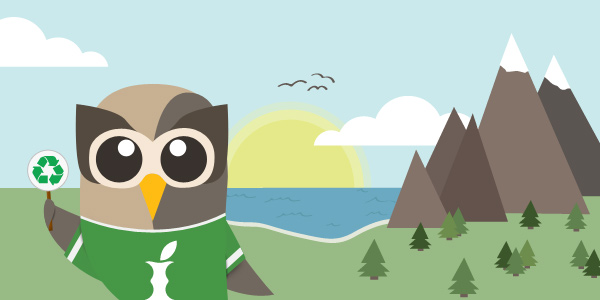 There's a reason the new HootSuite office has a camping theme: we all love the outdoors! Hiking, snowboarding, mountain biking… these are the activities HootSuite owls enjoy when we're not in front of a screen talking to other social media users.
Since we all cherish the time we get to spend enjoying the natural beauty of British Columbia, we also wanted to do our part to protect this environment. As such, our new office represents a commitment by the company and all of its employees to make HootSuite an eco-friendly place to work.
Green Office Initiatives
One of the major green initiatives in this office space is the introduction of a composting and recycling program. Clearly marked compost and recycling bins, with visual explanations of what types of material can be included in each, have been set up throughout the building. Through this program HootSuite is working to significantly reduce our waste output.
HootSuite recycled in another way by bringing many of the desks, chairs and other items from our former office instead of buying new ones. Recycling these materials was both green and cost efficient. We are also continuing our practice of offering dishes and cutlery to all employees in the hopes of reducing the use of paper and plastic plates and forks, and other take-out staples. In doing, and by providing staff with baskets of organic fruit several times a week, so we also encourage them to bring lunches and consequently reduce the vehicular carbon footprint caused by ordering in.
Despite adding hundreds of employees in only a few years, HootSuite's paper usage has gone in the opposite direction. One way we've done so is by placing massive whiteboards throughout the office for people to use during meetings and brainstorming sessions. Employees are encouraged to use the whiteboards and then copy that information onto their computers, eliminating the middleman role once occupied by paper. On that same vein, HootSuite's contracts are all created and signed electronically.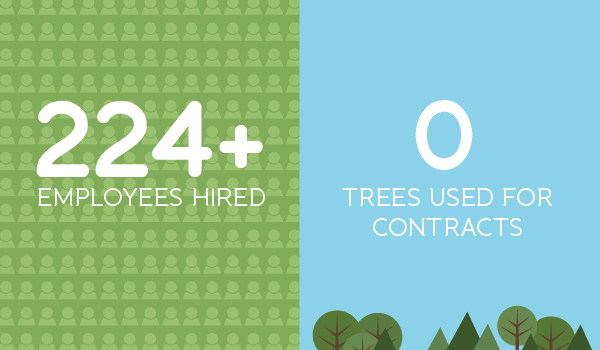 Finally, HootSuite has a massive bike and fitness culture. In providing our employees with proper bike storage in the new office space, we hope to encourage people to bike to work instead of driving, reducing our carbon footprint in the process.
We at HootSuite wish everyone a happy and healthy Earth Day!
For other environmentally friendly stories on this special day:
Does your company undertake any green initiatives? Share with a tweet or comment below.