HootSuite and IBM Team Up to Enhance Social Collaboration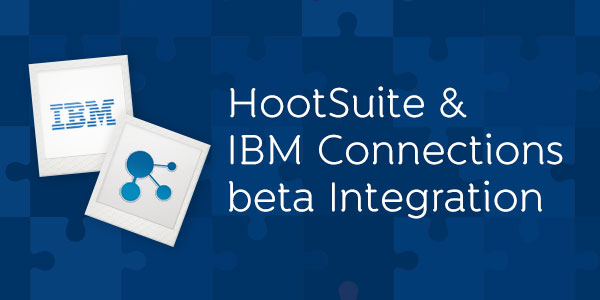 The rise of mobile devices, a distributed workforce, and the evolution between social media and more 'traditional' communication channels have all culminated in an environment where the lines of communication are varied depending on audience and purpose.
In order to meet the needs of those working in this environment, HootSuite today announced a private beta integration with the IBM Connections platform.  This allows IBM Connections customers to integrate content from IBM Connections into the HootSuite dashboard so it can be viewed and actioned alongside social media data from Facebook, Twitter, LinkedIn, and other social networks and applications. This IBM Connections integration is the first of its kind, no other platform brings your corporate social streams within IBM Connections and public social media together as efficiently.
Business professionals frequently take information, articles, and conversations from a variety of sources and apply them in day-to-day work. Now any employee can take an interesting piece of content from Twitter, Facebook and, with a couple of clicks, publish that content into their IBM Connections Communities directly from the HootSuite dashboard. No more cutting and pasting links into email accounts and reposting in Connections communities one-by-one. The new workflow allows you to simply click on the share link, select the Community in which you want to post to, and add a message to your fellow community members.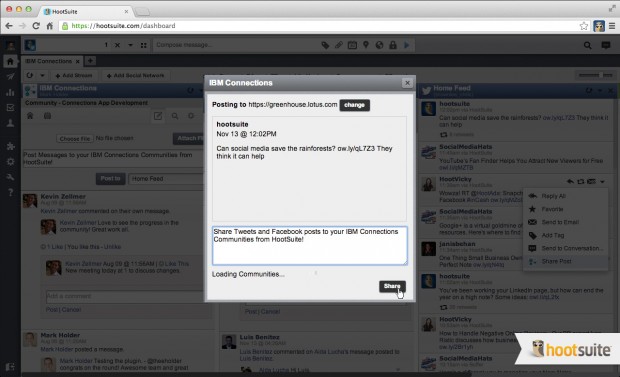 "We have been listening to our customers' needs for integration with social media. Over the past few months, HootSuite has developed an integration to start meeting those needs and enable our customers to leverage not only the social features of IBM's Smarter Workforce but those of social media." says Sandy Carter, General Manager, Ecosystem Development and Social Business Evangelist. "The ability to be more social inside and outside of an organization is critical.  The next generation workforce expects this and knows nothing else."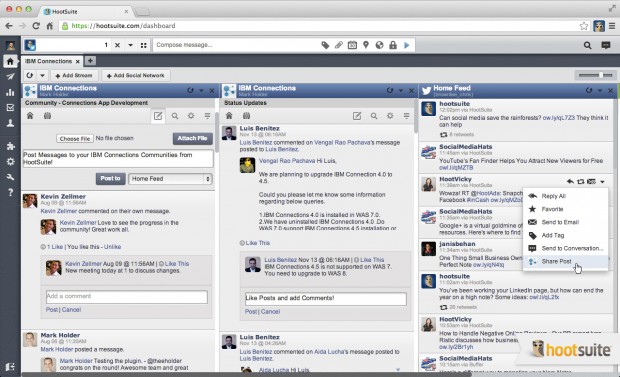 "Social media has become a powerful tool for innovative organizations that recognize the value of real-time engagement and collaboration between employees," says Ryan Holmes, CEO of HootSuite. "IBM Connections users now have an efficient and effective way to bring their personal and public social media profiles into their workplace. I'm thrilled for this partnership and what it means for the future of organization-wide collaboration."
The HootSuite IBM Connections Application is free for HootSuite Enterprise and IBM Connections Customers.  If you are interested in learning more and you're an existing HootSuite customer please contact your account manager.  If you're not an existing HootSuite customer, please click here to apply for the beta.