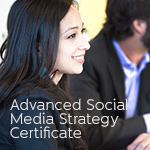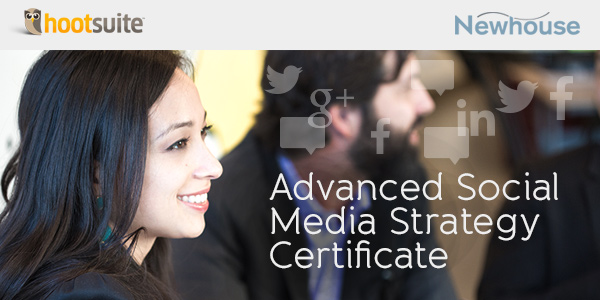 Strategic, social media skills are no longer a niche need for marketers. As brands, businesses, entrepreneurs and practitioners around the world advance their social media efforts to keep up with their customers and competitors online, these abilities are required across a multitude of positions and departments.
With this shift in the business landscape, there is now a clear need for certified business professionals with hard skills and a strategic understanding of social media and how it fits across the entire organization.
In order to empower this new generation of digital professionals, HootSuite is thrilled to announce our partnership with Syracuse University's S.I. Newhouse School of Public Communications, an industry leader for innovation and bridging the digital skills gap. The first partnership of its kind, we've teamed up to create an Advanced Social Media Strategy (ASMS) Certificate geared towards providing the digital skills and strategy expected of today's workforce.
Learn more about the #ASMSCert in our upcoming webinar on Tuesday, November 5th at 11am PST / 2pm EST.
The ASMS Certificate is earned online, providing flexibility in schedules and pace for professionals. The course is taught by Newhouse Social Media Professor Dr. William J Ward (aka @DR4WARD), and participants will have the valuable opportunity to engage directly with Dr. Ward through personalized feedback and assessments.
Participants will engage in 15 self-paced, comprehensive lessons on social media strategy covering the entire social media ecosystem, including:
Situation and Environment Analysis: Students will be introduced to the social media ecosystem and the importance of social business and social media monitoring.
Strategic Planning Process: Social media strategy and appropriate listening and response tactics will be covered, including the power of social influence and measuring success and ROI.
Content Strategy: Content marketing topics, including paid social, engagement, curation, and real-time responsive marketing will provide an overview of the various strategies that are being deployed today.
Information Management and Threats: Topics on crisis management and information security are key components of privacy that will detail how to protect customer and employee data.
Early participants in the ASMS Certificate include representatives from Universal Sony Pictures, Coors Light Canada, Edelman, KPMG Canada, Florida Panthers, lululemon athletica, Canada Safeway, US Small Business Administration and more.
Joel Trenthowan, Family Product Manager at Universal Sony Pictures Home Entertainment, told us about about his experience.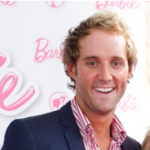 "I work in the marketing department at Sony Pictures building out the marketing campaigns for each of our title releases, and social media is always a big part of this mix. The ASMS certificate provided a fantastic opportunity to enhance my industry knowledge and build on my skill set, in order to be even more strategic in these social media efforts."
Gain skills, strategy and credentials on social media strategy and advance your professional development.
More From Today's Social Media Professionals
"The Newhouse-HootSuite Advanced Social Media Strategy certification is not only a great overview of the issues and possibilities surrounding social media but also a refreshing way to help you analyze your brand's strategic approach. Dr. Ward has been involved with all ends of the industry and provides well rounded coursework in easy-to-follow formats."

– Adelyn Biedenbach, Digital Media & Communications, Florida Panthers

"Completing the ASMS certificate allowed me to earn recognized credentials from two leading brands, both from directly within the industry and from higher education, showcasing my strategic knowledge on social media for business. This helps me put my best foot forward in a highly competitive industry, and continue to support small businesses in the federal procurement marketplace."

 – Tiffani Clements, Public Affairs Specialist, US Small Business Administration 

"In my role, I coordinate a variety of marketing initiatives, including our social media efforts. The ASMS certificate has given me the applied skills and knowledge to create a comprehensive social media strategy, and a strategic understanding of how social media impacts the entire organization."

– Matt Lang, Assistant Marketing Manager at Coors Light™, Molson Coors 

"Earning my Advanced Social Media Strategy certificate not only strengthened my social media skills and knowledge, but these credentials from two industry leaders give me further credibility and recognition as an expert in social media strategy, instilling confidence in my clients."

– Melissa Goveas, Senior Account Manager, Edelman

"Working in advertising, it's crucial that I'm keeping up to date with today's changing digital communications. ASMS was exactly what I needed to really understand social media from a strategic vantage point, beyond the execution, and across an organization."

– Brenna White, Digital Marketing, Canada Safeway

"The ASMS certificate delivers comprehensive education and training on the entire social media ecosystem at a strategic level. It allowed me to see how social media fits across the entire organization at a high level, and how it helps me achieve my marketing goals."

– Sarah Rambold, Senior Marketing Coordinator, KPMG Canada