Owls Arrive in Poland: Witajcie Sowy! – HootSuite Polish Version for Web and Mobile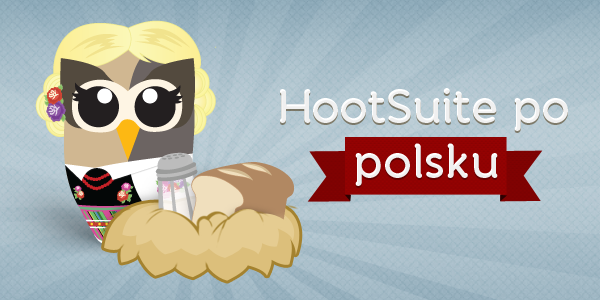 **** Poniżej możesz zapoznać się z polską wersją tego wpisu. ****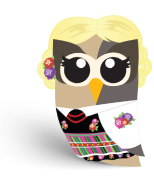 We're excited to announce a new Polish version of the HootSuite Social Media Dashboard for web and mobile apps including iPhone/iPad, Android and BlackBerry. This announcement follows HootSuite's Portuguese dashboard release in February 2012 and brings the total up to 15 languages localized – 7 available for the web dashboard.
We're happy to offer this fully localized version of the dash to all of our Polish speaking users which will allow them to discover their interests, engage with their audiences and improve social campaigns in their native language.
Along with this release, we're also introducing a new member to the Owly family! This cute Polish Owly is wearing a traditional dress inspired by the colorful floral dresses found in Łowicz, Poland. Fun fact: We've also learned a few things about Poland including the love of Easter Eggs and the importance of bread and salt as welcoming tokens.
Poland, an Emerging Internet Market
With almost 40 million people, Poland is an emerging country in Internet use. According to a UK research firm, The Centre for Retail Research, Poland is the fastest growing e-commerce market in Europe with a whopping 24% increase in usage expected for 2012.
We feel the new localized version of HootSuite offers a huge opportunity for Polish agencies and pros to engage with users and clients on Facebook (more than 8,000,000 users in Poland), YouTube (one of the top 10 sites on the country), and Twitter which was also recently translated to Polish.
Dziękujemy to our Polish Coordinator!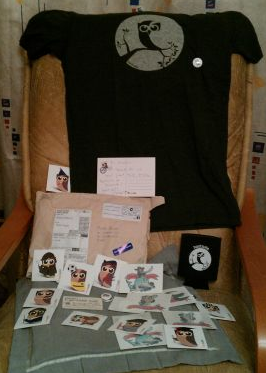 This release would not have been possible without the invaluable help of Polish translation coordinator Michał Newiak who kindly coordinated the translation of mobile apps and the dashboard and contributed many of the strings.
Michał has participated in many crowdsourced software translations in the past and we sent him a giant HootKit of treats to say thanks for his indispensable help in spearheading this HootSuite translation.
Looking for the First HootUp in Poland!
With the release of our Polish dashboard, we hope to see new users getting started with HootSuite. Further, we hope to see our Polish users engaging off-line and organizing HootUps as well. HootUps are casual, free meetups organized by HootSuite users across the world where attendees share tips and social media best practices.
If you're new to HootSuite and want to contact other users in your city, write us at community+hootups (at) hootsuite (dot) com. We'll be glad to help you to organize a HootUp! You can learn more about these meetups on the official HootUps page.
Which Language is Next?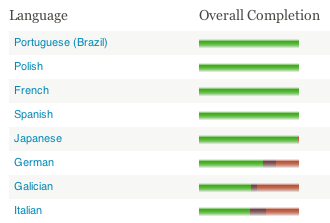 According to our completion chart for the HootSuite Translation Project, German is likely the next language released with Galician – spoken in northwestern Spain – not far behind.
Do you want to see HootSuite localized in your language? Contact us to become the next translator or coordinator for your community.
**** Poniżej możesz zapoznać się z polską wersją tego wpisu. ****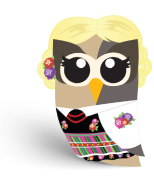 Z wielką przyjemnością ogłaszamy nową polską wersję Kokpitu Społecznościowego HootSuite, przygotowaną zarówno dla aplikacji internetowej oraz klientów mobilnych na urządzenia iPhone/iPad, Android i BlackBerry. Polska wersja językowa jest kolejną po zaprezentowanej na początku marca 2012 roku wersji portugalskiej, a co za tym idzie, dostępnych jest już łącznie piętnaście wersji językowych, z czego siedem w Kokpicie.
Jesteśmy szczęśliwi mogąc zaoferować w pełni zlokalizowaną wersję Kokpitu dla wszystkich użytkowników posługujących się językiem polskim, dając im możliwość odkrywania swoich zainteresowań, zaangażowania się w społeczność odbiorców i klientów oraz podnoszenia jakości kampanii społecznościowych prowadzonych w języku ojczystym.
Przy okazji tego wydania, wprowadzamy nowego członka do rodziny Owly! Ta urocza polska Owly nosi tradycyjny strój inspirowany Łowicką suknią w kwieciste wzory. Zabawny fakt: Dowiedzieliśmy się kilku rzeczy o Polsce, m.in.  o zamiłowaniu polaków do tworzenia pisanek i zwyczaju tradycyjnego witania gości chlebem i solą.
Polska, rozwijający się rynek usług internetowych
Zamieszkana przez prawie czterdzieści milionów ludzi Polska, jest krajem ze stale rozwijającym się rynkiem usług internetowych. Z danych dostarczonych przez The Centre for Retail Research, firmę badawczą z Wielkiej Brytanii wynika, że polski rynek e-commerce jest najszybciej rozwijającym się w Europie, z przewidywanym wzrostem w 2012 roku wynoszącym 24%.
Naszym zdaniem, polska wersja HootSuite daje ogromną szansę polskim agencjom i specjalistom z dziedziny mediów społecznościowych na zaangażowanie w swoich kampaniach użytkowników Facebooka (z ponad 8 milionami polskich użytkowników), YouTube (witryna należąca do pierwszej dziesiątki najpopularniejszych w Polsce) i Twittera, który niedawno został również przetłumaczony na język polski.
Dziękujemy naszemu polskiemu koordynatorowi!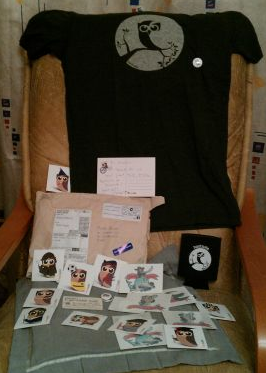 Wydanie to nie byłoby możliwe bez nieocenionej pomocy polskiego koordynatora tłumaczenia, Michała Newiaka, który uprzejmie zaproponował swoją pomoc w koordynowaniu tłumaczenia aplikacji dla urządzeń przenośnych i kokpitu oraz osobiście przetłumaczył większość tekstu.
Michał w przeszłości uczestniczył w w wielu crowdsourcingowych projektach tłumaczenia oprogramowania, a my wysłaliśmy mu gigantyczny HootKit z wieloma gadżetami jako podziękowanie za trzymanie pieczy nad projektem.
Czekamy na pierwszy HootUp w Polsce!
Wraz z wydaniem polskiej wersji Kokpitu, mamy nadzieję, że nowi użytkownicy zaczną używać HootSuite oraz zaangażują się również w społeczność off-line, organizując HootUpy, nieformalne, bezpłatne spotkania organizowane przez użytkowników HootSuite na całym świecie, w których trakcie użytkownicy dzielą się wskazówkami i najlepszymi praktykami w mediach społecznościowych.
Jeśli dopiero zaczynasz przygodę z HootSuite i chcesz nawiązać kontakt z innymi użytkownikami programu w Twoim mieście, napis do nas na adres community+hootups (at) hootsuite (dot) com. Z ochotą pomożemy Ci zorganizować HootUp! Więcej informacji znajdziesz na oficjalnej stronie HootUp!
Która wersja językowa jest następna?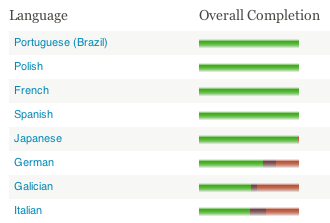 Zgodnie z wykresem postępu tłumaczenia w HootSuite Translation Project, następna powinna zostać udostępniona niemiecka wersja językowa, a tuż za nią wersja galicyjska (galicyjski jest językiem używanym w północno-zachodniej Hiszpanii).
Chcesz zobaczyć HootSuite w swoim języku? Skontaktuj się z nami, aby zostać tłumaczem lub koordynatorem w swojej społeczności.