HootSuite Strengthens Presence in Asia With New Apps + Analytics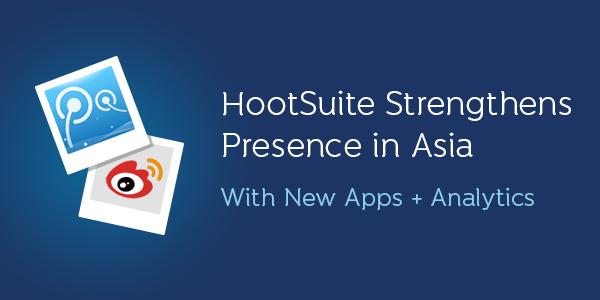 Over the last year, HootSuite has made several moves to strengthen its presence in the APAC region. The product has been translated into several languages, including Traditional and Simplified Chinese, Thai, Bahasa Indonesia, Korean, and Japanese. We've also expanded our APAC team, including a brand new office in Singapore. And now HootSuite is releasing four apps which cater directly to the needs of social media users in the region.
HootSuite has already integrated Sina Weibo and Tencent Weibo, Chinese social networks each with over 500 million registered users. These two apps have now been enhanced to provide even more functionality to users within the HootSuite dashboard. Plus, power users and businesses can now track their campaigns with Sina Weibo Analytics and Tencent Weibo Analytics apps. This allows them to track the success of both English and Chinese social media content in one place, further uniting their global campaigns.
About the apps: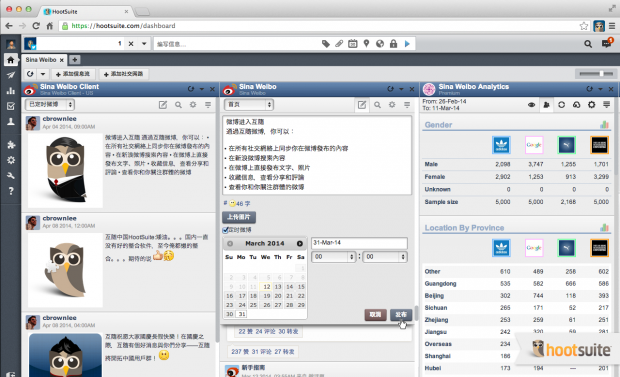 Sina Weibo & Tencent Weibo
The Sina Weibo and Tencent Weibo apps allow users to search, share, schedule and re-post content, monitor feeds, as well as view and post comments. Users can also share Sina Weibo and Tencent Weibo content simultaneously across other social networks, bridging social networks to create a truly synchronized social presence globally.
Download the enhanced Sina Weibo app here.
Download the enhanced Tencent Weibo app here.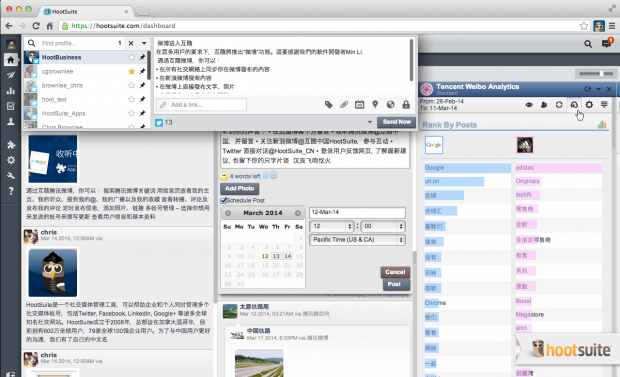 Sina Weibo Analytics & Tencent Weibo Analytics
Businesses operating in the Asia Pacific market are interacting in an array of languages. Companies active on Sina Weibo rely on data collected from engaging with the Chinese online community. Klarity's Sina Weibo Analytics and Tencent Weibo Analytics apps for HootSuite enable companies and brands to decipher data beyond the English language. With the ability to recognize Simplified and Traditional Chinese characters, this app empowers companies to compare all data available on both the Sina and Tencent Weibo networks. Users can easily generate data, for example brand reach and mentions, focusing on a single brand or benchmark against up to 3 competitors via the HootSuite dashboard.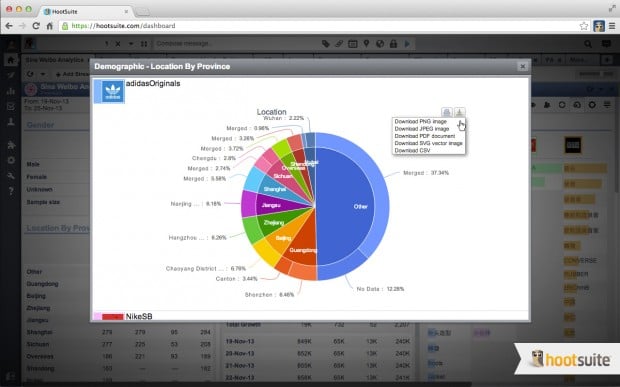 Download the Sina Weibo Analytics app here.
Download the Tencent Weibo Analytics app here.
Want to expand your presence on these social network but not yet a HootSuite user? Sign up today.
Did you know that our App Directory has 90+ apps that help enhance your brand presence and enrich your social experience? Check them out today.
Need help installing apps? Check out our App Directory Guide. Also, be sure to follow @HootSuite_Apps for the latest updates and news on the HootSuite App Directory.
Are you an organization or developer that would like to work with HootSuite? Learn how you can integrate your app using the App Directory SDK.