New Developments at #HootSuite University ~ Fresh New Program and Videos Too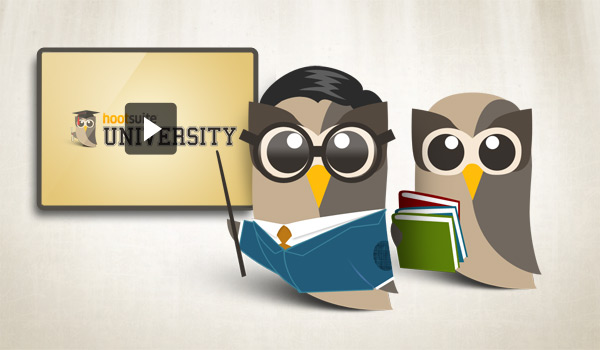 HootSuite University is newly refreshed with exciting features and videos to help you on your way to becoming a HootSuite pro. This social media certification program will teach you the advanced tips and techniques for using the dashboard and developing your social media strategy.
All New Videos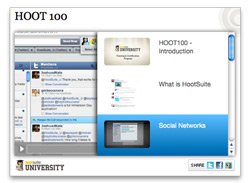 HootSuite University is pleased to announce a multitude of revamped videos — each one is designed to educate professionals on getting the most out of HootSuite and the social web. These brand new videos will explain everything from setting up your HootSuite Dashboard, to leveraging HootSuite's more advanced strategies, including geo-located search and custom URL parameters.
Free to Try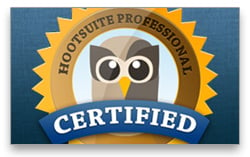 Pause and rewind as our HootSuite University professor walks you through step-by-step approaches to improve your social media efforts and become HootSuite certified. Try the first one free to learn some entry level tips on what HootSuite is and how it works.
Join the #HSUchat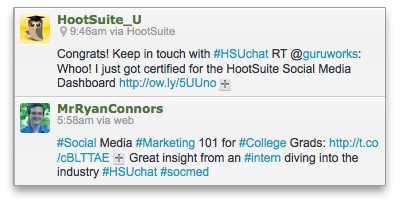 Each week HootSuite University will host a new online conversation about the latest buzz in social media. Keep track of breaking social media news, advice, tips and strategy as we hand pick the most relevant content for our users.
Conversations will take place every Tuesday at 2pm PST time, with the first one beginning August 16th. Simply include a #HSUchat search stream on HootSuite, and be sure to follow @HootSuite_U for all the latest updates.
New Webinar Series
HSU will be kicking off a new webinar series starting soon. Hosted by industry leaders and social media professionals, these webinars will cover industry trends, success stories and more. Stay tuned to take part in the conversation — use #HSUchat on Twitter to ask questions and provide your own professional insights as the discussion heats up.