#HootTip: Try "Drag and Drop" in #HootSuite
The HootSuite dashboard is packed with features and tools designed to simplify your social media management. To help you get acquainted with the functionality (or just give you a refresher), here's a #HootTip highlighting a handy way to use the dashboard.
Drag and Drop
In the pursuit of delivering the best social media management dashboard out there, our developers consider everything that impacts your user experience. That's why the quick and easy "drag and drop" feature exists. Just like drag and dropping images into a folder on your desktop, this handy dashboard feature can be used for multiple purposes:
Add Users to your Lists: Drag and drop your favorite users into your Twitter lists and organize easily.

Add Users to your Tweets: Drag and drop users into the compose message box to respond easily.

Upload Images and Files: Drag and drop images or files into the compose message box to automatically add visuals to your social updates.
These tips are easy to learn and will save you time in the future.
How To…
Add Users To Lists
There are many ways of adding users to a Twitter List and the Drag and Drop makes it quick and easy. Start with an existing list or create a new one (see our earlier #HootTip for instructions on creating a new list).
In your dashboard, select Contacts on the side menu.

Select which Twitter profile you'd like to view a user list of and chose either "People following me" or "People I follow."

Once you've found a user you'd like to add to a Twitter list, drag their avatar image into your preferred list and drop it once a '+' sign appears.

Once added, a confirmation notice will appear at the top of your dashboard.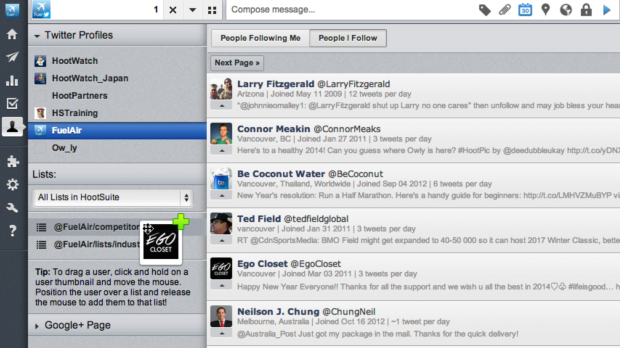 Add Users To Your Tweets
Ever need to add a variety of people to a social update? You can quickly populate your desired recipients by dragging and dropping avatars from a stream to the message box to conveniently @mention a user.
To do so, find the user's social media profile in a stream.

Click on their avatar image from a stream and drag and drop into the compose message box
(Note: when dragging and dropping users, be sure to drag the user's avatar and not their name)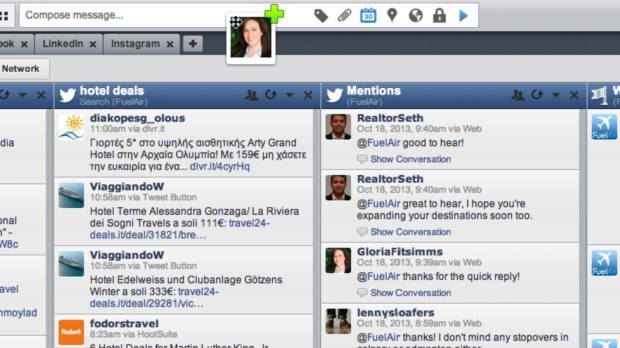 Upload Images and Files
HootSuite's Ow.ly URL shortener is also a great tool for sharing images, or even .PDF files. With a simple drag and drop, your image goes directly from your desktop to your social message with an automatic pre-shortened Ow.ly link.
Select the file or image from your computer and drag it into your dashboard's compose message box.

The message: Drop files from your desktop here, or… will automatically appear. Drop the file into there and wait until it uploads into your message.

A pre-shortened Ow.ly link will now appear in your message along with a File uploaded successfully notification (Note: Depending on the size of the file, the upload may take a moment).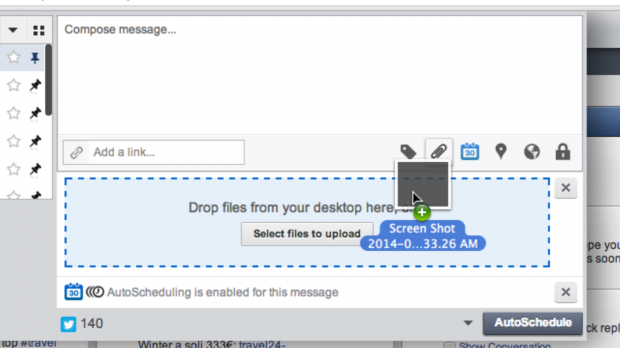 Keep an eye out for a new #HootTip each week – they're short and sweet so that you, your friends and your followers, will be HootSuite experts in no time.