#HootTip: How to Add a Social Network Profile
Being active on various social networks is great for you and your business, but having to sign-in to multiple social media accounts can be tedious and time-consuming. The HootSuite dashboard solves this problem by consolidating your networks using one login  and by allowing you to add social profiles quickly and easily.
Adding Social Profiles in HootSuite
Keep track of all your online activities from one place by consolidating your social profiles on to one dashboard. Here's how:
Add a Social Network Profile
In the top left corner of your HootSuite dashboard, click the user profile icon in your launch menu. From here, select the Add Social Network button.
In the pop-up window, select the social network you would like to add to your dashboard.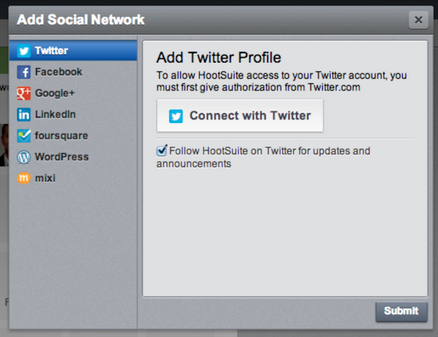 Once you've selected the social network, click the Connect with button.
Note:  When adding LinkedIn, you will have to choose whether you would like to add a LinkedIn Profile, Group or Company Page before clicking the Connect With button.
Type your account username or email and password, and then follow the prompts to authorize access.
Extra Steps for Adding Facebook:
For Facebook, after clicking Login you will be prompted through a few additional steps.  An App Terms and Privacy Policy request will appear, once read, click Okay.
A posting permission note will appear, once read, click to select who can see the content you post to Facebook from HootSuite, and then click Okay. Selecting Skip will prevent you from being able to post to Facebook from HootSuite.
Next, choose which timeline, Pages and groups you wish to import from Facebook. A check mark indicates that the content will be imported, and the + icon indicates that the content will not be imported. Click Finished Importing.
Keep an eye out for a new #HootTip each week – they're short and sweet so that you, your friends and your followers, will be HootSuite experts in no time.