Hootsuite Tip: Add an App in the Hootsuite Dashboard
With the millions of people and businesses active on Twitter and Facebook, it's important to expand your social reach by tapping into niche audiences found on social networks like Instagram, Flickr, Tumblr, SlideShare and YouTube. Hootsuite's ever-expanding App Directory has dozens of social networks and content management tools available for your HootSuite Dashboard that will help you reach your social media goals.
Add an App
From the launch menu on the left of your dashboard, click "App Directory."

A pop-up menu will appear with all of Hootsuite's available apps. Select the apps you would like to view by clicking "All Apps," "New Apps," "Featured Apps," "Premium Apps," or "Free Apps." Select "Installed Apps" to see what apps are currently installed to your HootSuite account.
Note: Premium Apps are free to all Hootsuite Enterprise users, and are available to Hootsuite Free and Pro users with a monthly fee. Three Premium apps–Brandwatch, SocialFlow and VidIQ–do not cost money to install to your Hootsuite dashboard and are only available to Hootsuite Pro and Enterprise users.
      3.  To install an app, click the "Install" button in the right-hand corner of the textbox. A pop-up box will appear indicating that your app has been installed.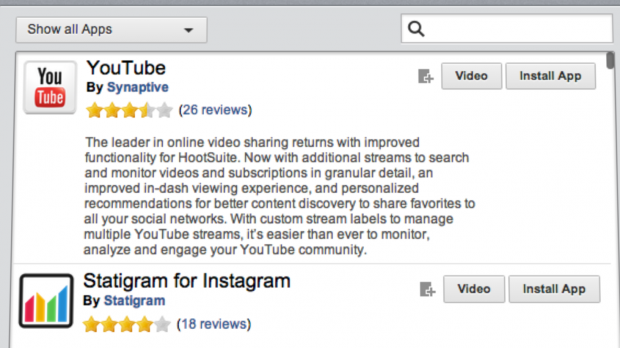 Bonus: When you see a "Video" button to the right of the app in the pop-up, this means a descriptive video is available for that app.
    4.  Next, select the stream(s) you would like to add for your newly installed app. You have a choice to either add stream(s) to a new tab or to an existing tab in your dashboard. Click "Finish."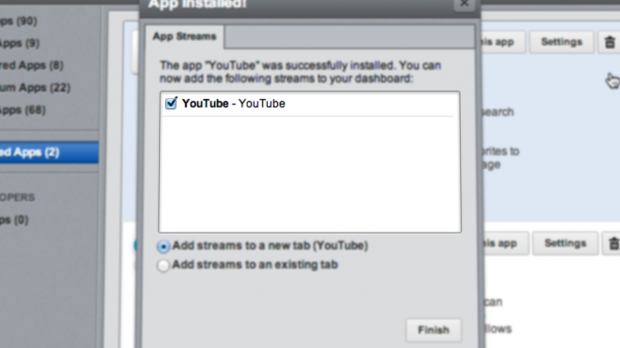 5.  Now that you've installed the app and added associated stream(s), you are all set to begin using your newly installed app, enjoy!