#HootTip: How To Add Vimeo to your HootSuite Dashboard
From Vines and Snapchats to quality YouTube commercials, brand marketers today are gravitating hard toward video. Brands are tapping into rich media marketing with inspirational and high quality videos. While we can't help you produce premium videos, we can help simplify the sharing process.
Here's the trick, with HootSuite's integrated Vimeo App, you can easily upload all of your rich media videos, share them across any social network in a few simple clicks and monitor their progress, all within your dashboard. For a quick overview of your Vimeo account, create different streams next to one another for your Videos, Albums, Likes, Channels, Groups, and videos you've marked to "Watch Later". Lost me? Here's how it works:
2 Min How To: Use the Vimeo App in your Dashboard
1. In your dashboard go to the App Directory (make sure you're logged into HootSuite). Locate the Vimeo app by typing it into the search field. Install the app and add the stream to a new tab, or if you prefer, an existing tab on your dashboard.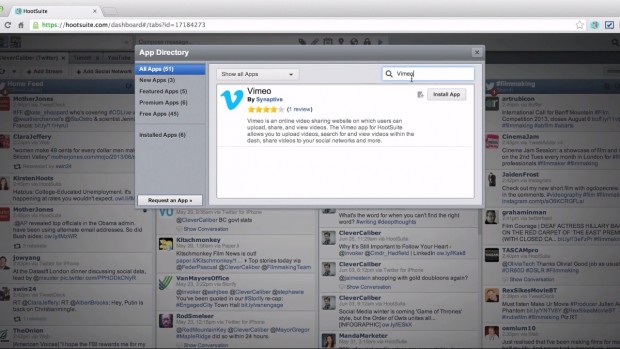 2. Connect your Vimeo account by authorizing the app. And just like that, your Vimeo video stream is now in your dashboard.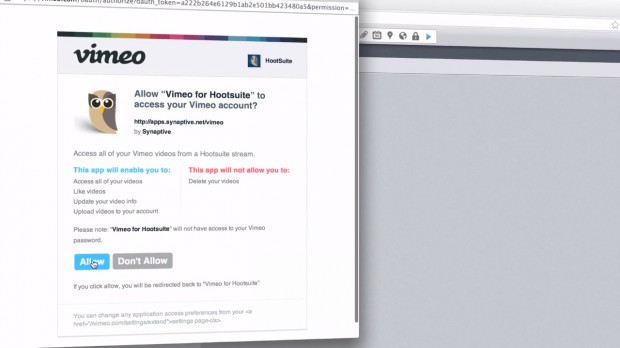 But what's really cool is that you can add multiple streams of your Vimeo account (or several different accounts) within the same HootSuite tab. That way you can view and manage all of your Videos, Albums, Likes, Channels, Groups and discover popular videos in different streams next to one another.
3. To add multiple Vimeo streams, click the "Add Stream" + sign in the top left hand corner of the tab, click Apps   in the pop-up message, find the Vimeo App in the list and click the + sign. If you want to add multiple Vimeo streams, keep pressing the + sign until you've added the number of streams you want to view.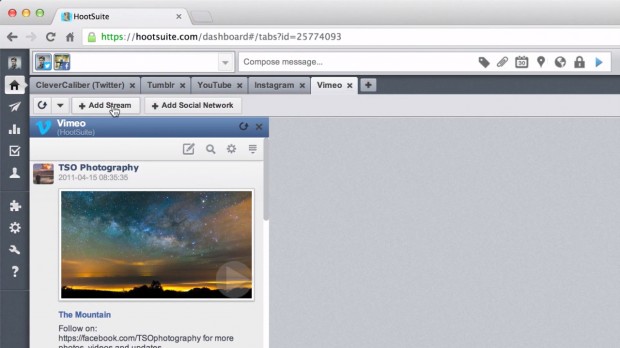 4. Customize each Vimeo stream by selecting the search magnifying glass icon and selecting My Videos, My Likes, My Groups, My Channels, My Albums, or by keyword searches.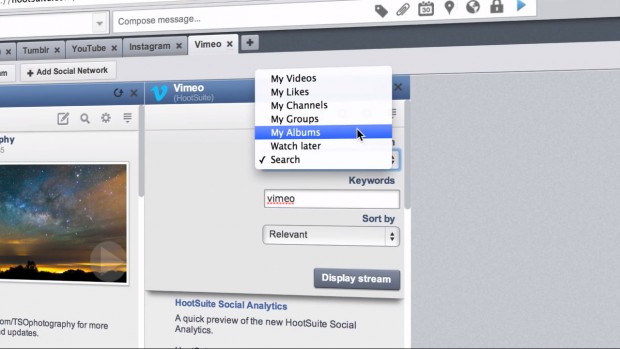 5. To upload a video, click on the upload button in your Vimeo stream and fill in the dropdown menu that includes title, description, tags, privacy and licensing. Lastly, click upload a file and you're all set.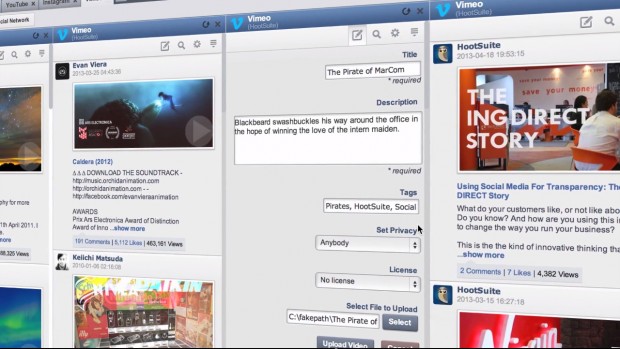 6.  Want to share your video? Next to each video upload in the stream is a side arrow – click that and an automatic link to your video with its title lands in your compose message box. Simply add a message, select when you want it to be sent and over which social channels and there you go! Video shared.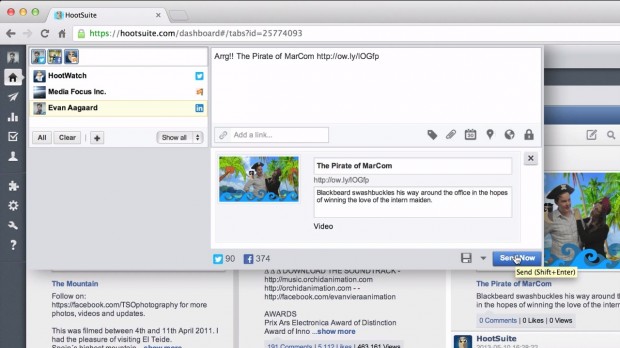 HootSuite's Vimeo App integration makes it easy to upload, monitor and share videos so that you can get back to creating rich media to market your brand.