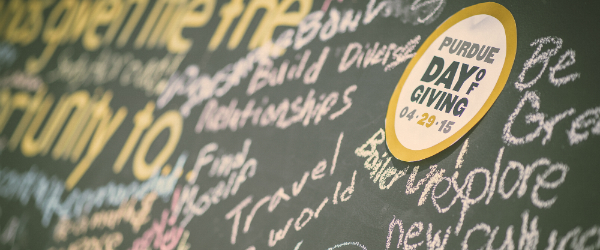 How Social Media Helped Purdue University Raise $13M in a Single Day
Universities depend on the support of donors to have top-ranked academic programs, world-renowned research, and state-of-the-art facilities. But as universities diversify and broaden the pipeline for donations, targeting younger audiences helps establish a lifetime of potential donations.
Purdue University is a nearly 150-year-old research university based in West Lafayette, Indiana that made history with the biggest single-day fundraising campaign ever in higher education.
On April 29, 2015, Purdue launched their second "Purdue Day of Giving," raising more than $13 million with nearly 10,000 gifts in just 24 hours.
Together the two branded hashtags, #IGave and #PurdueDayofGiving, generated 10,000 mentions and 20 million impressions throughout the month—16 million of which occurred on just one day.
"The number of mentions and impressions show us that we're reaching a broader—and often more influential or connected—audience, expanding our awareness globally, and increasing our chances of donations," says Martin Sickafoose, Director of Digital Marketing at Purdue.
The youth-engaging social media strategy
Students and young alumni today have to be actively engaged in order to share, be inspired enough to donate, or participate in an event.
For the 2015 campaign, Purdue hosted a student organization challenge, where some 100 student organizations participated by raising funds for their own programs. This meant a large part of the student body took more ownership than the previous year in sharing the Purdue Day of Giving message and driving donations among younger audiences.
The day kicked off on social media with the university sharing the Purdue Day of Giving introductory video, "I am a Boilermaker," along with the winners of the video social sharing contest.
On-campus, units put on various events to engage local donors, students and faculty to participate in different hourly challenges. In turn, the university generated compelling content for sharing across social media and to further engage potential donors.
Through listening and analytics, the university could see that each event and fun challenge shared on social media came with huge spikes in engagement.
Diving into campaign metrics for social media
Part of what made the day so successful was that Purdue was able to reach and better understand a larger international audience.
Martin worked with a small Purdue Day of Giving team in a "social media war room," where several screens displayed real-time data from Hootsuite Analytics, including keywords, hashtags and mentions—from which they could engage, source content, pull sentiment analysis and create geo-targeted reports.
While one team member searched for great user-generated content to share, another could sift through the #IGave stream to categorize donors and thank them for their support.
Hootsuite Analytics search streams supported their team in handling the sheer volume of 16 million impressions in 24 hours.
The sentiment analysis reports also helped the university gauge their audience throughout the day. At one point, Drew Brees, a Purdue alumnus and famous NFL quarterback, tweeted about Purdue Day of Giving, increasing the day's impressions by 2 million.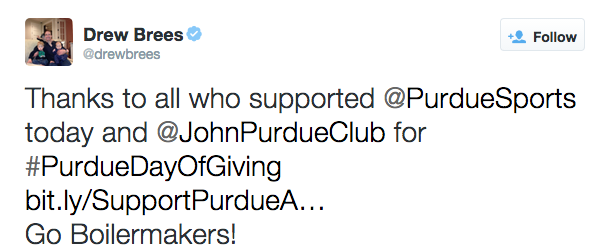 Martin gained more insight into international donors through Hootsuite Analytics' geo-targeted reports. Interestingly, 2% of campaign conversations were in Ghana. As Martin followed conversations in real time, he saw the conversation spread over Europe and Japan, and by the end of the day, 93% of the conversations were based back in the US.
The impact
Purdue University wanted to expand into new, younger markets to engage a future generation of donors. They were successful this time around because they activated an entire community of young alumni on social media and used data to understand how to reach them.
Start understanding your audience. Learn more about Hootsuite Analytics