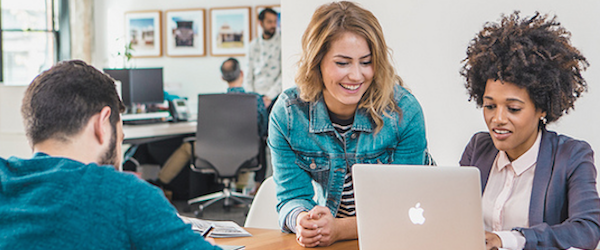 How to Attract and Retain Your Best Talent
 There's one big secret when it comes to growing your company, having an awesome brand image, and increasing your revenues: attract the best talent.
While successful companies have always understood that awesome employees are their most valuable asset, it's now becoming more important than ever. The workforce is changing in a big way. Employee turnover is on the rise, with people having an average of 10 different jobs during their career span. There's also a growing movement towards company transparency (think of social sites like Glassdoor that give the inside track on salaries, work-life balance, and the general happiness of employees).
Companies with strong employer brands win out
In the battle to win over talented workers, companies with strong employee branding and culture stand out. A survey by CareerBuilder shows that firms with strong employer brands attract 3.5 times more applications for a job posting than other companies in similar industries.
Learn about attracting top talent, the Hootsuite way
We believe that our success is directly tied to our ability to attract top talent. Since 2008, our team at Hootsuite has grown from four people to 920. We get 500 job applications each week.
If you're curious about how to start positioning your organization as an attractive option to potential employees, join us for a live webinar with Hootsuite's VP of Talent, Ambrosia Vertesi. She'll give you the inside scoop on how to use social HR to grow your company.
In this webinar, Ambrosia will cover key topics like:
How to attract and retain the best talent using social media

When to get buy-in from your CEO on starting a social HR program

Why happy employees can be the best advocates for your brand
This webinar is brought to you by Operation #FollowTheSun, a campaign aimed at giving you a glimpse into #HootsuiteLife through the lens of our peeps.
Register for our webinar according to your time zone. If you can't make it on the day, we'll send you a link to the recording afterwards!
Attracting Top Talent the Hootsuite Way
Date: Tuesday, September 15, 2015
Time: 10am Singapore/12pm Sydney
 Attracting Top Talent the Hootsuite Way
Date: Thursday, 17 September, 2015
Time: 11 AM PT/2PM ET