Whether you're running a social media campaign to generate leads, collect user-generated content, or just have fun with your fans, its conversion rate—the ratio of people who go on to enter once they've visited your campaign—decides its success. It's the number that you take to your supervisor, the number you honor by writing case studies, and the number you drink to when you're ready to celebrate.
If you want to celebrate with champagne, not commiserate over with lager, discover how to to conceive, design, and launch your campaigns to the greatest effect with our enterprise webinar Create Engaging Social Campaigns that Convert.
Hosted by Richard Hungerford, director of Hootsuite Campaigns, and Tori Tait, director of content and community at The Grommet, this webinar explains the basics of designing, launching, and promoting social marketing campaigns to maximize conversion. Learn which campaign build will help you achieve your goals, how to harness conversion copywriting, how to maximize the impact of your visual components, and listen to Tori explain how The Grommet engaged tens of thousands of viewers to participate in their holiday sweepstakes campaigns.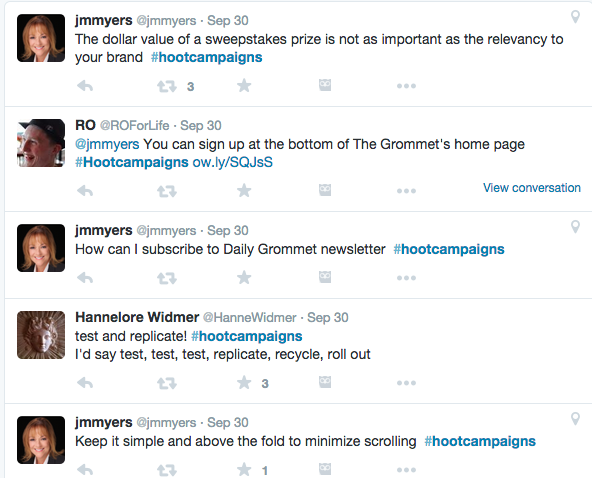 Richard and Tori explore the value of an email, which prize to offer your fans, and how to know that your campaign is incentivizing your truest fans. When will you see engagement dip? How do you know what your target engagement rate should be? For the answers to these questions and others, watch the webinar here.
With just one click, you'll learn:
How to know—and maximize—your social campaign bandwidth
When to experiment with the color of your online branding
How to use every inch of your online real estate to promote to best effect