#HSUchat 2 Year Anniversary – Celebrating Peer Learning with Industry Expertise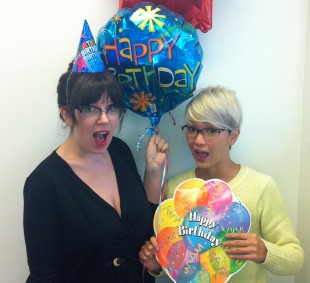 What is #HSUchat?
This fall marks the two-year anniversary of #HSUchat, a weekly Twitter Chat that explores the most relevant topics and happenings in social media. Hosted by HootSuite University, the chat brings together different communities for in-depth conversations around social media trends, strategies and best practices.
What Are Twitter Chats?
Twitter chats are virtual spaces for people to meet, learn and share while having fun discussing a specific topic. When building your personal brand, hosting a chat can be a great way to get to know your Twitter audience more intimately.
For companies and organizations, chats have the ability to drive the conversation around your brand which can increase engagement and awareness. Brands can also create Twitter chats to encourage feedback as well as provide support to your customers.
To host a chat, set a common interest, date and time, as well as a unique hashtag such as #HBRchat for the Harvard Business Review, or #smsportschat for sports and social media. You may want to promote the chat to your audiences ahead of time via your social media channels, blogs or websites. Typically, chat hosts curate the discussion with some predetermined questions and allow the participants to carry on the discussion.
Twitter users can follow along with the discussion by searching the hashtag which participants include in their tweets. Using HootSuite, you can easily set up a search stream for Twitter chat hashtag to track the chat.
Why Chat?
Whether you're a student, seasoned social media enthusiast or an expert, Twitter chats provide something for everyone to learn about and contribute to. Social media can be a powerful source of information, but its real potential lies in the ability to create deep, meaningful conversations between multiple individuals at once.
"It always amazes me how much I can learn in 140 characters."  says Bonnie Zink, a social media enthusiast and loyal #HSUchat participant.
Who Chats?
Twitter chats engage participants from all over the world, as well as from various professional backgrounds. In #HSUchat, professionals in different verticals ranging from retail to finance share social media expertise that is relevant to their industry, while learning from their peers.
#HSUchat is curated from trending social media topics including personal branding, online reputation and content strategy to name a few.  We also draw on popular topics from our Lecture Series library including social media security, social selling and many more.
The chat often features notable guest speakers from our Lecture Series such as Scott Wilder from Google+, Jason Li from Facebook and Gary Vaynerchuk of Vaynermedia. Most recently, #HSUchat attracted the attention of  NFL superstar wide receiver – Larry Fitzgerald of the Arizona Cardinals, who weighed in on how athletes can leverage social media: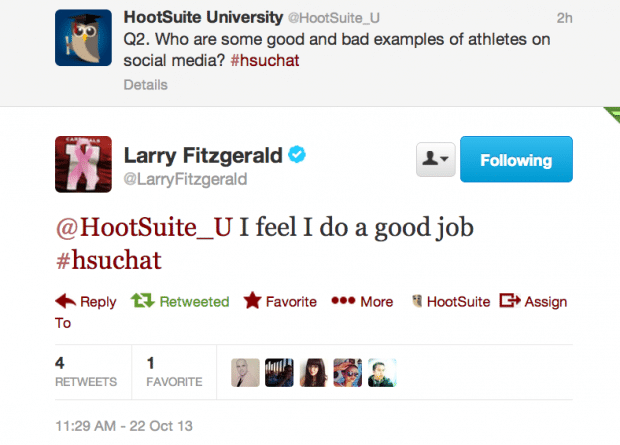 Social media doesn't have to be overwhelming. Learn with enthusiastic, like-minded people in a fun, casual setting and join us for #HSUchat  every Tuesday at 11amPT/2pmET.