Humanize the CEO: Be Your Story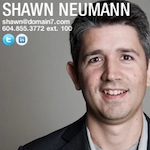 Shawn Neumann is the President and Founder of the web agency @Domain7, and a contributor to the HootSource Blog. This post originally appeared on Channel 7. 
Last week I made a case for being a social CEO. But even with the evidence to support it, this notion surely stirs fear in the hearts of CEOs. Many leaders have preconceived notions of what being social looks like.
In fact, it will look different for everyone. It certainly doesn't mean posting a photo of what you had for lunch each day on Facebook (unless you and your customers share a passion for food, in which case it may be a great idea!). I firmly believe social media is only as banal as the content you produce.
Success in social media means embodying your company story. If you know your story and can articulate it clearly, you have nothing to fear. Your job is simply to be authentic in that story anywhere you communicate. Finding your story and telling it honestly are far more important than the technology itself—so how do you get there?
Start with Why
The first step is to define your purpose. Your customers know WHAT you do. Now you must shape your brand and your value proposition by explaining WHY you do it. At Domain7, we "do web". But so do many other companies. What sets us apart is our desire to use the web to make life better, easier, more beautiful for real humans. This is front of mind in my social engagement.
If you haven't already articulated your purpose as an organization, now's the time to do it. Ask yourself:
Why do we exist as an organization?
Why do I come to work every day?
Why does any of this matter?
When you know why your company exists (and can stand by that purpose) you have a messaging platform that can't help but engage others.

Autonomy vs. Accountability
If you're adding value to the social space, you're creating something new—which likely means you'll need to consider fresh tactics. In many cases—especially older, more established companies—it will require a new balance of accountability and autonomy. Organizations may need to become looser, maybe more messy and less "rigid".
If the "why" of your company permeates every level, you can trust yourself and your team to embody that story in social media. At Domain7 we have a set of values we adhere to (outlined in our Manifestos). We can check any social content against those values and know if we're inline.
As much strategic planning as you may do for your social channels, culture will eat strategy. You can be the shepherd of that culture by leading the conversation online.
It's About Trust
Regardless of your views on social media, there's no question that being social will make you more human in the eyes of your customers. And when you are more human, your organization becomes the same. As we see the death of interruptive marketing, advertising becomes a matter of trust.
Today's marketing is personalized and customized, based on customers' expressed wishes or opt-ins. Customers form relationships with brands that are built on trust, and if a company breaks that trust, it will be very quickly viral and very quickly over.
As consumers, we get to choose who we want to hear from and you have to earn our attention.
So you feel confident in your story. Now what? In my next post we'll talk about the practicalities of sharing your story.
This is Part 3 in a 4-part series about being a social executive. Want to learn more about being a Social CEO? Read our list of 5 Non-tech CEOs who are doing big things with social. Want to know more about HootSuite? Visit our Enterprise site and request a demo.