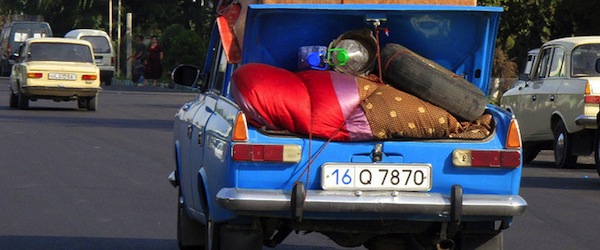 Social Media Syllabus: What Incoming Freshmen Need to Know About Social Media
If you're an incoming university freshman, chances are you've had a pretty active life on social media for the past several years. Despite growing up with Facebook and Twitter, many students aren't taught how to take the skills they've already used on social media and apply them professionally. Businesses' growing expectations for their employees to be social media professionals puts educators in a tough spot: How do you teach students a skill they (think) they already know?
Hootsuite is bringing together a panel of social media professors to share tactics on transforming students from digital natives to digital savvy professionals. If you're interested in hearing more tips on this kind of transformation, make sure to vote for this panel to be at SXSWedu 2015 for a chance to meet them in Austin.
For many of the freshmen starting University this week, the transition means taking social media more seriously. The stakes are getting higher, almost like when young people start their professional lives. It's a safe bet that some incoming freshmen have high school social media habits that should not be brought to college. If you're heading off to college this fall, here are a few tips to making sure your social media etiquette is on lock to get the most out of your university career:
1. Don't Friend Your Professors
Hopefully you haven't already added your high school teachers on Facebook. It seems these days, just about everyone is on social media (and for good reason). However, this does not mean they are sitting around waiting for their students to start sending friend requests each semester.
If you are looking for a way to connect with your professor outside of class, take a look at the faculty directory or arrange for a meeting during their office hours. This way, you can check in and ask questions about your performance without getting too personal (and they'll appreciate the initiative).
Have you thought about connecting with your professors on LinkedIn? This can be a more "professional" way to connect with a potential academic reference on social media without exposing them to photos of you doing your first keg stand.
2. Don't Create a Friend List of Strangers
You should resist the temptation to creep everyone in your school's freshman class before arriving on campus. Many schools start Facebook groups for students; sometimes residence halls and buildings create groups you can join as a way to connect with other people in your building.
No one wants a friend list of strangers to clutter their News Feed. Everyone coming into their freshmen year is looking to meet new friends, so once you start meeting people in your classes, residence, and around campus, the social connections will happen naturally! Don't stress, your friends are coming.
3. Don't Share Everything
Suddenly you are totally consumed with new people, new places, and a ton of new experiences. While you may be excited to share photos of your new dorm room or experiences of getting lost trying to find your first class with your followers, they might not be as enthusiastic.
Social media allows people to pick and choose what they want to see and who they want to follow. If you're trying to maintain a social media following, it's essential that you remain engaging and entertaining—without oversharing.
4. Nothing is Private Once It's Been Posted
While university is an amazing experience, the beginning of your career is a few short years away. Once these years pass, your digital identity will most likely affect your chances of getting hired. While not every potential employer is going to go to extreme lengths to see what you are all about, it's still important to remember that any inappropriate or offensive content could come back to haunt you.
Every once in a while, we tend to overshare based purely on emotions. It may not seem like a big deal to post a sentence long status update that negatively describes a professor or class. You probably wouldn't realize how easy it is for those types of things to get back to the person you talk about, so be wary of what you post.
5. Do Use Social Media for Finding Campus Activities
It's easy to join different groups or event pages to get a sense of what is going on around your campus. Many universities use their Twitter feeds and Facebook pages to promote campus activities. Reading (or even subscribing to) the campus newspaper online and following your university's athletic teams will give you a great way to find out events happening that you might be interested in.
If you're interested in hearing more tips on transforming from having adolescent social media habits to using social media professionally, make sure to vote for this panel to be at SXSWedu 2015 for a chance to meet them in Austin.