Influence Measuring Tools and the Value of Attention in Social Media Marketing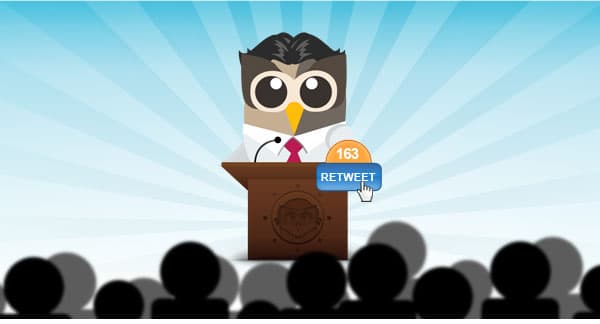 Know your Channels
In this social web world, everyone is a media channel of some kind – and each "channel" has a distinct audience and reach. By understanding who your powerful friends are, you can better understand the likelihood of attention for each message – from small-but-mighty local outlets still climbing the network ladder to influencers with the reach of an international broadcast conglomerate.
We've added a few powerful network intelligence tools to HootSuite to help identify influencers in your network – then you can get to know them – say "thanks," send them a cupcake, a pair of unicorns or some other token to acknowledge their social attention.
Get started with this trio of tactics:
#1 Find Friendly Helpers
The people who re-teet your message and share your links, are a key part of your social outreach strategy. Acknowledge them, thank them, make them your pals.
To see who's clicking and re-tweeting your updates:
1) Click the Owl and choose Stats > Summary and select a profile
2) Click "Most Popular Messages" to see a list of your top-performing posts
3) View (and click as desired) the smiling icons of your diligent sharers
Example: A few months back, HootSuite released a case study about a hospital which live-Twittered a surgery – using HootSuite, we can see it was clicked 876 times

Plus the messages was RTed by these smiling faces:
Tip: Within HootSuite, you can click the icons to pop a profile card and learn more about them.
Note: "Show number of retweets in statistics" was the top request topic in the Feedback Channel. What's next?
#2 Know the Influencers & Tastemakers
Next, check out which influential people mentioned your profile recently – these people are likely to be media outlets, people with large networks or otherwise gathered the attention of many eyeballs on a given topic:
To take a look at your network's power-players:
1) Click Owl > Stats > Summary
2) Click "Influencers that have mentioned @username"
3) View the list of "highly influential" Twitter users who mentioned your handle
Example: This view shows which "highly influential" pundits, pros and fans have mentioned @hootsuite – be sure to keep an eye on them in future – In this case, we can thank these noteworthy folks for sharing our story.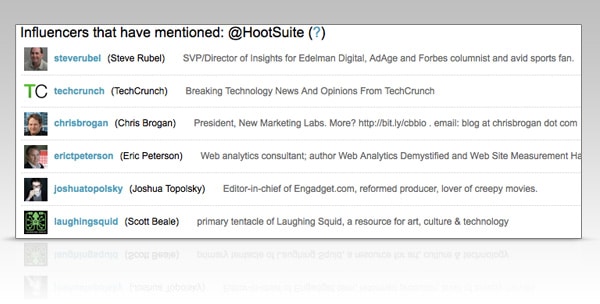 Note: This tool is powered by Topsy (more at Crunchbase) who consider influence "the new currency of the web" and scour Twitter to help discover your network's power-brokers.
Filter for Influence
Finally, see which influential people are mentioning your brand or any other search term – ideal way to prospect for influencers and customers for any industry from yoga to accounting.
To filter by influence score:
1) Choose a search/monitor stream and load up messages
2) Click the pull-down menu and choose Filter > by Klout
3) Slide the bar to drop-off mentions below the influence score – note the score displayed in the red box
Example: When viewing a search stream or a Twitter list in-steam, move the slider to display only profiles above a certain score.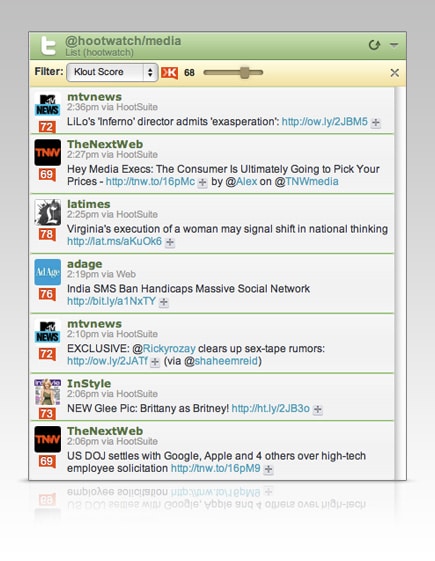 Note: Along with the small red badge, you can also see Klout scores on individual profile cards
So, What Next?
One you've identified helpful followers in your network, you can outreach to build affinity – here are a few ways:
Send an @mention to say "thanks" publicly (make sure you are following)
Add to a Twitter list to follow more closely in a HootSuite stream
If you see them helping/evangelising, offer treats or other wuffie
Be helpful to them: answer their questions, offer assistance
Of course, the tactics and follow-up will depend on your product or service. What are your methods? Leave a comment with your best practices.
Measuring Up
Both Klout and Topsy have ways of algorithmically measuring reach and influence – Read more about Klout's integration to HootSuite for additional ways to find the valuable operators in your networks.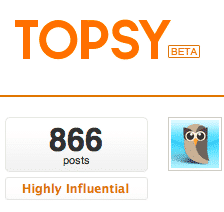 As for Topsy, they say: "Influence is also transitive – the more influential people retweet you, the higher your influence will be." Want to climb the ladder? Follow their advice: Your Topsy Influence increases when you say things other people find interesting. So go forth and be interesting.
Example: Using the hospital case study example mentioned, among those "highly influential" users who shared the link were @Steverubel and @amcunningham. When other highly-influential users (like @pfanderson or @comcastcares) RT-ed their posts, their mojo further increased. Or when the "influential" user @ehealthgr RT'ed a post by @gaborgy, Gabor's influence was turned up a notch and so on…
How do you measure up? Check the influence of your Twitter handle at: http://topsy.com/ which also sorts expertise within various categories, links and topics, then assigns the desirable "highly influential" designation to those who hold the keys to audience attention.