Instagram has long been the go-to social channel for sharing photo content with a dedicated audience. Who remembers adding the Amaro filter to literally all their early photo content? We do, and we see you.
However, in 2021, Adam Mosseri, the Head of Instagram, announced that the platform was shifting its focus from solely being a photo-sharing app and pivoting towards building "new experiences" in four key areas: creators, social commerce, messaging, and (the topic you're here for!) video.
This announcement came in the same month that Instagram doubled Reels' maximum running length, signaling the company's significant commitment to video.
Since then, Meta has doubled down on Reels and even introduced the short-form, snappy video format to IG's sister platform, Facebook.
Meta's continued faith in the platform suggests Reels is here to stay. Read on to discover some essential Instagram Reels stats that will inform your digital marketing strategy in 2022.
Bonus: Download the free 10-Day Reels Challenge, a daily workbook of creative prompts that will help you get started with Instagram Reels, track your growth, and see results across your entire Instagram profile.
General Instagram Reels statistics
Although first introduced in Brazil in 2019 under the name "Cenas," Instagram Reels were launched to the world at large at the height of the first few months of the COVID-19 global pandemic to compete with TikTok's exploding popularity.
Initially just 15 seconds, Instagram doubled the maximum running length for Reels to 30 seconds a month after the feature's release before doubling it again in July 2021. This move came only a few weeks after TikTok tripled the maximum length of their videos from one minute to three. In 2022, Instagram got a bit closer to catching up to their rival — as of May 2022, some users have early access to 90-second Reels.
Ads produced for Reels provide a similar experience to organic Reels and allow audiences to engage with the content through comments, likes, views, and shares. Reels ads are found amongst the most popular places to access Reels content, for example, a user's feed, stories, Explore, or Reels tabs.
Considering that Reels has a maximum running length of 60 seconds, 4GB is more than enough capacity to upload your video in the highest possible definition and dazzle your potential customers.
We recommend filming in 1080p, which most mobile devices support, and some even film in 4K if you fancy adding an additional layer of quality to your Reels.
No, 9:16 isn't a bible verse, but actually the standard aspect ratio for vertical videos. To really make Reels pop, marketers need to record in this ratio to upload their content to Reels. IG also recommends a size of 1080 x 1920 pixels.
It's important to remember that Instagram Reels is a mobile first-format, so marketers should tailor their output to appeal to a mobile-first user base (hint hint, don't record video in 16:9, which is the TV-size aspect ratio).
Senegalese social media personality Khaby Lame holds the title for most-viewed Instagram Reel. The video, which features Lame returning to his iron multiple times to ensure it's turned off, is posted without dialogue or narration.
This Instagram Reel serves as a reminder to social media marketers that sometimes the simplest ideas are the most effective and speaks to the video's format as being to communicate an idea or practice without actually using any words.
With 458.3 million followers to their name, the platform itself is the most subscribed Instagram account, with at least one Reel available to view on the company's page. Following some distance behind is soccer star Cristiano Ronaldo and model and reality TV personality Kylie Jenner, with 387.5 million and 298.1 million followers respectively.
Instagram Reels user statistics
India is the only country with a higher percentage of Google searches for Instagram Reels than their hyper-popular competitor, TikTok. According to Google Search Trends, Instagram Reels searches eke out a 54% share of searches compared to 46% for TikTok.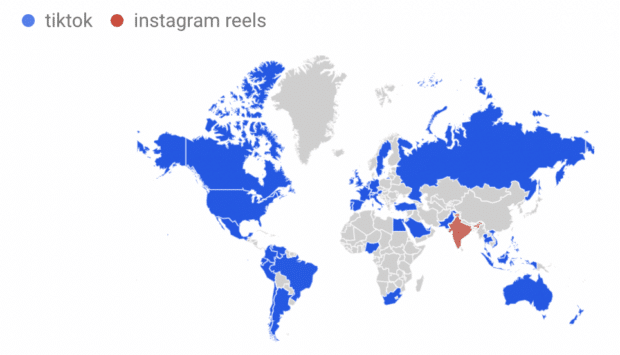 Source: Google Trends
9. In 2022, Instagram users will be on the platform for 30 minutes per day
Whether they're scrolling through and engaging with Reels, making purchases and taking advantage of social commerce, or communicating and engaging with brands, adult Instagram users average around 30 minutes per day on the app.
Instagram Reels usage statistics
Remember that Brazil was the first country to get access to Reels, so this growth makes total sense. What's interesting here is that this figure gives us an insight into the adoption rates of new features once they're launched by social media platforms.
To put the growth stat into a wider context, Brazil's Instagram usage typically expands by about 1% month on month, but between October and November 2019, when "Cenas" (now Reels) launched on iOS and Android, usage grew by over four times that amount.
Source: Hootsuite Digital Trends Report
In August 2021, Instagram for Business reported that 91% of recently surveyed active Instagram users said they watch videos on Instagram at least once a week. For marketers, this signals that videos actively reach audiences and are becoming more popular on the platform.
12. 50% of users use the Explore page every month
Successful Reels are more likely to be featured on the Explore page. If your Reel is shown on this page, you have a considerable chance to expose your brand to new followers.
Over the past year, search interest for Instagram Reels has eclipsed that of Instagram Stories, reaching peak popularity around the first week of 2022. With audiences actively searching for Reels and wanting to educate themselves about the features, this is a surefire signal to marketers that they need to adopt Reels as part of their Instagram marketing strategy ASAP.
Source: Google Trends
If you're looking to tap into Gen-Z or even younger demographics, this is the stat to pay attention to because it's important that brands meet audiences with the content they like to see and engage with.
Additionally, audio and music in these social challenges are everything and can be instrumental in kick-starting trends via short-form videos in Reels.
In 2021, Hootsuite ran a study testing the effects posting Reels had on our account's overall engagement. We found that in the days following a Reel being posted, the Hootsuite Instagram account saw significant spikes in followers and increases in engagement.
However, according to Hayden Cohen, Hootsuite Social Marketing Strategist, Hootsuite's follow and unfollow rate didn't change much:
"We typically see approximately 1,000-1,400 new followers every week, and approximately 400-650 unfollows per week too (this is normal). I would say our follow and unfollow rate has stayed the same since posting Reels."
Source: Hoosuite's Instagram Insights
Instagram Reels business statistics
1.5% may not seem like much, but most social media marketing experts agree that between 1-5% is a good engagement rate. The more followers you have, the harder it's likely to be to achieve a decent engagement rate. And for reference, Hootsuite's social media team reported an average Instagram engagement rate of 4.59% in 2020.
If you want to know more about engagement rates, check out How to Increase Social Media Engagement: A Guide for Marketers.
In a survey of over 25,000 people commissioned by Meta, 71% percent of respondents said they strongly associate Instagram with following influencers and celebrities.
With many of the most viewed Reels on Instagram coming from celebrities and verified accounts, it may be time you looked at utilizing influencer marketing in your Instagram strategy.
18. 86% of consumers say they'd purchase, try, or recommend a product when Instagram content is rated as "shareworthy"
The creator landscape on Instagram is poppin' and social media marketers would be foolish to not engage with creators to help them build their audience, drive more engagement and create shareable content to help drive sales.
Nike's best performing Reel has over 6.7 million views, with its worst performer so far accruing a (still very impressive) 3.4 million views.
Nike is just one of many household fashion brands leveraging Instagram Reels to pull in viewers, with Louis Vuitton, Gucci, and Chanel also pulling in 1M+ views on their videos.
20. 30/30 NBA teams are making use of Reels
You read that right. Since the feature's launch in August 2020, every single franchise in the NBA has posted at least one Reel to their page and taken advantage of the power of Reels to engage audiences.
When you take a look at the top followed NBA accounts on Instagram (The Warriors, Lakers, and Cavaliers), you can see that they are consistently pulling in upwards of 1 million views on their Reels, helping them drive colossal engagement and brand awareness.
21. 20/20 Premier League teams are making use of Reels
And the trend's not just limited to US basketball. Every team in soccer's Premier League has realized the marketing potential of Instagram Reels, producing content ranging from player interviews to match highlights.
Checking in on the most followed Premier League teams on Instagram (Manchester United, Liverpool, Chelsea), you'll see that their Reels are pulling in even greater numbers than the NBA, with some posts eclipsing 20 million views.
For marketers, this signals that there's a wide range of brands and businesses leveraging the power of Reels to increase engagement and brand awareness and position themselves as a forward-thinking brand that understands the potential and power of short-form video.
Instagram Reels ads statistics
Men just about outnumber women in terms of Reels ad audience share, but you'll need to do your own research to understand the makeup of your brand's specific Instagram audience. It's also worth remembering that Meta does not report any other genders aside from male and female.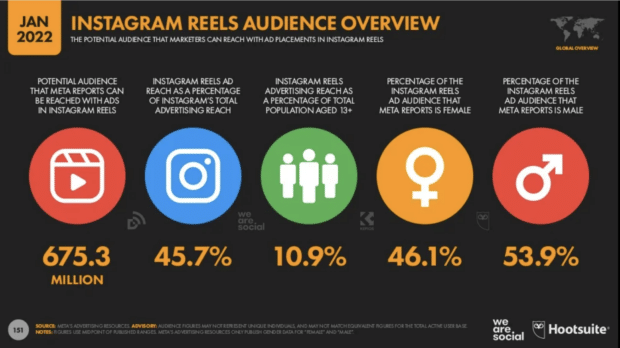 Source: Hootsuite Digital Trends Report
As if you needed any more convincing to adopt Reels into your Instagram marketing strategy, ads posted on Instagram reels have the potential to reach 10.9% of the total population of people aged 13+.
24. Meta reports that up to 675.3 million users can be reached with ads on Instagram Reels
You don't need to be told how popular Instagram is, with the app as a whole racking up 1.22 billion users each month. However, it might surprise you to learn that Instagram Reels' potential ad reach is over half that, at over 675 million.
Activate vacay mode with simplified Reels scheduling from Hootsuite. Schedule and monitor your Reel's performance from one simple dashboard.
Save time and stress less with easy Reels scheduling and performance monitoring from Hootsuite. Trust us, it's reely easy.
Free 30-Day Trial