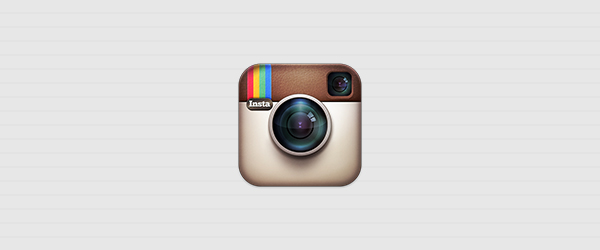 A Long List of Instagram Statistics and Facts (That Prove Its Importance)
How is it that five years into its impressive growth, Instagram is still stereotyped as the social network for sunsets and well-staged food?
I, for one, refuse to accept this outdated view of a network that has quickly earned its place in the social media marketing hall of fame. It's time that we all recognize Instagram for the powerhouse of social networking that it really is. And what better way to do so, than with a list of very powerful, very quotable Instagram statistics. Have a look:
Bonus: Download a free checklist that reveals the exact steps an adventure photographer used to grow from 0 to 110,000 followers on Instagram with no budget and no expensive gear.
Instagram usage statistics

Instagram has 300 million active monthly users
It's the first question any manager will ask about a social network: are people actually using it? With Instagram, you can respond with a resounding yes. With 300 million monthly active users and counting, Instagram users have proven their love for the platform.
Of course, the skeptics will question just how active  that active user base really is. Well…
Instagram users have shared over 30 billion photos to date, and now share an average of 70 million photos per day
Thirty billion photos! Can you even fathom that? Instagram was released to the world in 2010, and in under six years we've shared over four times more photos than there are human beings on earth. Most of those posts will have come in the last few years as usage grew. According to Instagram, users now share an average of 70 million photos per day. That number is sure to grow in coming years.
But I'm a global business. Instagram is just an American thing, right? Not quite…
70 percent of Instagram users come from outside of the U.S.
It's true that Instagram is very popular in the U.S. According to eMarketer, by 2019 the Instagram audience will reach 111.6 million Americans, representing 55.8 percent of social networkers, more than one-third of the population and over four in 10 internet users.
But Instagram is truly a global phenomenon. With 70 percent of users coming from outside the U.S., Instagram, not unlike its parent company Facebook, is becoming one of the first social tools new social media users turn to across the world.
Of course, Instagram is particularly popular among a certain demographic…
Instagram is considered the most important social network by more American teens (at 32 percent) than any other network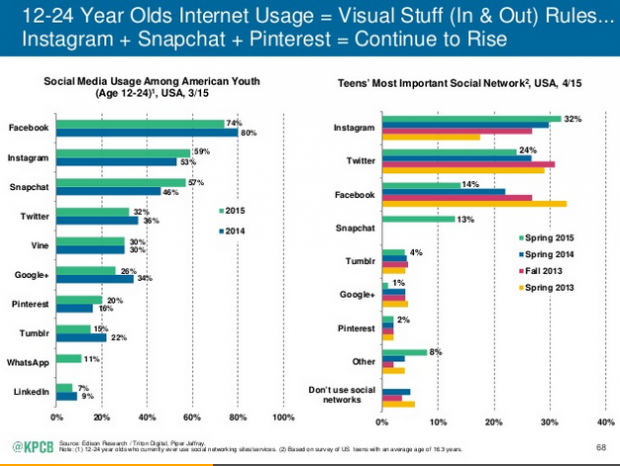 This statistic, from Mary Meeker's annual Internet Trends Report in 2015, shouldn't just be an eye-opener for businesses with a young clientele. These same teens are the next generation of buyers, and you have the opportunity to reach them today.
Easier said than done, right? Your business isn't Redbull. Well, Instagram understands where you're coming from. Which is why they have alternatives for you. Very popular alternatives…
Instagram will bring in $595 million in mobile ad revenues worldwide this year, and $2.81 billion by 2017
Instagram is a mobile-first social network, which places them perfectly to capitalize on the growing place of mobile in all online activities. Instagram tested ads with big brands at first, but are now rolling it out to regular brands, to their great benefit.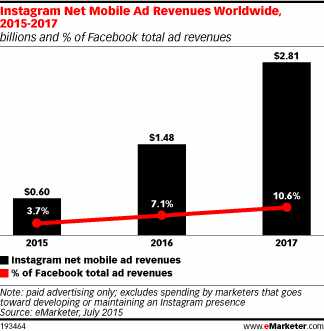 According to eMarketer's first-ever Instagram advertising forecast, Instagram ads are already a money maker, predicted to rake in an impressive $595 million in mobile ads in 2015. More impressive than that is how that revenue is expected to grow. The forecast pegs Instagram's mobile ad revenue at $2.81 billion by 2017. That's a remarkable increase of over 400 percent in two years, and would represent more than 10 percent of Facebook's total ad revenues.
Where teens and ads intersect, you're bound to find brands. Which is exactly why…
Instagram adoption is at 85 percent among top brands
That says it all, doesn't it? With 85 percent of top brands throwing their weight into Instagram, you know the social network has cemented its spot as a pillar of social networking. After the users come the brands, and, as we'll see below, businesses of all sizes and types are seeing great success on Instagram.
Bonus: Download a free checklist that reveals the exact steps an adventure photographer used to grow from 0 to 110,000 followers on Instagram with no budget and no expensive gear.
Instagram for business statistics

Top brands on Instagram are seeing a per-follower engagement rate of 4.21 percent
All of the usage stats are only as valuable as the engagements that they bring to brands. Which is what makes this stat, from a study conducted by Forrester, so significant. The 4.21 percent engagement rate caused Forrester to dub Instagram "the King of social engagement." The title is deserved, as Instagram is in a league of its own. If you're not sure how that stacks up, consider that…
Instagram's per-follower engagement rate for top brands is 58 times higher than on Facebook and 120 times higher than on Twitter

Thankfully the Forrester study very clearly put this engagement rate in context for us. Imagine, 120 times higher than on Twitter! That isn't just impressive, it's enough to shift your entire perspective on social media for business. Of course, it these are top brands and your own engagements will vary. But usually the top brands are an indicator of where the trends are heading. As illustrated by the fact that…
52 percent of marketers are planning on increasing their use of Instagram in 2015 (up from 42 percent in 2014)
This data, from Social Media Examiner's Social Media Marketing Industry Report 2015, shows that Instagram's growth extends well beyond only top brands. Marketers across the board are seeing the value in the social networks, and are allocating a growing numbers of resources to it. In fact, the more invested businesses are in social media marketing in general, the more invested they are in Instagram, as…
Bonus: Download a free checklist that reveals the exact steps an adventure photographer used to grow from 0 to 110,000 followers on Instagram with no budget and no expensive gear.
Marketers investing 40 plus hours per week on social media are 42 percent more focused on Instagram than those investing 6 or fewer hours a week
On face value, this statistic might seem to indicate that only marketers with lots of time to spend on social media are turning to Instagram. But that's the wrong way to look at this. You should instead look at this stat as proof that those who put more time and resources into social media have found Instagram to be worth the investment. Why wouldn't you want to follow the leads of those who work with social networks for hours and hours, day in and day out?
Well, many people don't follow their lead because they don't feel like their brand is a fit for Instagram. They see people posting photos of company parties, trips and beautiful employees, and can't quite figure out where their business fits in. The truth is, that products are your way in.
Products were the top content types for the top 200 global brands in terms of engagement, at 60 percent

Research from L2 into top brands' posts with the greatest engagement on Instagram showed that products lead the way. And not by a small amount. At 60 percent, products beat out the second place "lifestyle" category by over 20 percent.
People follow brands on Instagram knowing they're going to be exposed to products. You shouldn't be afraid to showcase what you have to offer. Some industries have taken this to heart more than others. Fashion, for example.
96 percent of US fashion brands use Instagram
Ninety-six percent adoption rate is a remarkable adoption rate for anything. Like, anything in the world. I would be surprised if 96 percent of humans have adopted "wearing clothes every day." Fashion brands saw the immediate value of Instagram and didn't hesitate to get on board.
Yes, we know not all products are created equal. Instagram clearly comes more naturally to brands in retail, hospitality, or other B2C industries. In fact…
B2C marketers are significantly more likely (60 percent) to increase Instagram activities than B2B marketers (40 percent) this year
Businesses probably won't turn to an image-based social app to learn about another business's services or products. Though B2B businesses shouldn't neglect Instagram (we don't!), B2B interactions usually require more research, more detail, more insight. Instagram is more of a step along their path to purchasing.
But this stat, again from Social Media Examiner, is further proof that Instagram just makes sense from a B2C standpoint. For B2C companies, Instagram might be all they need to insight a purchase. A great picture of a new pair of shoes could easily cause someone to buy those shoes. An incredible photo of your hotel's pool might prompt someone to make a reservation. If you work in a B2C industry, even one with less visual appeal than retail or travel, there really is no excuse to ignore Instagram.
Instagram performance statistics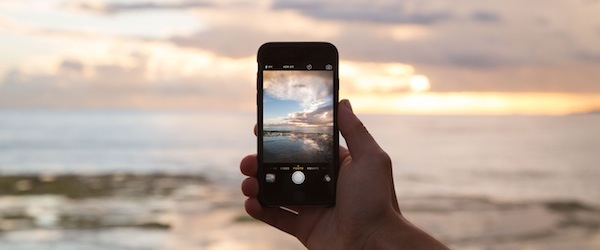 The average engagement per Instagram post has grown by 416 percent over two years
Instagram usage is on the rise, so it would make sense that Instagram engagement would follow. That doesn't make this stat, from Simply Measured, any less impressive. Engagement has quadrupled in two years. This is good news for businesses adopting the social network and great news for companies that were early adopters and have already built up a following.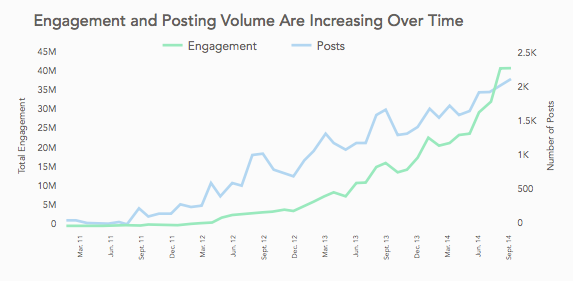 This stat is great, unless of course your engagement hasn't increased during this period. In that case, it may be time to ask yourself what you're missing. Thankfully, we have data to show you exactly that.
Photos and stills generate 36 percent more likes than videos
While most of the social media world is slowly moving towards video (Facebook, Twitter, Snapchat, and beyond), it turns out Instagram users are just a bunch of image hold-outs. While videos can still earn a lot of engagement if well-executed, this statistic proves that sticking to images may be the better strategy.
More images and less video should actually free up some time—time you can use to hone certain other elements of your Instagram posting. For example…
Instagram photos with faces get 38 percent more likes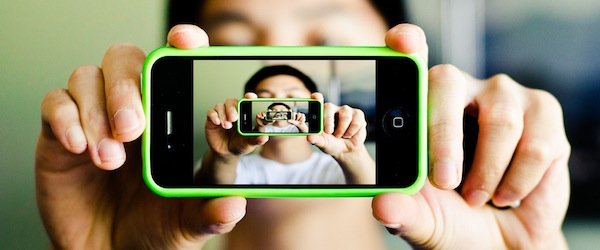 How many of your photos include people? A lot of people like to share product photos or photos of beautiful scenery, but leave people out of the shot. People (and their faces) can easily be added to each of these image concepts to easily drive almost 40 percent more likes.
When you do have people in your photos, you also have a very clear reason to mention them in your caption. That's important because…
On average, posts that include another user handle in the caption net 56 percent more engagement.
This stat illustrates a huge opportunity for brands. Simply mentioning another user in the caption of your Instagram posts can result in 56 percent more engagement. Despite that, only 36 percent of all brand posts include at least one @mention. Nearly two-thirds of brand posts could have received over 50 percent more engagement. Think about that for a second. And then immediately use this insight for your own content.
How else can you increase engagement?
Posts with at least one hashtag average 12.6 percent more engagement.
Are you hashtagging your Instagram posts? Many people skip the hashtag because they feel as though it looks ugly or desperate. This stat should negate all of those concerns, since it clearly results in a net positive engagement rate on your posts.
If you're concerned about latching on to hashtags, don't be. But if you are, consider creating a new hashtag that really represents your brand and values. Great brands like Poler and Herschel Supply Co. have fantastic examples of branded hashtags that have increased their success on Instagram.
Once you've honed your mentions and hashtags, it's time to turn to location.
Posts tagged with a location receive 79 percent higher engagement
No, that's not a typo. While a hashtag should offer a slight bump in engagement, adding a location will provide a massive boost to your post engagement. Seventy-nine percent should have caused you to do a double take, because it's such a massive increase for such a simple little tweak.
Strive to add a location to a majority of your posts moving forward. It might simply mean adding your office or your neighborhood as a location tag. But you can also tag local restaurants, friendly businesses or other locations that show the culture of your company. You should also encourage your followers to use location tags when they visit your stores or offices.
When all else fails, Instagram has introduced an advertising option to help you grow your engagement. Not sure Instagram ads are for you? Well…
Ad recall from sponsored posts on Instagram was 2.9 times higher than Nielsen's norms for online advertising.
In over 475 global campaigns, Nielsen found that ad recall exceeded the norms for online advertising by almost three times. As brands continue to experiment with and discover social media advertising, this fact should put Instagram ads on everyone's radar.
Save time managing your Instagram presence by using Hootsuite to share Instagram video, schedule posts, and monitor your efforts. Try it free today.
More Resources

 Guide: Instagram Master Tactics

 How-to: Add Instagram to Your Dashboard