Facebook IPO, Owly in the UK and Lemonade ~ News Roundup
With all of the buzz around Facebook's IPO, Ryan Holmes' opinion has been sought after. See what HootSuite's CEO had to say about this social media landmark in two newscast segments from the CBC and Global TV.
Plus, find out why Ryan and Richard Branson were hamming it up for cameras in Vancouver last week. That's not all, today's news roundup also features a great article on turning lemons into lemonade featuring HootSuite's response to "Embarrassing Tweets, Crashing Servers, and the Japanese Earthquake."
Facebook IPO: Social Media Milestone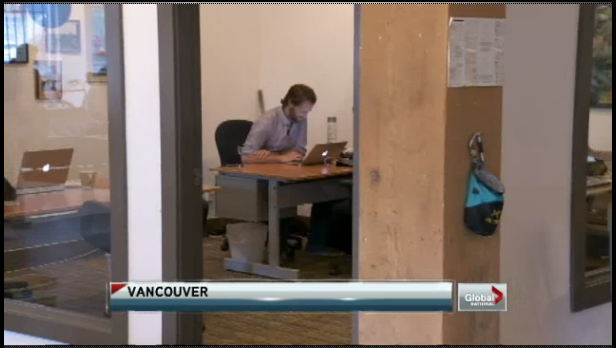 May 25, 2012 went down in history as a social media milestone: the day of the Facebook IPO. With social media experts and analysts weighing in on the future of Facebook, you may have seen HootSuite CEO, Ryan Holmes' column on the Huffington Post, which we shared earlier this month.
In addition to Ryan's Huffington Post column, two newscasts were interested in Ryan's insights. Global National featured him in a recent piece: Questions about Facebook's Fortunes.
As well, Ian Hanomansing of CBC's The National swung by HootSuite HQ to interview Ryan in this segment: Big changes to Facebook.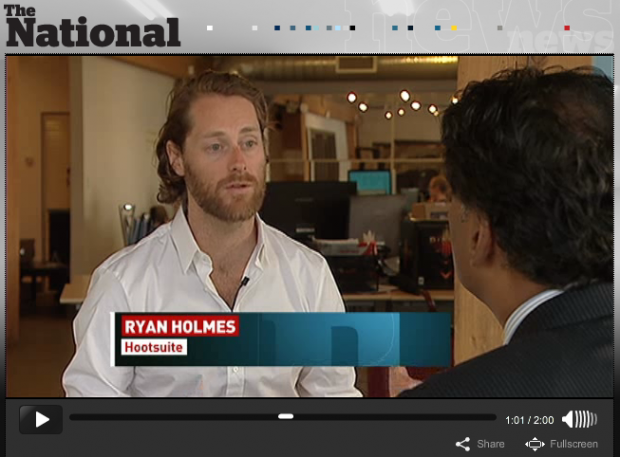 Owly Across the Pond
Look out for Owly at Buckingham Palace because HootSuite is hopping across the pond and opening a UK office in London, England. This past week, Ryan and Mika met with fellow entrepreneur, Richard Branson, to catch up, swap stories and pose for a few photos.
As HootSuite embarks on its journey to join the London tech scene, UK Trade & Investment Canada launches UKTI Canada Global Adventure – a new competition that sends a Canadian tech company to the UK for a three day trip to hobnob with investors, specialists and incubators.
Techvibes also picked up on the story: Ryan Holmes and Sir Richard Branson Want Canadian Tech Startups to Embark on a Global Adventure
Lemons into Lemonade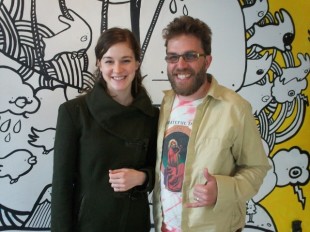 Kira M. Newman recently wrote an article chronicling HootSuite's responses to the many unforeseen bumps and social media blunders we've faced in the past few years.
The article includes reactions to lowlights such as: The Red Cross' highly publicized mistweet, the earthquake and tsunamis in Japan, Amazon Web Services crash and the Arab Spring.
VP Community, Dave Olson, was quoted in the article on how HootSuite's DNA is reflected in its public image:
From humiliating tweets to chaotic revolutions to tragedies big and small, HootSuite has kept its cool and remained genuine. But how?

Dave Olson: I want to build this company one hug at a time, one relationship at a time – of course it's not quite possible anymore but we still take that same ethos and same attitude.

We really try to be egoless. We're all in it together. We're all just owls. … Having this egoless, hustle, underdog culture – there's something really ingrained in our DNA about we don't take anything for granted. We don't compete against people; we compete against ourselves – we're always raising the bar for ourselves."
Read on for some great examples of how HootSuite's quick response to difficult situations allowed it to make its own silver lining: Tech Cocktail –  Cool Under Pressure: How HootSuite Responded to Embarrassing Tweets, Crashing Servers, and the Japanese Earthquake
Firehose of News
The coverage doesn't stop there. Read on for a couple more HootSuite articles:
The Vancouver Sun – HootSuite wants to anchor Vancouver area tech boom
Fast on the heels of Facebook's IPO, in terms of media coverage HootSuite was recently featured in the Vancouver Sun. In the article, Ryan talks about his plans to 'anchor' Vancouver's tech boom by keeping HootSuite on home turf. He aims to have HootSuite  become a "legacy company for the community, such as PayPal became for San Francisco."
Brent Holliday, a technology investment banker with Capital West Partners was quoted in the article:
"This trend is well established in Vancouver, where a number of promising digital startups have sold quickly and moved to Silicon Valley, including Flickr, Zite and Summify. But Holmes and a handful of other Vancouver entrepreneurs are trying to change that pattern."
USA Today – Small Business Strategies: Slow summer can be opportunity
Onward!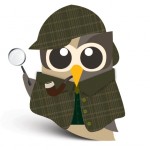 Stay in touch with all the latest HootSuite media coverage by following @HootWatch. Plus, check out our social bookmarks for an archive of HootSuite-related articles and blog posts.
Do you have some suggestions for new HootSuite features? Share your ideas with us. Your feedback plays a big role in our roadmap.