Ken Mandel Joins Sir Martin Sorrell at WPP's Stream Asia Unconference
Tomorrow marks the kickoff of the WPP's Stream Asia "unconference," with start-up stars, venture capitalists, social entrepreneurs, publishers, academics, and media executives joining WPP agencies and partners in Langkawi, Malaysia. HootSuite's APAC Managing Director, Ken Mandel, has been moonlighting as a member of WPP's Stream Team and Director of the Stream Band, among other roles. It's one of his top events of the year.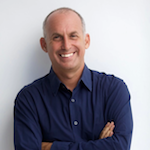 Mandel attended his first Stream in 2008, and has since been to events in Greece, Thailand, and Indonesia. He is excited to be returning this year, but not just for the refreshing coconut beverages at the HootSuite tiki bar; it's is a rare opportunity to share ideas with leaders of global brands in an informal setting.
Stream is invite only. So how do you get invited? It helps if you're the CEO of a major media or technology company, but even then, your CV is no guarantee. Ken Mandel, a veteran of the event, says the key to getting invited back is willingness to embrace this unconference. What is an unconference? The first difference attendees will notice is that there's no fixed agenda or typical conference schedule at an unconference. The organizers provide an overall structure and then the conference participants create the agenda in real-time throughout the duration of the conference.
"Stream is informal and unpretentious, with everyone checking their corporate-ness and egos at the door, which opens minds to learn from each other during the heaps of discussions that occur throughout the day," Mandel explains. Discussions are at the heart of Stream. Anyone who attends can lead a discussion, but there are no formal presentations or keynotes. "Everyone at Stream shares the same stage," he says. Conversations invite various points of view—monologuing is discouraged. As Venture Capitalist Yossi Vardi, who co-hosts with WPP CEO Sir Martin Sorrell, likes to say, there's no "stealing the oxygen in the room."
Mandel is looking forward to the discussions, but asked what he will be talking about, he says he's "not sure yet." And neither is anyone else. At Stream you participate in many creative and unusual ways that make Stream like no other conference. Don't bother trying to plan a traditional "talk." Needless to say, if you're lucky enough to get an invite, be sure to check your trusty 50-slide PowerPoint deck at the door.
Beyond the discussions, Stream has all sorts of activities, from early morning Yoga to the fabulous Midnight Cooking Madness, where you can cook your most impressive dish. Mandel's favourite event is the Stream Extravaganza: "I get to play some guitar which is not something I get to do very often at all and certainly not at Industry Conferences!"
 Follow @HootSuite_APAC for updates from HootSuite in Asia Pacific