Klout and HootSuite: All about influence ~ News Round-up
Influential Releases
With 2 big releases this past week, there's enough news to fill a half dozen news round-ups so let's get underway with a focus on influence measuring.
We added Klout scores to HootSuite a few releases back to help gauge the breadth and power of individual networks. This time around, we added a "filter by Klout score tool" which allows you to only display Twitter messages send by people with a specified score.
While not perfect by any means, these algorithmically-produced score allows you to learn which followers and contacts enjoy the widest reach which is deal for quickly identifying campaign candidates or response priority.
A few campaigns have made a splash by using Klout to identify influencers and then outreach to them with their offers.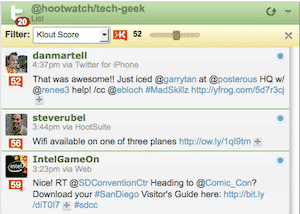 One example is Virgin Airlines who tracked down high-Klout-ers in San Francisco and Toronto and offered free flights to promote the airline's new service between those two fine cities.
Mashable provides some more background using the example of a Toronto-blogger Breanna Hughes who scored a free flight with her 42 Klout score. Despite the significant perks, there were not coverage requirements.
Another participant was Social Media Club's Chris Heuer who used his flight to host a club meeting in Toronto, ergo:
ChrisHeuer: stoked to be going to TOR w/ help from @VirginAmerica (thanks to @klout). going to do 1st @socialmediaclub visit to TOR & Niagra #VXToronto –  5:45 PM Jul 14th
In the past few days, many HootSuite users have mentioned their thoughts about the tool and some speculate how the Klout scores are tabulated while others question the idea of measuring influence.
Here are a few which we gathered for your perusal to tactical ways in which people might use this tool. As usual, you can grab the full firehose of HootSuite news via the social bookmarks stream and/or by following @hootwatch.
How Klout Scores Work | Engauge Blog & @KathleneHestir » How Klout Scores Work
Hootsuite released new social CRM tools yesterday that allow you to filter your keyword and search columns for Twitter by keywords – and even more importantly by influencer. Recently Hootsuite also integrated Klout Scores, a score that measures your influence across the web, into their dashboard metrics.

So now, for instance, if you manage a Twitter account for an ice cream brand you can do a search across Twitter for people talking about ice cream and sort these people by their Klout score or influence. This is extremely helpful because community managers no longer have to spend half their time searching for influencers – now audiences can easily be sorted by Klout score and more time can be spent reaching out to people most likely to help you spread your message.
New HootSuite Features Offer More Insight About Your Customers | Read Write Web
Using the influence scoring algorithm developed by Klout, HootSuite allows users to sort their followers by who has the most influence on Twitter, enabling companies and brands to better prioritize their Twitter conversations.
Klout and HootSuite: when influence becomes a self-fulfilling prophecy | Social Signal
Klout's newfound, well, influence has landed it a special place in the heart of Twitter web app HootSuite. (By the way, I've been using HootSuite heavily for the past few days, and can report it's amazing.) You can now filter the people you follow so you only see updates from those who surpass a certain Klout threshold.
Top 20 Vancouver Twitter Peeps Based on Klout Score | Kris Krug
Criticize as you may… I don't post this for any sorta ego stroke but because for power-users of Twitter the data yielded by Klout is fascinating. Who influences you? Who is influenced by you? Which the topics you talk about online do people engage with the most?

I also noticed that Hootsuite just recently added Klout scores next to all users profile information. Useful way to at-a-glance figure out what some is all about.
Klout and the Incalculable Value of Surprising Influencers | Tod Maffin
The recent release of the excellent and free Hootsuite social media dashboard now lets you filter tweets by Klout. In other words, you can see a stream of people who are tweeting about your brand — and can tell Hootsuite to only show those people who are very influential on the Internet. These are the people you should focus on. Invite them to participate as advisory board members. Send them a gift certificate. Invite them to your next staff party.

This screenshot shows one of the Hootsuite columns I run — a search for any time someone mentions my Twitter username, but only people with more than a Klout Influence Score of 39. These are the people who others trust to bring them valuable content. They are paid attention to.
One of the features we particularly like (admittedly, we're a bit biased) is the new ability to filter by Klout Score. Sometimes you have more mentions and updates than you can possibly keep up with and the only way to keep sane is to filter. Hootsuite allows you to filter by our influence score as well as by keyword.
Twitter Tools: HootSuite Rocks | The First Impressions – Kapil Apshankar
Filter By Influence: The influence word seems to be popping up all too frequently since the last couple of weeks. I had a bunch of posts on the same topic here last week – (Trust + Influence) Exceeds (Fame + Power) In Social Media.

I have been gaining a lot of insight into Twitter behaviors using the Klout index – based on the Klout algorithm. Though there are opponents of the Klout algorithm, and it too has its own set of limitations, this is still a pretty good start that goes a long way in improving my Twitter experience and making it relevant to me.
HootSuite Update Gets You Down with the In Crowd | Marketing Pilgrim
Twitter dashboard HootSuite added a new layer of functionality this week that emphasizes the influencers in your social media crowd and further lays the ground work toward becoming a pay service.
New Hootsuite Has "Klout" | Office Divvy
The popular social media tool to manage Twitter and Facebook status updates, Hootsuite, released their newest version: Hootsuite 5.0.

One interesting feature is "Klout" with twitter-user scores based on Klout.com's klout-scores, which is the influence metric. It measures overall influence through 25 variables broken into three categories; True Reach, Amplification Score and Network Score.
Bonus: Just a couple more which sort of fit with the others.
HootSuite influence classification according to Twitter users | CNET News Service (Chinese)
Note: You might want to get your translator out for this post in Chinese.
HootSuite For Sourcing | The Source Newsletter
Note: Sourcing is the research part of recruitment industry. "Sourcers" are master web searchers with ability to find *anything* and prove their mettle at conferences with Grandmaster challenges. While Amybeth's article mostly reviews some other new features, it's an easy connection to know that influence scores will get you noticed faster when looking for gigs or clients.
Update
Here are a few more posts abot Klout (not HootSuite) to add to the conversation about influence:
Influence is More Than Klout-Deep from The Online Strategy House by Guacira Naves
Social Media: Does Your Klout Really Matter? by Veronica Heringer

More to Come
Expect a few more news round-ups in the coming days while we archive reactions to the releases. As usual, you can grab the full firehose of HootSuite news via the social bookmarks stream and/or by following @hootwatch.