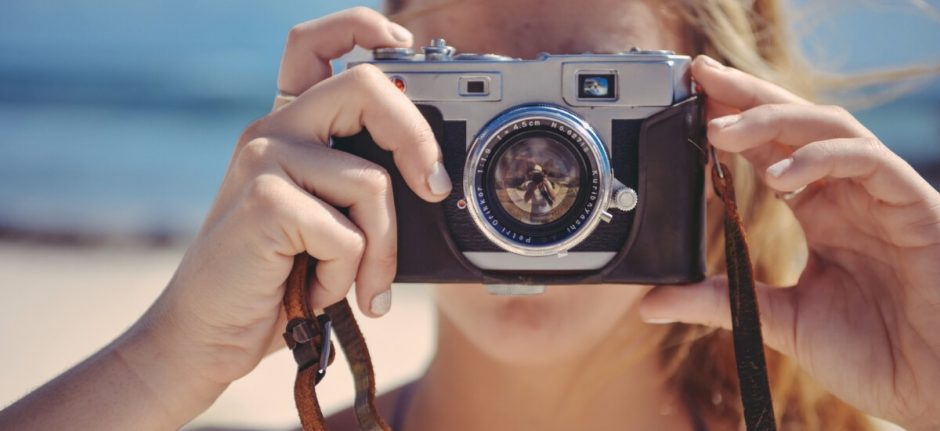 7 Lessons Brands Can Learn from the Most Creative Accounts on Instagram
With 500 million active users, it can be hard to stand out from the crowd on Instagram. It just isn't enough anymore to create your account, post beautiful pictures every now and then, and like a few photos. Brands, influencers, and the everyday Instagrammer are stepping outside the 1080px by 1080px square box and pushing the boundaries on creativity. If you really want your account to stand out from the brunch pics, selfies, and photos of feet, you need to think creatively.
As a way of surfacing the best Instagram campaigns, the Hootsuite social team created a curated account called Hootsuite Showcase. Featuring uniquely awesome accounts or campaigns on Instagram, it is a resource for inspiration and an easy way to see what others are doing on the platform. Each account or campaign featured on the showcase has been chosen for a specific reason, but they all share one thing in common: exceptional creativity. Viewed as a 'Best of Instagram,' there are plenty of lessons that can be learned from content featured on the Hootsuite Showcase.

Bonus: Download a free checklist that reveals the exact steps a lifestyle photographer used to grow from 0 to 600,000 followers on Instagram with no budget and no expensive gear.
1. Aim for consistency of imagery and theme
 Find MoMo by @Andrewknapp
Creating (and sticking to) an Instagram theme isn't the easiest thing to do, but taking that extra time to nail-down your signature style goes a long way. Whether it's focusing on a theme or using the same filter (or editing technique) for all your photos, having consistency will take out the guessing game and keep people coming back.
One of my favorite examples is Canadian designer, photographer and Instagrammer Andrew Knapp, who is particularly fond of hide-and-seek. Knapp takes creative photos in which his border collie Momo is hidden among buildings, crowds, or breathtaking landscapes, giving followers the chance to play Where's Waldo with the playful pup. The Instagram photos are beautiful and it's surprisingly challenging to find Momo. Knapp's photos are consistent in lighting and color, and I truly look forward to seeing his photos in my feed and searching for Momo.
Lesson No. 2: Utilize Instagram's grid layout to help customers
#EndlessTable by @reynoldskitchens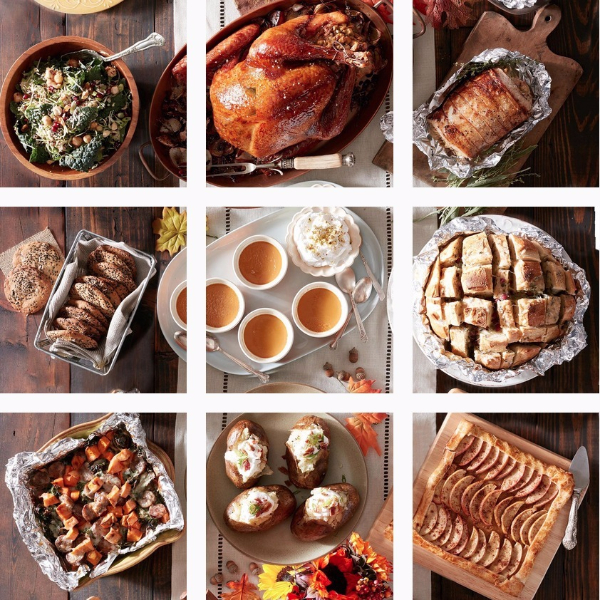 Any Instagram user with a little bit of game knows that part of the platform's appeal is its clean, grid-style design. If you visit any user's profile, you'll see their images laid out in a grid with three images across. But have you ever thought about using Instagram's grid layout in your strategy? It takes a lot of planning, designing, and detailing, but when done correctly it can make a real impact. Reynolds Kitchens are experts at this, and tapped into a huge #foodie fan base. I mean, who doesn't love hearty comfort foods?
Working with creative agency Havas Worldwide Chicago they created a social campaign that is sure to inspire hunger pangs. The amazingness that is the #EndlessTable consists of one giant table split into dozens of separate images by utilizing Instagram's grid layout. Each image features a scrumptious recipes for every occasion and season (notice the Thanksgiving and Halloween treats!).
When you click on an image like the sweet potato and kale salad, it forwards you to another Instagram account that consists exclusively of the ingredients needed to make that dish, as well as instructions and a link to Reynolds Kitchens' website.
In addition to making me want to put on an apron and start baking, this interactive campaign is an awesome example of a brand using Instagram's grid layout to ignite awareness, share content, and increase customer engagement.
While making full use of Instagram's grid layout is a great way to up your account's creativity, you have to be careful.
Lesson No. 2.5: Don't "clog the feed"
Art installation by @asvpxrocky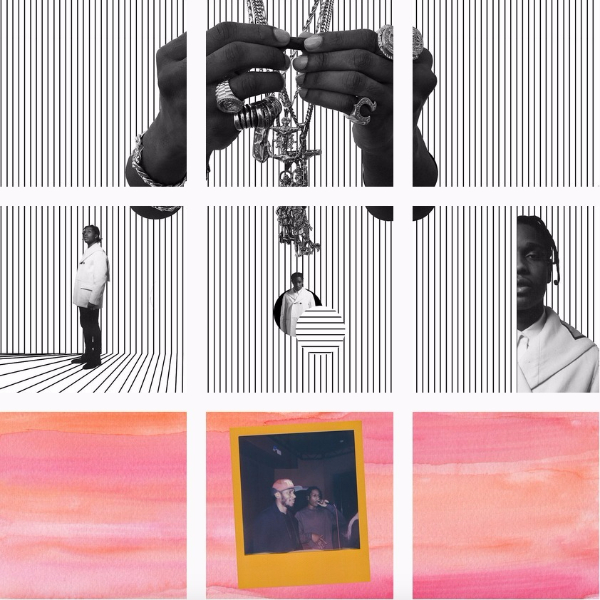 Rapper A$AP Rocky posted an art installation on Instagram that comprised 168 individual frames of imagery, done in coordination with Art Director Robert Gallardo. Posted in May 2015, all 168 images were published on the same day, to the chagrin of the 100,000 followers that stopped following the account.
While the attention the project garnered was mostly positive, brands should be aware of the potential backlash of posting massive collages as this barrage of images can "clog the feed." On Hootsuite Showcase, we try and stick to between nine and 15 images in order to avoid overwhelming our follower's feeds.
Lesson No. 3: Engage your audience with interactive contests
Heineken scavenger hunt by @crack_the_us_open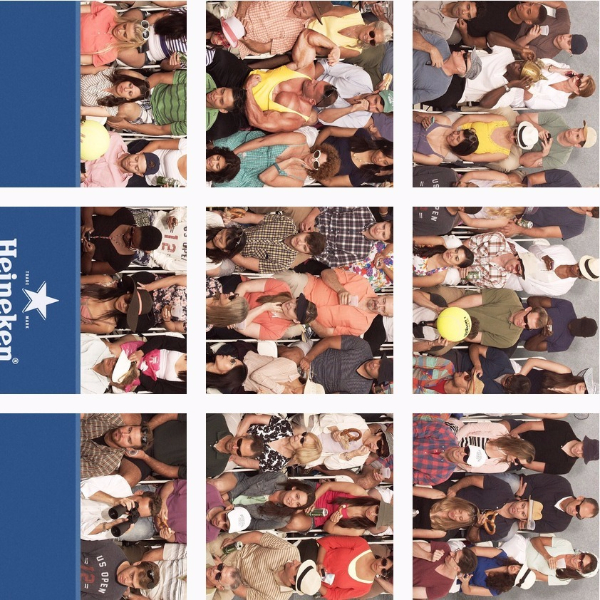 It's no surprise that contests on Instagram create engaging moments. When deciding what type of contest you want to run, an interactive approach using Instagram's grid layout is something to consider. To move beyond asking followers to comment or like for a chance to win, try creating a scavenger hunt, similar to what Heineken did in 2013. They created an Instagram account called @crack_the_us_open for their sponsorship of the U.S. Open Tennis Championships. The account, created in part by ad agency Wieden+Kennedy, served as a hand-held scavenger hunt, rewarding players with a chance to win tickets to the tournament.
The account featured an extreme panorama image of a crowd watching tennis, split into square pieces to utilize Instagram's profile grid layout. In each individual photo, Heineken provided clues in the image captions. Instagram users had to scan the crowd and hashtag the correct images. In order to play, users had to turn their phones 90 degrees to view the panoramic image of fans utilizing Instagram's grid layout.
Lesson No. 4: Make the most of user generated content through unbranded hashtags
The struggle to create fresh and engaging content for your audience is real. You've worked hard to create an engaged following, so why not tap into that community? User generated content is an opportunity for you to let go of the reins and leave it in the hands of your awesome supporters.
One way to launch a user generated campaign is to create an unbranded hashtag. An unbranded hashtag can be beneficial because it's less promotional, giving it a greater chance to spread and (hopefully) go viral. The hashtag must be creative, clever, and, most importantly, NOT have your brand name in it. Two brands that did a great job at running a user generated campaign on Instagram are Polerstuff and Kit and Ace.
#BeneathTheBrim by @polerstuff
Polerstuff is a outdoor gear and sporting goods brand that created the hashtag #beneaththebrim to encourage fans to share photos from "beneath the brim" of their Poler hats. Often framing beautiful landscapes, the images are immediately recognizable by the "CAMP VIBES" text on the underside of each hat.
Thousands of fans shared stunning images with tasteful product placement. Poler uses this hashtag to great effect, often sharing images tagged with #beneaththebrim through their official Instagram account. This cache of user generated content provides an avenue for fans to creatively engage with the brand.
#ThisTimeIsPrecious by @kitandace
Kit and Ace is a Vancouver retail company making waves on social and growing their following through user generated content campaigns and influencer marketing. Their campaign, #thistimeisprecious, sparked our attention as it encouraged people to share what means most to them over the holiday season. From loved ones to locations, and activities to traditions, people took to Instagram to share what's precious to them.
The campaign, which included customers, employees and influencers, gave Kit and Ace the opportunity to demonstrate the power of user generated content and how it can grow a community of supporters. In addition, working with influencers in many different cities has grown their credibility as a brand by showcasing support from industry professionals.
Lesson No. 5: Try out #TBT for education
Company history #tbts by @generalelectric
What did social media do before throwback Thursday? Once a week, the internet is flooded with baby pics and family portraits that can prove far more divisive than expected. Love it or hate it, throwback Thursday is here to stay. Instead of jumping on the baby pictures bandwagon, why not use this viral hashtag to build awareness about your company or educate your followers about the evolution of your product.
An awesome example of this is the way General Electric innovatively used #tbt to educate followers on the life of their company. GE created custom videos and images that provided insight into both the history of the 123-year-old brand, and science in general. This method is a great way for non-visual brands to share through Instagram. Companies that aren't consistently creating new visuals can mine photo archives for engaging images—giving them the opportunity to share new content and tell followers about their company's history.
Lesson No. 6: Use Instagram for recruitment
#CastMeMarc by @marcjacobs
Forget the traditional resume! Okay, maybe not altogether, but there is so much opportunity to use social to find the next brilliant mind to join your team. Of course, there are limits to this, as you don't want to expose those applying for another position, but playing around with incorporating social into your recruitment process can reveal some incredible talent.
Marc Jacobs created the hashtag #castmemarc as a casting call to recruit modeling talent and increase brand awareness on Instagram. Users tagged images of themselves or their friends for a chance to be scouted by the Marc Jacobs team and appear in upcoming fashion campaigns. With over 119,000 uses of the hashtag on Instagram, the campaign has been a massive social media success.
Lesson No. 7: Ask your dog to be an influencer
Aspen the Mountain Pup by @aspenthemountainpup
At Hootsuite we've come to learn an important lesson: dogs always win on social. When it comes to social sharing, nothing beats a cute pup. Getting your dog to be an 'influencer' gives you major cred and the opportunity to go viral. An excellent example of this is Aspen the Mountain Pup, who was recently featured on Hootsuite Showcase. The four-year-old golden retriever, who lives in Denver, Colorado, has taken Instagram by storm.
His exploration of mountain tops and vast glacier lakes in the U.S. and Canada give us major adventure and travel envy. No stranger to adoring fans, Aspen has a large following of 152,000 and has sparked the interest of many companies like Michelob Ultra, Original Penguin, and Expedia who worked with him to create cool campaigns and contests. When he's not canoeing, hiking, camping, and playing in snow, he's cuddling up with his owners Hunter Lawrence (not only his dad but an experienced photographer as you can see) and Sarah Lawrence (his mom and lifestyle blogger).
Think we're missing great examples of people doing awesome things on Instagram? Use the hashtag #hootsuiteshowcase on your Instagram posts (or posts from your favorite account) to let us know. Posts tagged with #hootsuiteshowcase could be featured on the Hootsuite Showcase account.