Look Hoo's Hooting ~ Top Brands from Diamonds to Racecars

Last week, the folks at Pingdom published an article called "Twitter tools used by the world's top brands" summarizing research which found that more than 20% of the top 100 global brands are using HootSuite to manage their Twitter profiles. The article made its way through Twitter (trending in the process) and was picked up by other notable news sites, including the wise folks at Mashable who published 20% of Top Brands Use HootSuite.
For us at HootSuite HQ, it was a treat to see our name at the top of the list so the Owls figured it a great chance to say a big "HootThanks" to these brands for embracing the owl.
Hooting All Over the World
In celebration of our ever-growing user base, we've highlighted brands, people, government agencies and other social institutions through our 'Look Hoo's Hooting' blog series to showcase our diverse and beloved customers.  Typically, 'Look Hoo's Hooting' is organized by city or country including New York, Toronto, France, London and recently, Turkey! This time, we shifted gears to celebrate Hoo's Hooting among the top 100 global brands.
Without further adieu… The Hoo's Hoo of the Top 100:
Care & Wear
@HM – Stylish, yet affordable clothing, for every occasion
@NIVEAUSA – Your skin will sparkle for days with their plethora of fine products + they're great on Twitter, hosting daily giveaways
@GAP – Having a blast on social with campaigns like their DIY project: #ShineOn Saturdays
@TiffanyAndCo – 175 years of fabulousness. Peruse their 1837™ collection in celebration of their founding – possibly with breakfast
@LorealParisUSA – Affordable luxury for those who demand excellence. Learn the story behind their famous catchphrase: Because You're Worth It
@AvonInsider – Empowering, celebrating beauty and improving the lives of women all over the world
@Kleenex_UK – Fighting hay fever season in style – one kleenex at a time!
@JNJComm – Johnson & Johnson, a classic family company ~ Fun fact: they produced the first commercial first aid kits in 1888!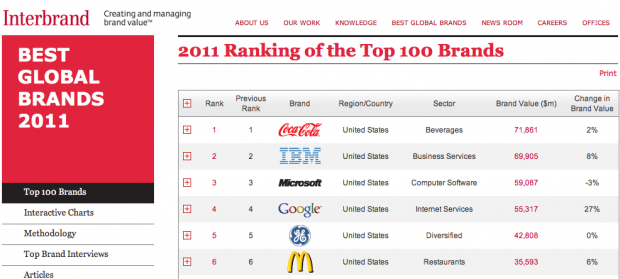 Tech / Online etc.
@IBM – Building a smarter planet, one Tweet at a time – read their take on how sports teams are using descriptive analytics
@HP – Founded in 1939, in what is now dubbed "Silicon Valley" and one of their first clients was Walt Disney!
@Panasonic – Making a splash in London with the Panasonic Full HD 3D Theatre in the Olympic Park
@eBay – The world's online marketplace (but you already know that because you buy weird stuff from them)
Machine Makers
@MBUSA – Legendary German craftsmanship from Mercedes Benz… and they've recently launched a Pinterest page!
@Porsche – Currently celebrating the new Boxster with an interesting cultural journey called #SpiritedEscapes
@CaterpillarInc – Have earth to move? These machines can do it
Business Services
@BarclaysOnline – Download the new mobile banking app from this venerable financial institution
@UPS – In 1907, they delivered on foot, now they're the world's largest package delivery company
@VisaSignature – The card that can save you from a jam and get you into trouble too :)
@UBS – 150 year history of providing financial services to an impressive global clientele, now with Twitter
@AXA_Equitable – A provider of life insurance to protect your assets
Hoo's Next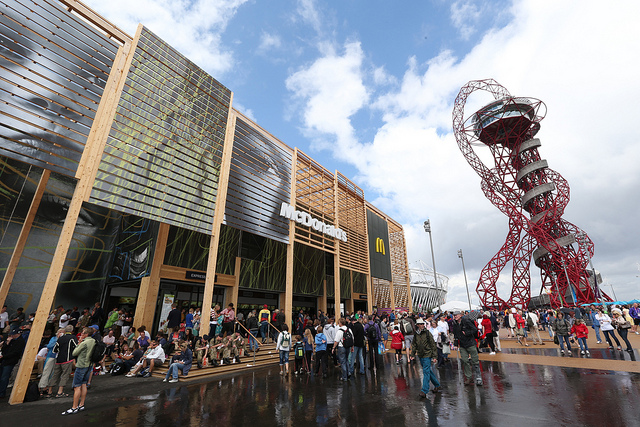 There's 20 top global brands who Tweet from HootSuite with 1 more Pingdom may have missed to make it 21:
@McDonaldsCorp – Official restaurant of London 2012! Checkout the flagship London Olympic McDonalds
So, from giant global brands to social media aficionados, there is certainly no shortage of those embracing the owl ~ including you.
Want to share your HootStory? Let us know Hoo's Hooting in your country, city or industry for future "Look Hoo's Hooting posts."