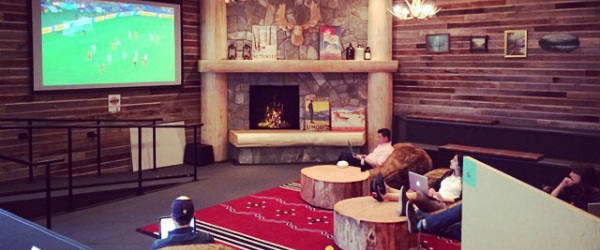 What You Missed on Social Media While You Were Watching the World Cup
International sporting events, especially those that come around only every four years and has millions of die-hard fans, have a way of taking over your social media feeds. For many of us, the past six weeks have seemed like they've been all World Cup 2014, all the time. Major social networks kicked into high gear, with official hashtags, daily analytics, and summary sidebars.
The social media hype around the 20th World Cup has surpassed everyone's expectations: Facebook has announced that the World Cup has generated over a billion interactions, the most in the network's history. Google Trends showed over 6 billion related searches. Even if you couldn't care less about who scored, you couldn't miss the Suarez bite, or Brazil's devastating loss to Germany in the semifinals—unless you stayed completely unplugged during the month-long event (which, let's face it, you didn't).
But with so much attention devoted to soccer scores, you may have missed what the rest of the social web was talking about. So we figured you might also want to catch up on what's been going on while you were too busy composing and retweeting hashflagged posts.
We analysed trending hashtags, search keywords, and news articles over the past month, and came up with this list of 6 things you may have missed on social during World Cup 2014.
Sports & Culture
Pottermore
It's been years since the last book and movie adaptations in the Potter saga, but it didn't take much to rekindle Pottermania. J.K. Rowling released the newest instalment in the Harry Potter series on Pottermore, a website devoted to everything related to the epic saga about the Hogwarts adventurers. The 1500-word short story is set seventeen years after the battle with Voldemort, and it stirred up a lot of discussion—especially with those twentysomethings who grew up with Potter who were left "feeling old" while reading descriptions of Harry's greying hair.
So we're supposed to believe there's no spell for grey hair? #Pottermore

— MUCH (@Much) July 8, 2014
Wimbledon
Yes, there were a few major sporting events going on simultaneously with the World Cup, and the most prestigious tennis tournament was one of them. The tournament fell right in the middle of soccer matches, beginning right as the group stage wrapped up, with Wimbledon finals coinciding with the most dramatic World Cup games. As a result, reactions on social media generally fell into one of three categories: dismay over lack of attention for the achievements of tennis athletes, disappointment over having to choose between either watching a soccer or a tennis match, or biting remarks on the bad timing.
Wimbledon had a tennis tournament in the middle of the World Cup? More like Wimbledumb! Am I right? #YouThoughItISaidIt

— Noppy (@ThomasNoppers) July 10, 2014
I love a bit of Wimbledon but no one cares at all when the World Cup is on.

— Rob Beckett (@robbeckettcomic) July 6, 2014
ESPN Body issue
Okay, so maybe you used the lull between World Cup finals to check out this year's athletes featured ESPN's Body Issue. In addition to offering a different kind of exposure to famous athletes, the sports magazine's annual release sparked yet another round of discussions around body image, censorship, and commodification of beauty (and a lot of NSFW-seeming content on your social media feeds).
I was about to eat 2 spoonfuls of fro yo and then I seen that #ESPNBodyIssue and decided to drink another glass of water.

— Knowledge of Self (@ImBornRebel) July 10, 2014
If you're sitting there talking trash about #PrinceFielder please make sure you look REAL good buck naked!! #ESPNBodyIssue #JustSayin

— Giselle Phelps (@GisellePhelps) July 8, 2014
Tech
Amazon Fire Phone
On June 18, while you were busy watching that Spain versus Chile game, Jeff Bezos unveiled Amazon's own smartphone. What makes the Fire phone unique among comparable iPhone and Samsung Galaxy models are its Amazon-exclusive features. Among them is a tool which allows the phone to recognize whatever the phone "hears" or "sees," which received the name 'Firefly.' Of course, Joss Whedon enthusiasts weren't too far behind on this bit of news:
No matter how many times you press the FireFly button, the show isn't coming back. #AmazonFire

— Victor Agreda Jr (@superpixels) June 18, 2014
Expect the Fire phone to reappear in the social media channels, as it's planned to be released directly on (surprise!) Amazon on July 25.
Google I/O and Wearables
Not to say that Google's annual developer conference went completely unnoticed by social media channels, but the interest in it did seem to be a lot more confined to the tech niche this year. Outside geek circles, it did bring back the discussion around wearables. Among the hot topics: whether we will ever grow using that not-so-clever insult when referring to Google Glass users, our anxiety around the Internet of Things and privacy issues surrounding trackers, and how we can use the data from wearables to learn more about ourselves instead of engaging in high-tech navel-gazing.
But when it comes to social media love, a different kind of "wearable" generated numerous tweets and bad puns: Google Cardboard, a recyclable, DIY Oculus Rift.
Finally saw that VR cardboard thingy up close. Gotta hand it to Google, that might be the best Happy Meal pack-in EVER.

— Jeff Bakalar (@jeffbakalar) July 1, 2014
News
On social media, as in the rest of our lives, sports can serve as a welcome distraction from the important, difficult things happening in the world. And over the past few months there's been a lot you might have wanted to divert your attention from. Two major news stories in particular have had interesting social media subplots.
Gaza
The confrontation between the Hamas and Israel escalated early in July, with dozens Palestinian rockets reportedly launched into Gaza, followed by counterattacks from the Israeli army. To reflect the international concern, #Gaza has been steadily trending across all social media platforms, with variations including #PrayForGaza and #GazaUnderAttack. Internet vigilante group Anonymous have also launched a "Twitter storm" campaign using the increasingly popular hashtag #StopGazaAssault to petition the US to freeze financial aid to Israel while the Gaza attacks continue.
I'm sick of pple saying #Gaza makes me so sad. They don't need ur tears but ur action! Save the salt and get on the streets of your country!

— Lauren Booth (@LaurenBoothUK) July 11, 2014
ISIS hijack World Cup hashtags
It's unlikely that you've missed the trail of chaos and carnage left across Iraq and the Levant by the Islamic extremist group ISIS. But you may not have been aware of a strange social media angle to the story: ISIS used World Cup-related hashtags to help spread their messages and seek recruits on major social networks. The idea behind this strategy is to increase visibility of tweets composed by ISIS-related social media accounts by including them in #WorldCup or #Brazil2014 searches. ISIS has been actively employing social media to expand their reach, and experts say that using soccer-related hashtags would help the Islamic state reach their target audience of disenfranchised young men.