#MyDash with G Adventures ~ Travel Made Easy with Social Media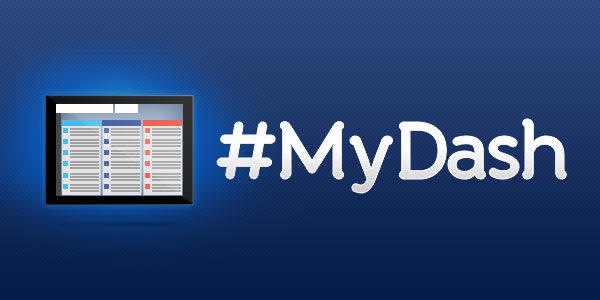 At the advent of 2013, we launched a blog series called #MyDash. Here, we highlight a HootSuite user, and get a glimpse at the way they've set up their dashboards to suit their unique social media needs.
The Social Savvy Traveler
Ever wanted to wander through Old Delhi or smell the aromas and see the beautiful array of colors at Indian spice markets? What about spotting wildlife in Tanzania's best national reserves or climbing Inca Trails to ancient Machu Picchu in Peru? There are millions of life-changing adventures out there – some seemingly more intimidating than others. So how do we remove the obstacles associated with many destinations and put you face to face with the world's most fascinating cultures, customs and awe-inspiring wildlife? G Adventures travel company (previously known as GAP Adventures) has a solution for everybody.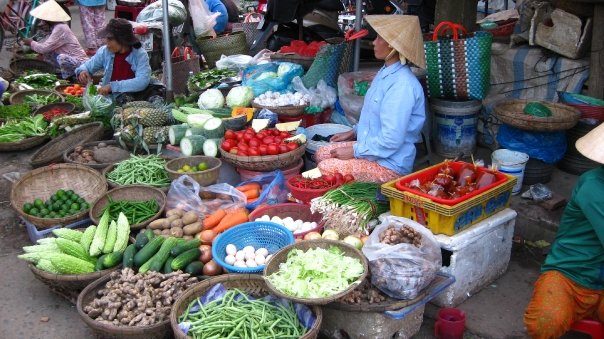 But today, we're interested in how this global travel company manages its brand, ambassadors, experiences and customers via social. Travel has drastically transformed because of social media and mobile apps – from travelers tweeting and Instagramming their experiences at every wifi cafe, while googling best directions or app searching menu translations, to brands tapping in to cater the traveler's real-time requests and comments. Today, all travelers really need is a smartphone and passport to make trips happen.
On the other hand, how are travel brands like G Adventures connecting to this new wave of traveling social customers? In this #MyDash, G Adventures' Social Media Manager, Andrew Hickey gave us their inside scoop on how social media works for them.
G Adventures' Dash ~ An Interview
Sam Milbrath, HootSuite: How have you set up HootSuite for your unique use of social media management?
Andrew Hickey: At G Adventures we encourage social media use for all our employees. We even train them if they're not familiar with social when hired. We do this so that they can communicate with our passengers, possible future customers and fellow employees around the world. I am able to easily keep track of our passengers on a tour or see what our tour leaders are tweeting, by following the HootSuite column we've set up to monitor our unique hashtag, #gadv.
SM: What do you monitor in social?
AH: We follow a lot of hashtags in Twitter, and HootSuite makes it so much easier to manage them all from one place. We have a column for our brand mentions, for our unique brand hashtag (#gadv) and then for several other popular hashtags in various categories – such as travel, food, tech and entertainment. We're actually just wrapping up a major campaign with Air New Zealand that has the hashtags #gdaygway and #new2nz buzzing on Twitter.
By browsing each column during the day, I find interesting content that I can then use instantly or spread out over a day's worth of @gAdventures tweets. We follow many handles including our 'Wanderers in Residence' bloggers – @everywheretrip, @wildjunket, @nomadicmatt, @legalnomads and @umarket. This group of vagabonds are our brand ambassadors and travel non-stop. When they are on a G tour, it's great to see what they're up to easily by creating a Hootsuite column based around their adventure.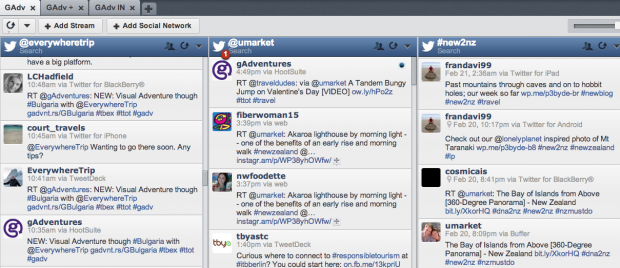 SM: Running a business where employees and ambassadors are representing your brand around the world can be difficult to keep track of brand image and customer service. How does social help your business conquer and monitor this communication gap?
AH: We're fortunate in that our employees have been trained on how to work with passengers on social media. Since they would only be interacting with them on their G accounts and not their personal accounts, we see that they are nothing but respectful, helpful and knowledgeable when chatting with others who may be interested in touring with us or are on tour with us. Social media helps us greatly as we can see them tweeting (for the most part).
SM: You said you're just finishing up an online promotion with Air New Zealand – how do Twitter promotions and contests like these help your brand?
AH: It's the ultimate in brand exposure. When you're able to partner with a trusted global brand like Air New Zealand and give away a dream trip, it really helps boost the G name to people that might not have heard of us yet. We saw 30,000 people enter our contest on Facebook with thousands of likes, comments and shares along the way. Plus we also tweeted out the contest and were able to promote our new New Zealand tours in the process.
SM: How many people run your social media accounts?
AH: I am currently running a majority of our social media channels (Twitter, Facebook, Pinterest, Instagram, Linkedin and Google+).  Our 'Brand Team' runs our YouTube and Vimeo pages and we plan to do more in 2013 with Tumblr.
SM: Why do you plan to do more in Tumblr?
AH: I'm a fan of the site and think G could do some pretty cool things on that popular channel. It's one channel we've ignored for too long. But, we have tons of content and might start pushing exclusive pics over there as well. Right now the channel showcases one image a day. We can improve that.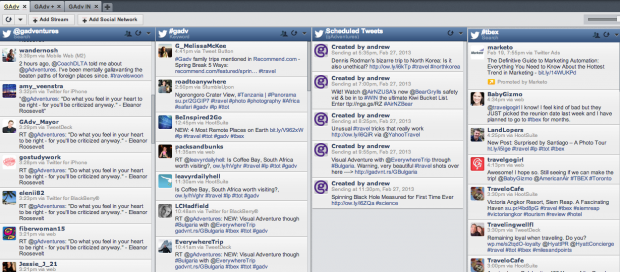 SM: How did you find your tone of voice to suit your brand?
AH: I was a fan of the brand years before coming on board. Over time I fine tuned and looked for ways to improve it. When I came we mostly tweeted about travel. Now you'll find that a small percentage is travel. We're a lifestyle brand and that includes many other topics. I've seen much more engagement since making that transition in 2012.
SM: Why do you think there's more engagement since shifting from travel to more of a lifestyle brand in social?
AH: People can only see "Best Places to Eat Ice Cream in Madrid" so many times before it gets old. I love Madrid… and ice cream – but as a brand, people don't just view our tours as a trip but more of an experience. A life changing experience. We're a lifestyle brand and for that reason tweeting interesting, thought provoking, moving, weird, nerdy and funny content just makes sense.
SM: Do you have any interesting stories about engaging with your customers in social?
AH: We find more people sharing their content with us during their trips. It used to be more sharing once they got back home, but now we're seeing instant updates as more of our passengers become social media savvy. We love when they tweet us a pic, we reply and they reply back; it's like two friends having a quick conversation during a life changing trip. Social really adds a whole other element to the G Adventures experience.
SM: How has social media changed the travel industry for both brands and travelers?
AH: For brands it is a great way to interact with past and future customers. Plus we can get feedback (good or bad) from passengers that are on a tour with us in real time. We absolutely love sharing our fan's stories on Facebook, Twitter, Pinterest and Instagram daily. Makes for great content and shows others real life visual testimonials.
For travellers, it has opened the door to so many great ways to save on airfare, find out tips about a new destination from us, blogs or other travel sites. Also they have a voice more than ever. So if they're not satisfied with their service when travelling, they have a place to vent.
SM: What about mobile apps? How do you think they've changed the travel industry?
AH: They have really made sharing the travel experience easier for travelers. For example when I travel, I find myself snapping a pic on my iPhone with Instagram and sharing it on Facebook and Twitter just as much as I stop to take a pic with my $500 camera. It's crazy how easy it has become to communicate on the go, check how much money is in your account, get help with language barriers and more with mobile apps.
Thanks for participating in #MyDash G Adventures!
Want your dashboard to be featured? Follow the hashtag #MyDash and @HootWatch in Twitter to follow all the buzz or get featured. Stay tuned as we begin to roll-out more unique ways to arrange your dash.