#MyDash with HootSuite's Support Team ~ The Ultimate Customer Service Dashboard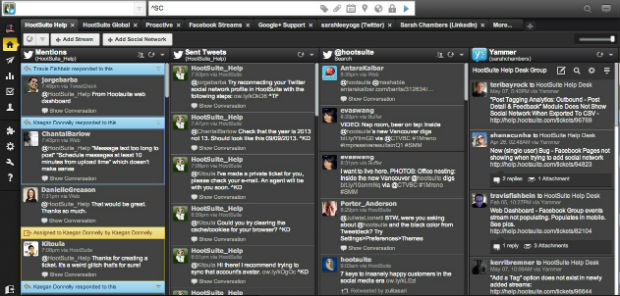 Often referred to as HootSuite's firefighters, our Customer Support team are the first to the scene in social and are experts in answering and redirecting social messages to other departments. Go on you say? Not only are they highly trained in HootSuite University, but they've set up their dashboards to catch any customer service curve ball and respond within minutes.
Could their dashboard arrangement be the reason their customer service is so effective? We think so.
The Ultimate Customer Service Dashboard
Recently, their team of 16 celebrated their 100,000 tweet sent from the help handle, @HootSuite_Help. They answer some 200-300 support tweets a day. But those are reactive tweets, where the customer directly reaches out for support. Here's the catch: its their proactive support that you may find most interesting (only YOU can prevent forest fires).
Let's jump right into this #MyDash with HootSuite's Customer Success department, and see how they've arranged their dashboard to answer support questions around the world, 24/5, in 14 languages (even when they aren't directed at us)…
Meet Sarah Chambers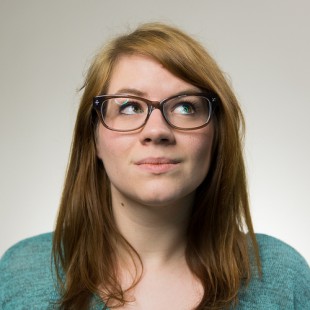 Sarah Chambers, HootSuite's Social Media Customer Support Lead, handles our customer service support on our social media channels. When she's not monitoring Twitter and Facebook and helping out customers, she's tracking metrics: How well her team provides support, what other are companies doing and what we could be doing better.
"People Talk, and We're Listening"
Sam Milbrath, HootSuite: How do customers connect with your team?
Sarah Chambers, HootSuite: Twitter and Facebook are our main two support channels. But we'll go anywhere where our customers are.
SM: Your team has been called the HootSuite firefighters, first on the scene for all of our company's social media and support questions. What's the secret?
SC: There's two different types of support that we do. There's reactive, when people come directly to us (@HootSuite_Help or Facebook) with a question or problem.
But our secret weapon is proactive customer support. In short, Chris Trottier, aka Support Captain, researched twitter sentiment to see what terms or phrases people use most often when they're having a problem.
Twitter sentiment is basically the intent of the tweet. So whether they're expressing a problem, dislike, thanks or praise. Pie graphs break up the negative and positive sentiment or general feeling associated with different keywords.
Our team shares the same sentiment dashboard, or shared streams. We monitor the keywords HootSuite plus either :( , don't, won't, not, or I don't and also #HootSuite. These are all proactive, because they aren't @mentioning us, but it's out there. With this, we can see when people are having problems, reach out to them and basically put out the fire before it even begins. People talk, and we're listening.
"Through the power of HootSuite's sentiment dashboard, I'm able to quantify and track how people feel about HootSuite — both in realtime and archived. I believe our team does this better than anyone on the planet." – Chris Trottier on his sentiment dashboard and use of the HootSuite Archiving tool.
SM: How quickly does your team usually respond?
SC: Our average time is between 5-10 minutes for tweets, 24/5. Facebook is usually more like an hour. We base that on industry standards and what customers expect on the different social networks. People expect faster answers on Twitter, so we've staked our teams to give faster answers on there.
SM: Are the Twitter responses public?
SC: We do all of our support publicly. One of the benefits of social support is that it is one to many, so even if people have a problem they may just look at our @HootSuite_Help stream, see that someone has already had that problem, and get the answer without having to ask.
We use HootSuite Assignments within our streams to assign support tweets and ensure that none are missed. Once assigned, responded to or solved, everyone on the team can see that, especially because we monitor the same keywords, mentions and hashtags.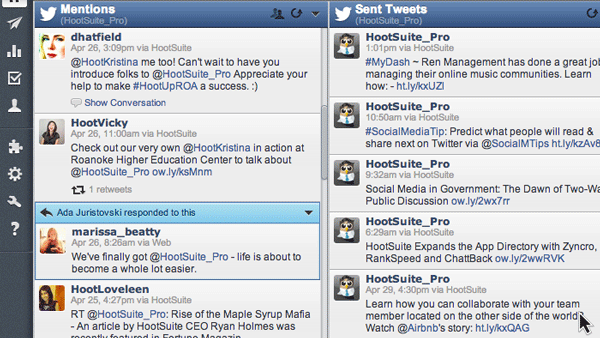 SM: Does your team often assign messages to other departments?
SC: If its proactive, sometimes people will assign it to our team, say if they stumbled upon the tweet and we didn't catch it. Otherwise, we usually see tweets before other teams and just quickly assign it to the department to respond.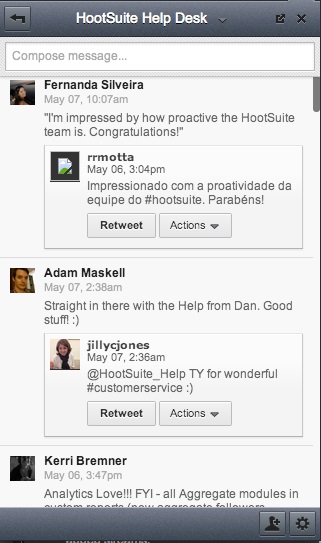 SM: How is your team using HootSuite Conversations to share and connect internally?
SC: Our team is really active in Conversations. We send tweets from users giving us love to our Team Conversation to share with our customer advocates across the globe. We also share best practices and product updates to make sure everyone gets the information they need, quickly.
SM: Okay, so proactive support is your secret weapon, but tell me about the rest. What tools does your team use to respond to @HootSuite_Help questions?
SC: We use a help desk software called Zendesk, which is basically an email conversation because it is secure, private, trackable and more than 140 characters.
Zendesk is one of our integrated Apps, so using HootSuite we can pull a tweet or Facebook message and make a help ticket with the social media conversation attached all within the dashboard. Then you can assign it to another team or member and follow the ticket through to completion. We would do this if there's a billing issue, complicated technical problem or if they need to send us something private.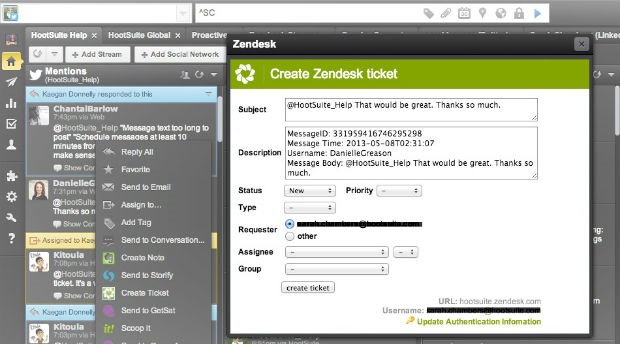 SM: Your team also uses GetSatisfaction, what can you tell me about that?  
SC: We launched our GetSatisfaction community support forum (hootsuite.com/forum) back in November 2012. All users have access to the forum and in there users help users, or we can jump in there to help, moderate and comment on different conversation threads. There's about 3,300 people in there helping each other out; it's pretty cool.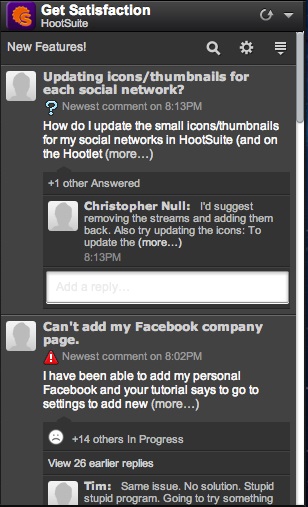 In a HootSuite tab we've added the GetSatisfaction App, where we can moderate, search, comment and track conversations, all laid out in streams next to one another. Or we can also pull customer's tweets right in HootSuite and send it to the forum under whatever category you want. GetSatisfaction is public, so anyone can moderate or connect in different communities. In HootSuite you can see all of the HootSuite related conversations right in a stream.
SM: How can customers use the App?
SC: If you are a HootSuite user and want to join in on our help forums. You can add the free GetSatisfaction App to your dashboard, in a stream, enter the community URL you're looking for. Once in there, search the forum directly, say "trouble with Facebook" and see what people are discussing in there, add to the conversation or ask a question.
Thank you for participating in #MyDash HootSuite Customer Support! Discover other useful apps in our HootSuite App Directory.
HootCare Upgrade
Want to get closer to our Support team? Sign up for HootCare, our prioritized support option.
Stay tuned as we roll out more #MyDash articles to get a glimpse at how HootSuite users have arranged their dashboards to suit their social media needs.
To participate in #MyDash, just snap a screenshot of your dashboard, tag it "#MyDash," and send a reply to @HootWatch. Be careful not to include any private info, such as Direct Messages. We will periodically select HootSuite users to be featured here on the HootSource Blog.