#MyDash: Constable Anne Longley, Vancouver Police Department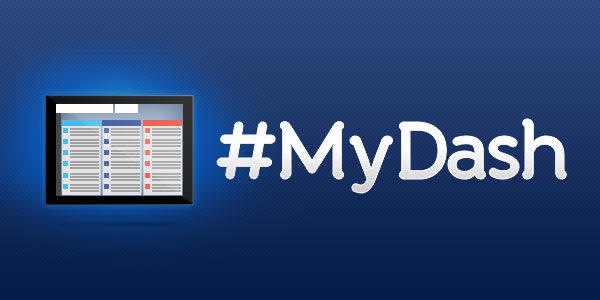 New for 2013, we're introducing a new blog series called (and hashtagged) #MyDash. Here, we highlight a HootSuite user, and get a glimpse at the way they've set up their dashboards. We will periodically select people to feature as guest authors here on the HootSource blog.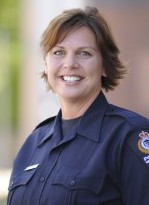 Our first participant is Constable Anne Longley. In December of 2010, Anne became the first "Social Media Officer" for the Vancouver Police Department (VPD). She holds a Bachelor of Arts degree from Simon Fraser University in Criminology and Psychology, and an Associate Certificate in Public Relations from the British Columbia Institute of Technology.
Constable Longley was on duty, seated at her HootSuite dashboard, on the night of June 15, 2011. That night, the streets of Vancouver erupted into a riot following game seven of the Stanley Cup Finals. After taking a peek at her dashboard, read her story of how the events of that night have changed the way the department uses social media.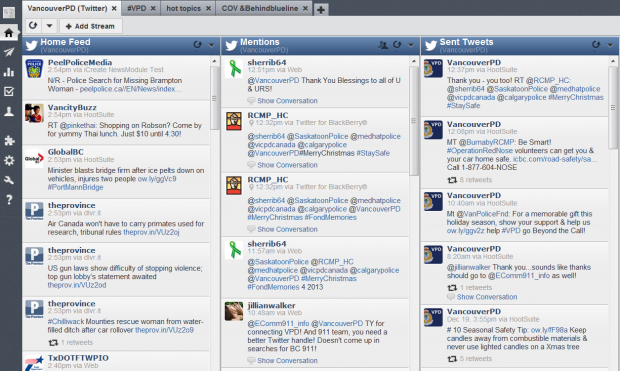 To Serve, Protect, Facebook and Tweet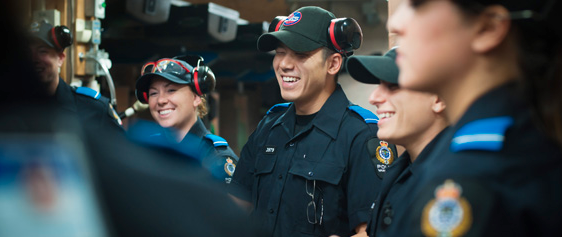 I've been a police officer with the Vancouver Police Department for over 20 years. Even five years ago I couldn't have imagined that I would be a "Social Media Officer." I didn't even know what social media actually was.
Prior to the VPD joining Twitter in December of 2010, I had never tweeted in my life. I had a personal Facebook account, but I had not yet explored Twitter. In anticipation of our "Tweet-a-thon" launch, I started following other police agencies and contacting them to find out what they did and how they did it. Toronto Police were a great help, as was Laurie Stevens from ConnectedCops.net.
What I didn't know back then was just how important having a voice on social media is for police agencies. Our voice on Twitter is now a trusted and relied upon source of information. I was already working in our Community & Public Affairs Section and had been trained as a back-up for the media relations position, which I think really helped in understanding the impact that 140 characters can have.
I quickly learned how important tone can be– especially coming from a police agency. From the start, I have viewed Twitter as a more informal style of communication than our media releases, and much more about engaging with our community than simply putting out information. The tone we use on Twitter is professional, while being approachable and not too formal.
What I have come to enjoy most about using both Twitter and Facebook is the interaction with the public – something that I sorely missed by not being out on the street as a patrol officer. Although I sit at a desk facing a computer screen, I know that my words on Twitter and Facebook can help to inform, calm, engage and connect. I really enjoy that it is a two-way form of communication and take every opportunity I can to answer questions, pose questions and invite interaction.
Social Media's Role in the 2011 Stanley Cup Riots
For me, the game-changer in our use of social media was at our six-month mark, which happened to be right when the Stanley Cup hockey playoffs were taking place in Vancouver. It was the first time we used Twitter during a large-scale special event. Games one through six saw our Twitter followers grow each game, as more people realized we were  tweeting about the crowds and that they could receive up-to-date information from us. We hit 10,000 followers on the day of Game 6.
Game 7 was the final and deciding game of the Stanley Cup, and the Vancouver Canucks had not been in that position since 1994, when they lost in Game 7 to the New York Rangers. In 1994, the hockey fans rioted, and 2011 turned out to be no different. As I sat in the Command Room, watching cars being torched and people destroying the buildings and streets downtown, I just stared at my computer and thought, "What do I say now?" There was no template of what to do or what to say, and any of our prepared messaging was no longer valid. (Do I use a hashtag? Which one? Should I use the word riot?)
After 20 minutes passed I knew I had to start talking, as the mentions were flowing into the @VancouverPD account. As much as I could, I began answering questions, reassuring the public and getting information out regarding safety routes. Whether anyone who was participating in the riot was also following us on Twitter that night isn't known, but I knew that I had to get information out to those who were following and might be in touch with people trying to get out of downtown.
During this time, I was monitoring conversations and mentions using Hootsuite, which I have used since we started down the Twitter road. The mentions were coming in so fast that I could only hope I didn't miss any vital information from someone needing help.
User-Generated Social "Justice?"
What I was not prepared for was the nearly instant tweeting of photos of the riot and the suspects who were participating in the riot. This was a new phenomenon for the VPD, as was the social justice and social shaming that occurred in the days following. Social media was all of a sudden front-and-centre, with "Identify the Rioter" Facebook pages popping up and photos being shared over and over again.
Our followers on Twitter jumped to 15,000 within a week, and the hundreds of thank-you tweets we received and the concern for the safety of our officers was truly impressive. It took a number of weeks to get the Integrated Riot Investigation Team in place to start sorting through the thousands of pieces of information, video and photos submitted by email.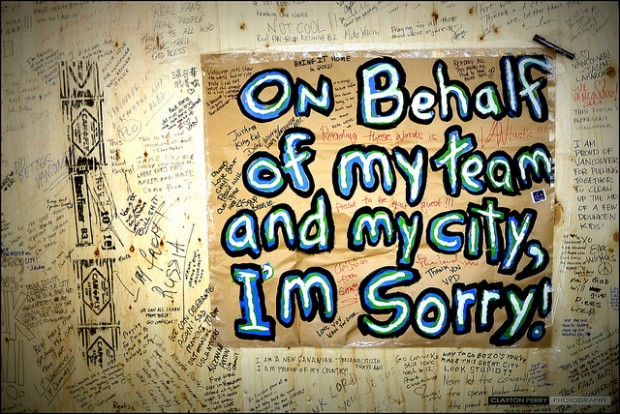 Social Media: Now a Vital Tool on the Police Force
We now use social media for every big special event in Vancouver. We work alongside other agencies and the City of Vancouver, to have a more cohesive approach and ensure we're all sharing information prior-to and during events. On a day-to-day basis, I monitor both Twitter, using Hootsuite of course, and Facebook, and I am always looking for new and interesting ways to engage the public and keep things fresh. What I do know is that people seem to appreciate that we're there.
Recently we held a two-year "Tweet-A-Versary," where our Communications Coordinator and I tweeted out the typical Saturday night calls that patrol officers attend. It was also a great opportunity to have conversations with our followers, and to answer questions they might not otherwise ask. In 2013, you can look forward to more of these "chat" sessions with specific topics or special guests, such as Recruiting and Traffic Enforcement officers. My experience as the Social Media Officer for the Vancouver Police Department has been one of the most interesting and enjoyable positions I've had in my career as a police officer. I love seeing the potential of social media and making connections with others in the same field to learn more. Teaching new recruits about social media is now part of their curriculum when they start with the Department, and it will be interesting to see the role social media takes in the coming years. We couldn't have imagined using Twitter in this capacity five years ago, so who knows what we'll be using in the next five years. One thing is certain, we'll be there connecting and engaging with the community.
To participate in #MyDash, just snap a screenshot of your dashboard, tag it "#MyDash," and send a reply to @HootWatch. Be careful not to include any private info, such as Direct Messages. We will periodically select HootSuite users to be featured here on the HootSource Blog.