New Places and New Faces ~ HootSuite UK News Roundup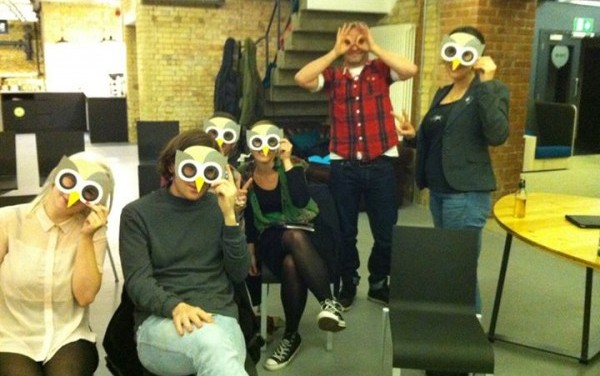 HootSuite's UK Community team has been busy meeting new owls and flying the HootSuite flag all over the country this past month. Not letting the summer showers dampen their spirits, they're enjoying ourselves all over the UK from Norwich to London, visiting friends at Global Radio and getting ready to host lots more exciting events in July.
In addition to that, there are several new diplomats  who are already  hard at work. HootSuite Community Captain Shain Shapiro, UK Ambassador Allan Blair Beaton and the expanding team of owls plan to host a handful of activities throughout the UK, as well as new projects and partnerships.
Here is a roundup of happenings and events that you can get involved in:
#WaterlooHootUp
After flying all over the country from Glasgow to Cardiff, HootSuite returned to London for the first UK summer HootUp. UK Community Coordinator Shain, UK Ambassador Allan, the team of London Diplomats and even a few HQ Owls shared tips on social media and got chatting over some beverages.
A big shout out and thank you to our good friends at Club Workspace for getting involved and making us feel welcome.
Read the full recap on Storify!
Catalyst Conference
June 3 marked the annual Catalyst conference in London where the crew joined their friends Blueclaw from the iOnSearch Conference to present on developing community management for social media.
Global Radio Demo
On June 12, before the #WaterlooHootup, the UK Community Team headed to the swanky offices of Global Radio for a demo with their Social Media Editor, Charles Ubaghs. A keen HootSuite user, Charles manages the social networks for twenty stages on his HootSuite dashboard — impressive!
TechNophobia
On June 19, UK Ambassador Allan got involved with 'TechNophobia' —  a series of workshops launched by the ABPCO aimed at providing practical insights into events technology for PCOs. Flying the HootSuite flag, Allan's talk highlighted how event companies and promoters can use HootSuite to engage, promote and increase overall effectiveness with social media across multiple channels and applications.
#NorwichHootUp
With Summer in full swing, the UK Community Owls packed up their picnic blankets for a trip to Norwich to explore "Saving Time Through Social – How to Build Connections and Relationships in Less Time." Shain and new Norwich Diplomat Kass Yassin hosted a laid-back HootUp complete with drinks, swag and of course, some social media chatter.
Check out the Storify!
Canada Day London

We are pleased to announce that HootSuite is the official Social Media Partner of Canada Day London on July 1. HootSuite was well represented at Trafalgar Square – rocking out to The Tragically Hip, The Sheepdogs, Arkells and Jann Arden. There was also yoga, and in true Canadian fashion, a street hockey tournament!
#LeedsHootUp
In April, HootSuite travelled up to Leeds to speak at the ionSearch conference. The Owls enjoyed themselves so much that it warranted a a return trip to the student city! Thankfully, at ionSearch they linked up with new Leeds Diplomat, Sakis Caramanlis, who is debuting the inaugural #LeedsHootup on July 24.
Join Shain and Sakis to discuss social, saving time, building businesses and developing relationships, all while saving time and effort over some drinks. Register here and we'll see you there.
Diplomat Update – New Owl Recruits!
The #HootMission continues in the UK, as HootSuite has recruited more Diplomats and Campus Ambassadors to the Community program. There is continually an amazing response, and today we're pleased to announce that Graham Aikin, Sakis Caramanlis, Chris Moore, Jessie Scouller and Guillermo Del Rivero have joined theexisting owl recruits below:
Jay Perkins
Phil Coen
Chris Street
Joe Schiavon
Matthew Marley
Allan Blair Beaton
Jennifer Tough
Steve Sefton
Steve Hignell
Steve Nelson
Jon Morter
Damien Joyce
UK Owls are always looking for more of you to join the ranks, so if you fancy becoming an owl please send a DM to @Hootsuite_UK.
Hoo's Hooting – British Summer
Here are some brands that might help you make the most of whatever British Summer Time has to throw at you:
Hunter Boots
Wellie Boots
Dubarry of Ireland
If watching Wimbledon has put you in the mood to get back out on the courts, @YONEX_com might have the right racquet for you.
And as we enter BBQ season, you might want to stock up on supplies from:
Asda
Co-Operative Foods 
Iceland Foods
Ocado
Tesco 
If you want to put something special on the grill why not turn to artisan butchers such as:
Pat Whelan or David Lishman, Champion Sausage maker and judge of BBC's Young Butcher of the year.
Alternatively, Vegetarian's might wish to follow The Vegetarian Society who have lots of resources and menu ideas for those who are thinking of turning vegetarian, as well as plenty of summertime recipes.
And of course, you will need a BBQ to cook your summer creations on: check out @Weberbarbecues. They even run courses at their very own grill academy for aspiring pit masters!
Until next time!