HootSuite Aims For Bigger Game and Localizes for Brasil ~ News Roundup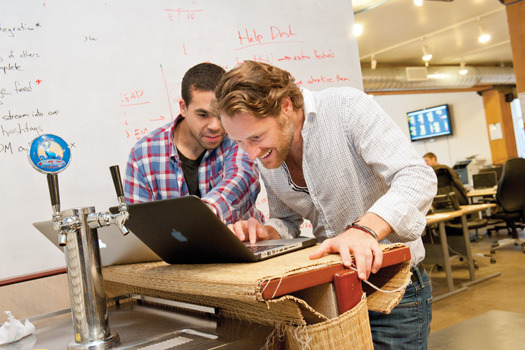 Coverage of HootSuite's newest developments has been widespread with the media firehose on full blast! In this News Roundup, we've collected media coverage on all the latest. See what people thought about HootSuite's continued Brasilian and Portuguese support.
And if you haven't heard, OMERS Ventures recently invested $20 million for an equity stake in HootSuite via a secondary purchase from the company's existing shareholders. Leading with the Wall Street Journal article – HootSuite Takes A Little Cash Off The Table To 'De-Risk,' Aims For Bigger Game – see what the rest of the media had to say about the investment.
That's not all – we've also included The Westender's recent cover story on HootSuite CEO, Ryan Holmes, a new weekly 'charticle' with Ad Age, and a video interview with Ryan on CTV Morning Live featuring pictures of him as a toddler. Finally, be sure to check out photos of Owly and the HootSuite team, who took part in "It's a Bonspiel, Curling for Cystic Fibrosis"!
Hoots to Brasil
As part of our Brasilian and Portuguese support, which included the Portuguese dashboard localization, new wallpapers, translated info sheets, hosting a HootUp in São Paulo and more – social network Orkut was most recently added to the HootSuite App Directory.
See what The Next Web and the blogosphere had to say about the new integration and HootSuite's continued outreach …
The Next Web – HootSuite Integrates with Google's 'Other' Social Network Orkut, and Continues Brazil Offensive
HootSuite App Directory now includes Google's other social network Orkut, the social dashboard company announced on its blog. As the Canadian startup points out, this new feature is targeted at Brazil, which is the country where the vast majority of Orkut users live.
The Next Web – Social media dashboard HootSuite is courting Brazil with translated version
HootSuite already has clients in Brazil, including several Brazilian media outlets such as MTV Brazil and daily newspapers O Globo and O Estado de São Paulo.

Yet, today's announcement is likely to boost its adoption its the country. Along with the translation, HootSuite launched initiatives geared at the Brazilian market.

EXAME – Hootsuite adiciona integração com o Orkut (Portuguese)
Filhos da Web – HootSuite agora em Português (Portuguese)
Blog LF Informática – HootSuite anuncia versão em português além de se integrar com Orkut (Portuguese)
Also in Orkut news, Google announced deeper integration between the social network and YouTube with a new widget. The integration allows users to listen to music while browsing.
Read more about it here: Google hasn't given up on social network Orkut, launches deeper YouTube integration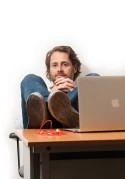 Ryan on the Cover
After making the cover of Profit Magazine in February, Ryan has found himself on another cover this spring. The Westender ran a story titled Ryan Holmes' Suite Success where they explore Ryan's early experiences with computers, the explosive growth of HootSuite, and how tech scenes are born.
On the growth of HootSuite:
The social media dashboard took two years to rack up a million users, eight more months to reach a deuce, and only six months after that to hit the three-million mark, where it currently perches. Holmes is confident they'll cross six million by the end of 2012.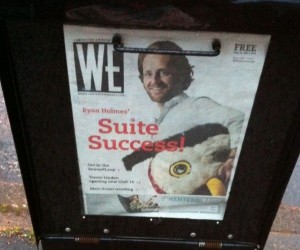 HootCEO on CTV Morning Live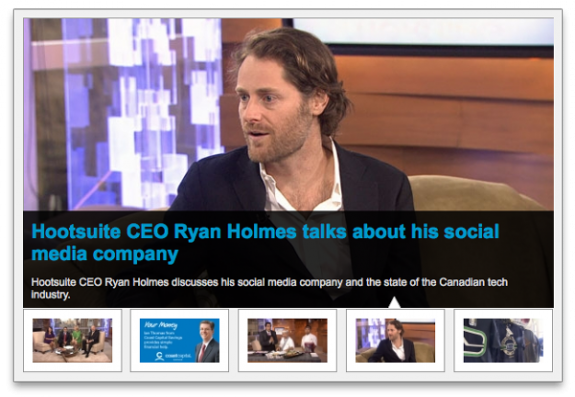 Ryan Holmes was a guest on CTV Morning Live this week. Sitting down with host Norma Reid, the two discussed Ryan's childhood (keep an eye out for some cute photos of a very young Ryan at the 1:40 mark), his vision for the company and the state of the tech industry. See how Ryan's childhood and early experiences as an entrepreneur helped shape who he is now.
To view the interview, check out: HootSuite CEO Ryan Holmes talks about his social media company
Ad Age: Twitter Week in Review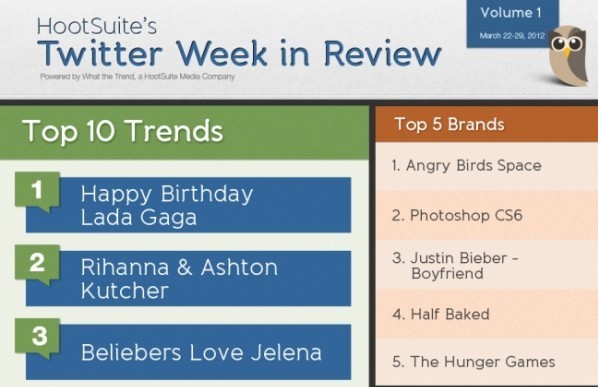 What's trending on Twitter? Ad Age has partnered with HootSuite to produce weekly infographics breaking down the latest trending topics on Twitter. Using data sourced from What the Trend, Simon Dumenco, media columnist for Ad Age, provides context for the latest trends, brands, and memes every Friday. What the Trend is a HootSuite Media company that provides crowdsourced definitions for Twitter trending topics all over the world.
See what was a-buzz on the Twitters for the weeks of March 22 and March 29…
Ad Age – Twitter Week in Review: HootSuite's Top 10 Trends, Mar. 22-29
Today, I'm happy to announce the return of the weekly trends chart, thanks to a new partnership with HootSuite, What the Trend's new owner (as of last September). HootSuite is the popular social-media management dashboard service, with more than three million users (which yesterday scored a $20 million investment from OMERS Ventures) and they've assembled a great team to build out WTT.
Ad Age – Top 10 Twitter Trends: Gaga, Ron Burgundy, Some Woman Named Pattie
OMERS and the Owl

March 29, 2012 was a memorable day for HootSuite as OMERS Ventures announced one of the largest Canadian venture capital transactions to take place in the past 10 years.
See what the Wall Street Journal, the Globe and Mail, and the rest of the media had to say about the news…
Wall Street Journal – HootSuite Takes A Little Cash Off The Table To 'De-Risk,' Aims For Bigger Game
Social media management company HootSuite Media has ballooned since it started a little over three years ago, winning business from global brands and growing to nearly four million users, with $75 million in revenue expected this year.
Reuters – HootSuite Cashes Out Through Secondary Markets
Hootsuite's last and only equity funding round was a $1.9 million investment in late 2009. Last year, it also took on $3 million in debt. The OMERS investment values it in the $200 million range, said a person familiar with the situation.
Financial Post – HootSuite gets $20M OMERS Ventures push
OMERS sought out HootSuite, which already boasts nearly $5-million in funding and was recently rumoured to be a Facebook Inc. acquisition candidate, after scouring North America – "not just Canada," notes Mr. Smyth [Managing Director, OMERS Ventures] – for firms helping companies with social Web integration. "And HootSuite rose to the top," he said.
The Globe and Mail – OMERS to Buy $20-Million Stake in HootSuite
About one billion messages have so far been sent through HootSuite. The company now has about 140 employees, up from 25 last year, and expects to grow to about 240 people this year.‬
Ad Age – HootSuite Gets $20M from Canadian Pension Fund
The investment "marks a new milestone in the growth of HootSuite," CEO Ryan Holmes said in a statement. "We're extremely proud of our company's trajectory, from a modest beginning three years ago to our current global leadership position."
We weren't kidding when we said the firehose was on full blast…
Inc. – HootSuite Gets $20 Million Stake
Venture Beat – Omers Ventures Leads New $20M Round in Social Media Management Startup HootSuite
New York Times – Morning Take-Out (Venture Capital)
CNN Money – Venture Capital Deals
All Things D – Canadian Investors Bet $20 Million on HootSuite
Toronto Star – HootSuite Gains $20 Million From OMERS
BC Business – HootSuite Bags $20-Million Venture Capital Deal
Vancouver Sun – HootSuite Scores $20 Million in Funding
Pando Daily – 'Our Velocity is Blowing the Doors Off'–HootSuite Sells $20 Million Stake to OMERS Ventures
Techvibes – CONFIRMED: HootSuite takes $20 Million Investment from OMERS Venture
Media Bistro – HootSuite Takes $20M Investment From OMERS Ventures
Beta Kit – OMERS Ventures Invests $20-Million in HootSuite
TechCrunch – Confirmed: Canadian VC Firm OMERS Ventures Takes $20M Stake In HootSuite At $200M Valuation
Owls with Brooms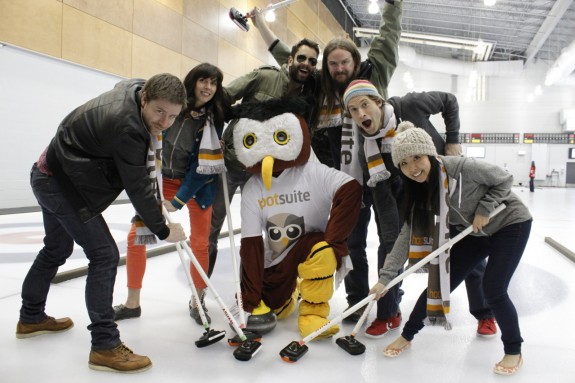 Along with HootSuite and the 160 people who enthusiastically showed up to curl the afternoon away, Cystic Fibrosis Canada raised over $9,000 for the fight against the disease and helped spread awareness of the condition thanks to a successful live tweet stream of the event.
You can find pics of the team curling and more Owly fun on HootSuite's Tumblr – lifeofowly.com
Cuddly Owly
When not at the Curling rink, our feathered friend can be found at a number of events like SXSWi 2012 where the owl once again caught the attention of Mashable. The internet news blog recently listed Owly as one of six cuddly tech mascots.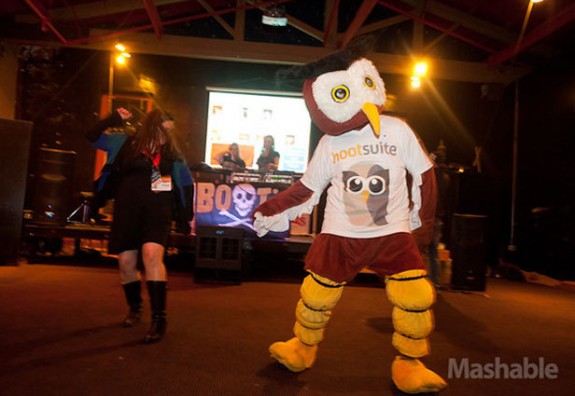 In 2010, they also named the HootSuite owls as one of the Top 10 Online Mascots. See which other mascots made the lists:
Mashable – Top 10 Best Online Mascots
Mashable – 6 Cuddly Mascots Created by Tech Companies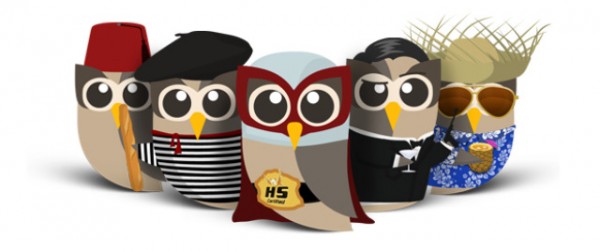 Do you have a favorite? Let us know in the comments!
Connect With Us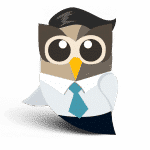 A key part of our growth is owed to all of the lovely owls that support us. From helping launch dashboard localizations with the HootSuite Translation Project to hosting HootUps around the world – your support has played a big part in HootSuite's success.
Stay up to date by following @HootWatch for media coverage and @HootSuite for the latest announcements about the dash. Also, be sure to check out our social bookmarks for articles about HootSuite.