HootSuite Continues Brasilian Outreach with Orkut App Integration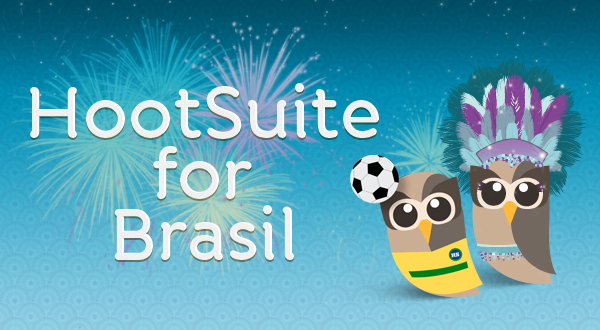 See the Portuguese version here. Clique aqui para ler em português.
After many requests, HootSuite announces Orkut for the HootSuite App Directory. The new app is available to all HootSuite users for free immediately! This announcement follows up on our recent Portuguese localization in March and offers a convenient way for Orkut users to manage their network alongside HootSuite's other social networks including Twitter, Facebook, LinkedIn and more.
Brasilians make up the majority of all Orkut users so, we're happy to provide continued support for our Portuguese speaking community. The integration joins the HootSuite App Directory's growing collection of extension and applications that already include YouTube, Tumblr and TrendSpottr.
Orkut is the latest treat in our goodie bag for Brasil. In addition to completing the Portuguese dashboard localization, HootSuite has created two new Owlys (Brasilian Football Owly and Carnival Owly), designed new Brasilian wallpapers for desktop and mobile, added some Portuguese resources to our library (including a new social media best practices info sheet) and helped host a HootUp in São Paulo.
66 Million Users Worldwide
For those unfamiliar with Orkut, it is a Google owned and operated social network that allows users to share hobbies, interests and connect. The online community which has over 66 million users is very popular in Brasil with Brasilians making up 59.1% of all Orkut users. And while Facebook recently overtook Orkut as Brasil's most popular social network – we received a considerable amount of feedback to add the network – especially from long-time social media enthusiasts.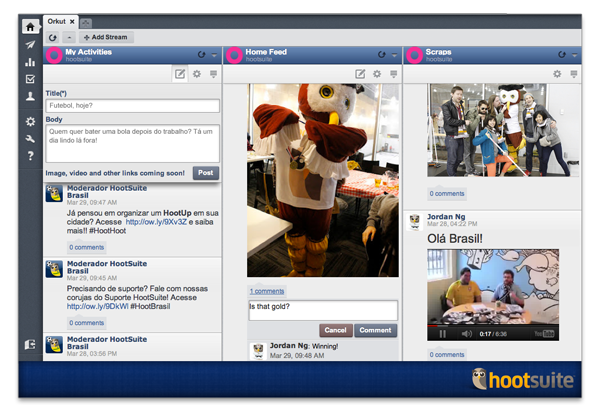 With the new Orkut integration, HootSuite users will be able to manage their network and reach out to their community in the following ways:
Post to your Orkut network
View updates from your friends
View posts to your scrapbook
View and add comments to profile and scrapbook updates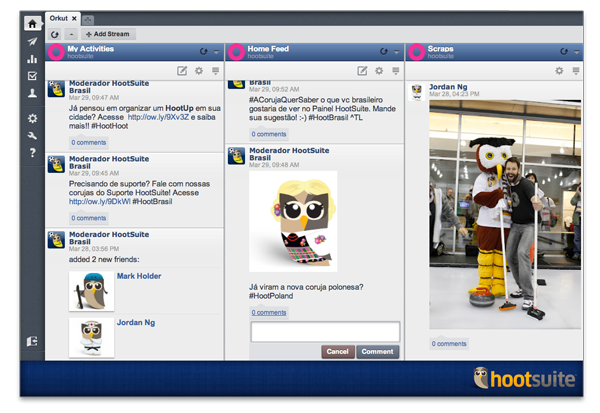 We would like to extend a big thank you to talented developer, Min Li, whose hard work and diligence helped make this integration possible. If you're interested in helping develop for the HootSuite App Directory, apply for access on our App Directory for Developers page.
Ready to Start

Installing Orkut or any App Directory tools is easy. Simply log in to HootSuite and navigate to 'Tools' then 'App Directory' in the Launch Bar. From there you can install all available apps, and then easily add app streams to any tab in your dash via the Add Stream button just as you would for other social networks in the HootSuite dash.
To use the dashboard in Portuguese, or the other 7 languages available, we've put together a handy HootTip on choosing the language in the dashboard.
More to Come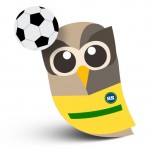 We're not done yet! Keep an eye out for phase 2 of the Orkut integration as we'll be adding additional features and functionality in the near future.
To get the latest updates and tips on the App Directory, be sure to follow @HootSuite_Apps.
And for all the latest on the Brasilian HootSuite community, you can follow @HootSuite_BR.

HootSuite Continua Investimento no Brasil com Integração do Orkut ao Diretório de Aplicativos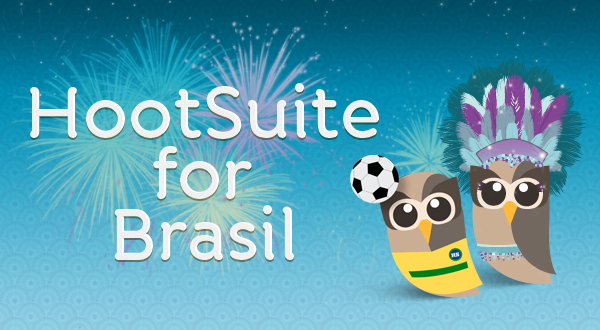 Depois de muitos pedidos, anunciamos a integração do Orkut ao Diretório de Aplicativos HootSuite. O novo aplicativo já se encontra disponível para todos os usuários HootSuite, gratuitamente! Este anúncio dá continuidade ao lançamento do painel em Português e oferece uma maneira conveniente para os usuários do Orkut gerenciarem sua rede social junto de outras redes, como Twitter, Facebook, Linkedin, e muito mais, todas no painel HootSuite.
Os brasileiros compõem a maioria de todos os usuários do Orkut, por isso estamos felizes em continuar a apoiar a nossa comunidade de língua portuguesa. A nova integração se une ao YouTube, Tumblr e TrendSpottr, já disponíveis no Diretório de Aplicativos.
A integração com o Orkut é o mais recente agrado da HootSuite ao público brasileiro. Além de oferecer o painel 100% em português, criamos duas novas corujas Owlys (futebol e carnaval),  novos wallpapers para desktop e móvel, novos artigos e estudos de caso disponibilizados na biblioteca, incluindo um novo documento com as Melhores Práticas em Mídias Sociais, além de patrocinarmos o primeiro HootUp, em São Paulo.
66 Milhões de Usuários no Mundo
Para aqueles não familiarizados, o Orkut é uma rede social do Google que permite aos usuários compartilhar passatempos, interesses e interagirem entre si. A comunidade online que ajuda a conectar mais de 66 milhões de usuários é muito popular no Brasil, sendo que os brasileiros compõem 59,1% de todos os usuários do Orkut. Mesmo com a recente ultrapassagem do Facebook como a rede social mais popular do Brasil, recebemos uma quantidade considerável de feedbacks para adicionar o Orkut ao painel, especialmente de entusiastas de mídia social de longa data.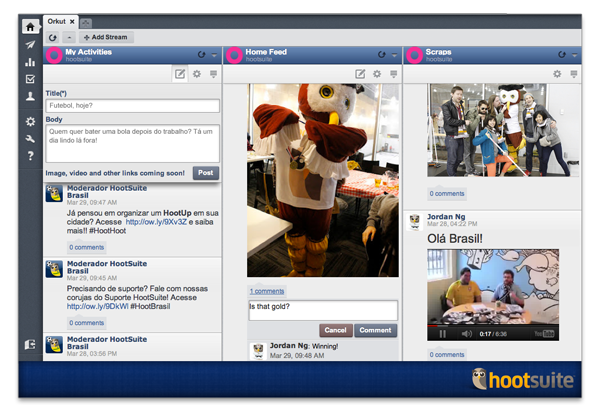 Com a integração do Orkut, o usuário HootSuite será capaz de gerenciar sua rede e atingir sua comunidade das seguintes maneiras:
Publicar em sua rede do Orkut
Ver as atualizações dos amigos
Ver as mensagens em seu scrapbook
Ver e adicionar comentários ao perfil e scrapbook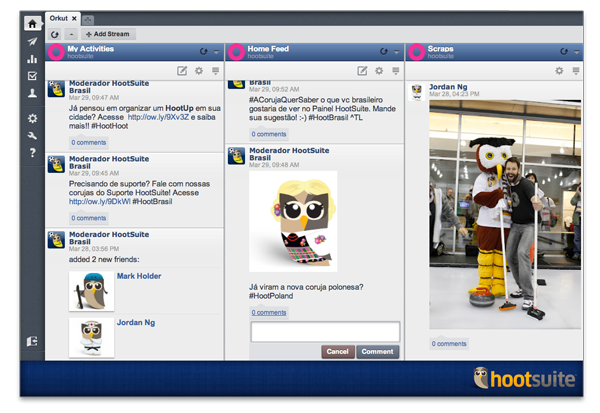 Gostaríamos de agradecer imensamente nosso colaborador Min Li, cujo trabalho árduo e dedicação ajudaram a tornar essa integração possível. Se você estiver interessado em ajudar a desenvolver para o Diretório de Aplicativos HootSuite, solicite acesso à nossa página para desenvolvedores do Diretório de Aplicativos.
Para Começar

Instalando o Orkut ou qualquer outra ferramenta no diretório de aplicativos é fácil. Basta fazer o login no painel HootSuite e ir até 'Ferramentas', depois 'Diretório de Aplicativos' na barra de inicialização. A partir daí você pode instalar todos os aplicativos disponíveis, e então facilmente adicionar colunas de aplicativos em qualquer aba de seu painel através do botão Adicionar Coluna, como faria com outras redes sociais no painel HootSuite.
Para usar o painel em português, ou nos outros 7 idiomas disponíveis, nós disponibilizamos uma HootTip muito útil, para ajudá-lo no passo a passo.
Muito Mais Por Vir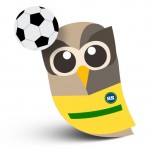 E não pense que nós paramos por aqui! Fique de olho na 2ª fase da integração do Orkut, pois em breve adicionaremos novas ferramentais e funcionalidades.
Para ficar por dentro das últimas notícias e dicas do Diretório de Aplicativos, siga @HootSuite_Apps.
E para todas as notícias relacionadas à comunidade brasileira da Coruja, siga @HootSuite_BR e fique por dentro!