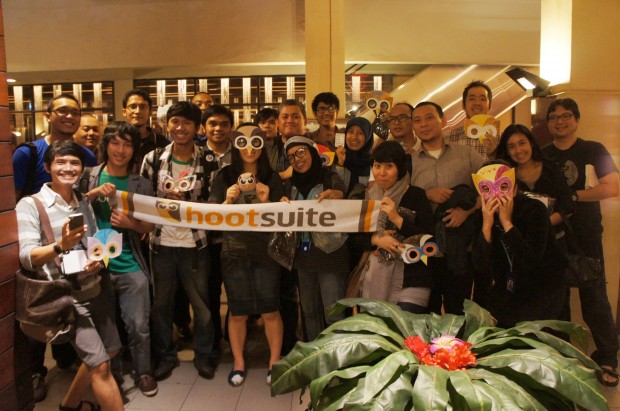 Our talented Community Celebratoire, Stephanie Wiriahardja, recently returned from a two month trip to Indonesia. She was a busy Owl whilst abroad, hosting 17 HootUps all over the country! She was also featured in many prominent media sites along the way. Below is a news roundup in Indonesian of her amazing trip.
2 bulan ini terasa berjalan secara cepat sekali. Selama 2 bulan aku di Indonesia, aku benar-benar senang sekali bisa bertemu dan berkenalan dengan 460 teman-teman baru,  dari yang sudah menggunakan HootSuite untuk mengelola brand-brand terkenal, untuk bisnis kecil dan sehari-harian saja, dan juga yang untuk galau2an. Memang begitulah indahnya dunia social media yang bisa menyatukan kita di suatu acara untuk belajar lebih banyak lagi tentang social media dan kegunaannya, dan peran HootSuite yang penting untuk mengelola brand, mendengarkan dan berinteraksi langsung dengan para konsumen, dan melihat hasil kampanye social media kita.
[youtube //www.youtube.com/watch?v=Mlj7yDJaIiI]
Oleh dari itu, aku sempat mengadakan 12 acara selama 2 bulan aku disana dengan bantuan dari para lokal organizers yang dengan baik hati mencari tempat, mengundang pembicara dan pakar, juga mengundang teman-teman sekalian:

Di setiap acara yang aku hadiri, aku selalu dikagetkan oleh jumlah teman2 yang datang dan senang dengan partisipasi para audiens, pertanyaan-pertanyaan yang diajukan, dan feedback yang dianjurkan. Aku bangga bisa mendapat kesempatan-kesempatan emas seperti ini untuk berbagi pengalaman dan pengetahuan aku di bidang social media sebagai Community Celebratoire di HootSuite, dan menambah ilmu dari para pembicara2 yang sangat pakar di bidangnya, dan pastinya dari teman-teman sekalian juga.
Selain di acara-acara, aku juga senang bisa berbagi cerita tentang kultur kerja HootSuite yang unik dan juga rencana-rencana HootSuite untuk Indonesia di beberapa bulan ke depan:

Terima kasih untuk semuanya yang menyediakan waktunya untuk ikut acara-acara ini. Terima kasih sebanyak-banyaknya untuk semua yang sudah menggunakan HootSuite juga. Semoga kita bisa berjumpa lagi di masa mendatang!
Ikuti @HootSuite_ID untuk update-update terbaru dari HootSuite dan bergabunglah di HootClub untuk melihat foto, video, dan artikel-artikel dari misi aku di Indonesia dan juga dari para pengguna HootSuite di seluruh dunia.