Ola la! Ola Volo's HootSuite Mural = Your New Wallpaper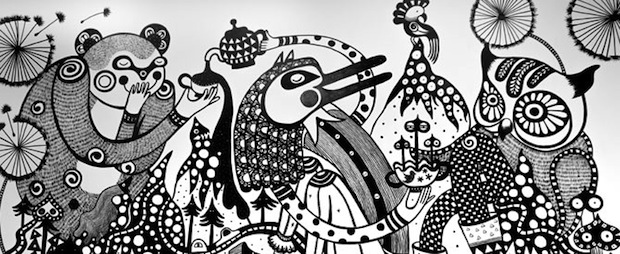 Despite all being social savvy tech-lovers, the HootSuite family also shares a few other passions, like cycling, yoga, and homegrown art.
HootSuite's affinity for local art was something on everyone's mind while making the move to our new office space in January, and has translated into a series of incredible murals. While we've already taken a look at the intricate owl mural by HootSuite employees Sandy and Steve Pell, there are other breathtaking pieces of art that we thought our users would enjoy.
Ola Volo is a Vancouver-based artist and illustrator whose work draws heavily on animals, history and nature. This made her a natural fit for our cabin-camping inspired office, and she graciously accepted our invitation to display her talents on one of our blank boardroom walls. Lucky us: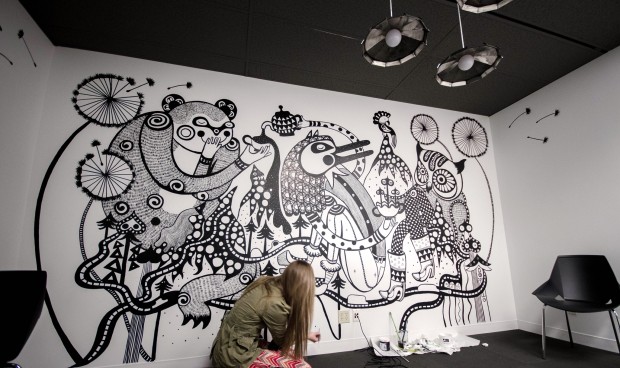 Volo explained that social media is part of what inspired her in the creation of this work of art:
"When I was thinking about HootSuite, social media, and social connection – I wanted to bring in a playful, social feel, which is why I imagined a tea party with animals as members," she said. "Most of my work incorporates animals as symbols and has a dynamic flow – much like HootSuite. While wanting to create a mural that represents the values of HootSuite I added a bit of my own feel with folklore, nature and some hidden little surprises."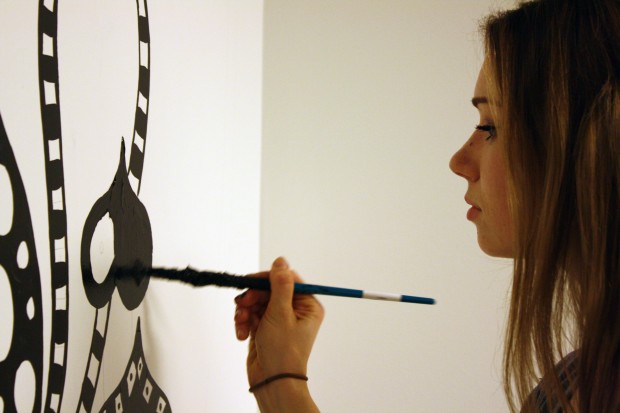 Imagine our surprise when we walked in to work after a long weekend and saw this amazingly intricate black and white scene. The mural features bears, birds, mountains and more, with enough detail that every time you see it you notice something new.
While that boardroom is now booked for meetings all day every day (who wouldn't want to stare at that while they work?), we have still come up with a way to make Volo's mural accessible to anyone who wants to enjoy it.
HootSuite is offering new desktop, iPad and smartphone wallpapers of the mural, all of which are now available on our media page. The backgrounds have been optimized to perfectly fit a number of devices and screens. all of which you can find below.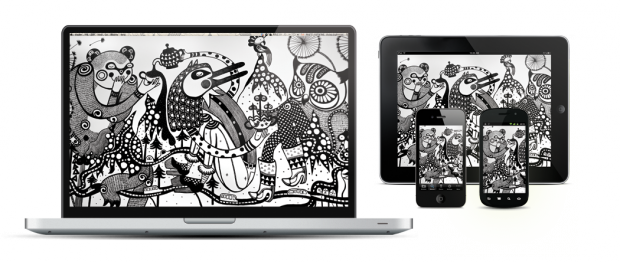 Desktop: 1920×1080 / 1680×1050 / 1280×800
iPhone 5: 640×1136
Android: 640×960
We'd like to thank Volo for accepting our invitation and creating a piece of art that will be adored and cherished by our owls for many years to come. To see more of her fantastic art, you can visit Volo's Facebook page, Twitter page and website.
We'll be adding even more wallpapers to our media page, so make sure to keep checking back for updates! And keep an eye on our blog to see more featured artists, news, updates, tips and more.