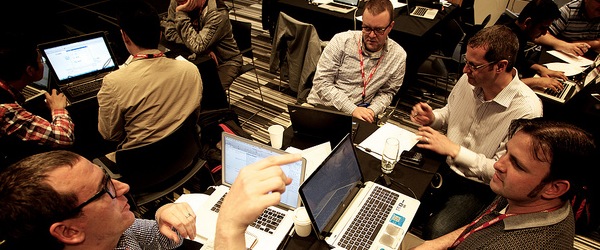 Prepare Your Team for Great Social Customer Service
Time and again, Hootsuite has seen companies use social customer service to convert frustrated customers into vocal brand advocates. They resolve issues quickly, motivating customers to praise them publicly and recommend their products or services to social media followers. From the outside, it all looks so easy. However, something important is missing from this picture: significant internal preparation by the customer service team.
Effective social customer service usually occurs in just a matter of minutes, but the organizational groundwork must be laid well in advance. To help your team build that foundation for success, Hootsuite has created a step-by-step Guide to Social Customer Service: Using Social Media to Build a Loyal Customer Base.
Here are three key steps that every customer service team can take to get ready for proactive service:
1. Discover Your Social Media Footprint
How many social media profiles does your organization have? The average enterprise has more than 178, so your social media footprint could be a lot bigger than you think. Individuals and teams throughout your organization have likely set up their own branded social media accounts, whether they were authorized to do so or not. Now consider the fraudulent accounts that may have cropped up on various social networks. All of those channels are touchpoints through which a customer might attempt to reach you.
In order to create an effective strategy for social customer service, you need to holistically audit your organization's social media presence. That means looking at your brand from the outside-in ("What do customers see when they look for us on social media?") as well as the inside-out ("Which departments are currently engaging customers on social media?").
Once you've surveyed your footprint, you can remove unauthorized accounts from the web. Then, you should create a unified map of legitimate social profiles and define which users and teams are allowed to publish to each of them.
2. Map and Measure
You should build a social customer service strategy that aligns with overall business goals. Defining specific customer service objectives at the outset will allow your team to evaluate progress with meaningful metrics and refine tactics to improve business impact. Ultimately, you should be able to tie each of your key performance indicators back to a high-level business goal.
Let's say your goal is to reduce costs. One of your objectives for social customer service, then, might be to deflect volume from high-cost channels toward social media. A relevant KPI would be the reduced number of calls to your call center for a specific issue. Over time, you could refine your social media tactics to improve call deflection.
3. Educate and Empower Your Team
Now that you have established your objectives, you need to empower your team with the talent, tools, and training to make them a reality.
Some companies presume that younger workers are blessed with inherent digital skills that make them naturally proficient at social customer service. Don't make that mistake. Regardless of their age or experience, all of your team members need training and support to be effective. Enable them with social media education, so they have a clear understanding of the processes, guidelines, and tone of voice that your company wants to use on social channels.
As you train social customer service representatives, keep in mind that no single team can resolve every customer issue. To maximize your teams' success, you will need to coordinate social media monitoring and engagement with other teams and individuals from across your organization. To find out how Hootsuite handles 125,000 customer interactions per month, download our guide to social customer service today.