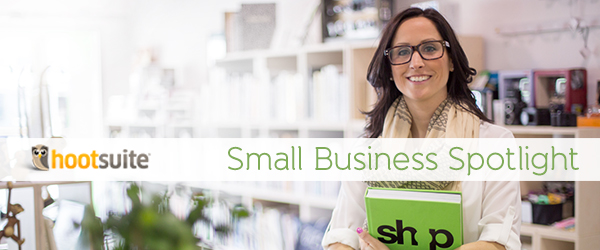 Save Time and Resources With Social Media: 3 Tips for Small Businesses
In support of Small Business Week, HootSuite is hosting a Google Hangout and Twitter Chat today, Thursday, May 15, from 8:00 a.m. to 9:00 a.m. PST. The topic is "Save time and grow your business on social media." Join the discussion using the hashtag #GrowTime, click here for more information.
"Small business owners want to know how much time they should spend on social media and whether they can hire someone to manage it." – Tony Maggiotto, Business Advisor, Buffalo Small Business Development Center

"'How will I work social media into my busy schedule of running a business?' This is the most common social media-related question we're asked." – Sue Pitts, Director, Iowa Small Business Development Center
We hear you. As a small business owner, you're busy and on a tight budget. Unlike costly (and often ineffective) traditional marketing, social media offers a direct line with customers for a low cost. But with social media, what you save in dollars you invest with time. So you need to know how to use your time wisely.
U.S. Small Business Development Centers help new entrepreneurs and Americans confronting the challenges of running a small business solve everyday problems. Their advisors frequently answer questions and offer guidance on how social media can help solve those problems.
In honour of National Small Business Week, we asked social media experts from four SBDCs about what they're doing to help small businesses succeed with social media.  With their help, we've put together these three tips:
1. Listen, Strategize, and then Engage
How well do you know your customer or target market? What about your industry or competition? Before you launch into sharing content across multiple social networks, listen to get a sense of the landscape.
"Start by listening and observing.  Look at what your competitors are doing and what approach industry leaders are taking. Then work to develop a strategy that specifies what you hope to accomplish through social media, what platforms you will concentrate on, and how you will measure the success of your efforts." – Kevin Norvell, Program Manager, Kentucky Small Business Development Center
By doing this, you may realize that your audience is only active on certain channels. Strategizing which channels to send what kind of content based on your audience is essential for success. Outline a few strategic and measurable social media goals and stick to them.
"Many businesses lack a strategy before entering social networks. Not every social network is right for every business—select a few, manageable social networks where your target audience is active and then engage regularly." – Tony Maggiotto, Business Advisor, Buffalo Small Business Development Center
Which leads us to the next point: engage regularly. Share scheduled content daily and then jump into conversations to show your customers that you're listening and engaged.
"Creating social media profiles or pages, but then never posting to them is the biggest missed opportunity for businesses wanting to connect with their customers." –Gavin Voeller, Administrative Specialist, Montana Small Business Development Center.
2. Beef Up Your Owned Channels and Drive Traffic There.
"'Don't build your house on rented land.' In other words, use social media to drive traffic and potential leads to your owned channels: your website." – Kevin Norvell, Program Manager, Kentucky Small Business Development Center
Social media is key to a comprehensive web presence where your customers can find and engage with your business, but it should always point back to your website and perhaps blog. Businesses that rely on Yelp, Yahoo! or YellowPages.com to spread awareness are missing out on many opportunities, and potentially taking a risk because they don't ultimately control the site. Online presence starts with a solid website.
"The first thing I advise businesses to do is to take a look at their website. Social media is important, but the business website should be the "hub" that represents them. If social media drives traffic back to an out-of-date or disorganized website, the efforts are a failure." – Sue Pitts, Director, Iowa Small Business Development Center
3. Report On The Success Of Your Business.
Now that you're listening, strategizing, engaging, and driving traffic back to your "owned channels," it's time to start measuring success. While this success should include social media metrics such as growth of followers, post reach, retweets, etc., key business metrics prove the success of your time and resources invested. The amount of traffic driven back to your website that converts customers to a sale, or select a discounted coupon, or follow through on a clear value proposition, is valuable information that should be measured and tracked.
"If a business has created a solid identity online and is engaging, e-commerce and e-community should be an ongoing result. This is sales conversions, user-generated feedback and reviews, social sharing…"  – Tony Maggiotto, Business Advisor, Buffalo Small Business Development Center
Thank you Tony Maggiotto, Sue Pitts, Kevin Norvell, Gavin Voeller and your Small Business Development Center teams for chatting with us!
Save time and grow your business with the HootSuite Small Business Bundle. Sign up today.