Setting up your Teams: Social Media Coach Series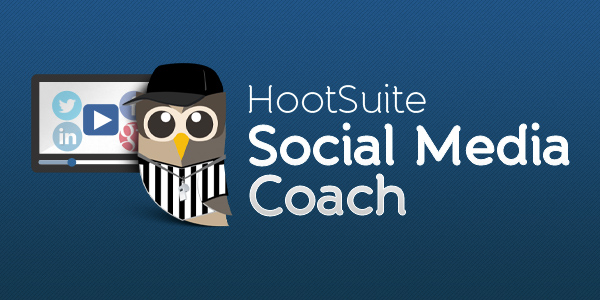 Here at HootSuite, we are big on collaboration. We meet in person, chat with instant messaging and of course, we use our own tool to collaborate around social messaging. In my role as Social Media Coach, collaboration helps me to be more productive and innovative. You likely have a team that you work with, but are you setting your team up for success when it comes to social media monitoring and outreach?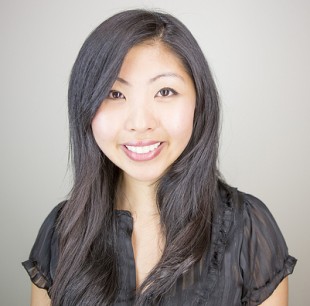 Today, I want to focus on the HootSuite Teams functionality and tools that we offer to facilitate successful team collaboration. HootSuite Teams was designed so you can match your online team to your unique organizational structure and empower your team to engage effectively. Whether you're using social media for your bicycle shop, start-up or non-profit organization, discover how to make the most of your HootSuite dashboard for collaboration.
Organize your Teams in an intuitive way that is structured similarly to your existing company or group. When I say this, I mean take a look at your existing team: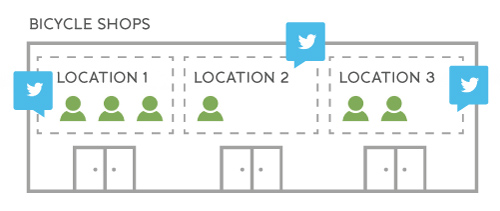 Eg. You own a bike shop with 3 locations. Each shop location has a geographic-specific Twitter handle. You can set up the Team in your HootSuite dashboard to match the geographic locations and then set up each Team with their regional-specific social media accounts.
Social Team Collaboration
The HootSuite Teams functionality allows for different methods of collaboration and acts as a central hub for your business' social media efforts.
For example, right within HootSuite, your Customer Service Team can set up and share Twitter search Streams for brand name misspellings, campaign hashtags or negative sentiment phrases. This way your team can respond to inquiries via Twitter and there is less chance that the team will miss any mentions.

"Assign" messages for follow-up: A great way to inform a Team of a Tweet or message that requires their attention. Assign questions, comments and more to the appropriate person.
For example, when a potential customer Tweets a question about a bike's availability at one of your stores, "Assign" the question to that location's Team so they can respond.
Share draft messages: Create a supply of drafted messages ready for your Team to use to quickly respond to frequently asked questions.
For example: Your Sales Team has been seeing a great response to a new product launch, and they would like to thank customers on Twitter. Sales can compose, save and share a couple of drafted messages with the Marketing Team for a quick and appropriate response.
Chat within your Dashboard: Use the HootSuite Conversations tool to simplify internal communications amongst Teams, departments or the entire company.
For example, members of a non-profit group can send messages into the Conversations feed about an upcoming fundraiser from Facebook and Twitter seamlessly. From there they can discuss, like, retweet, and amplify those messages across the members and out to their individual social profiles. Learn more about HootSuite Conversations.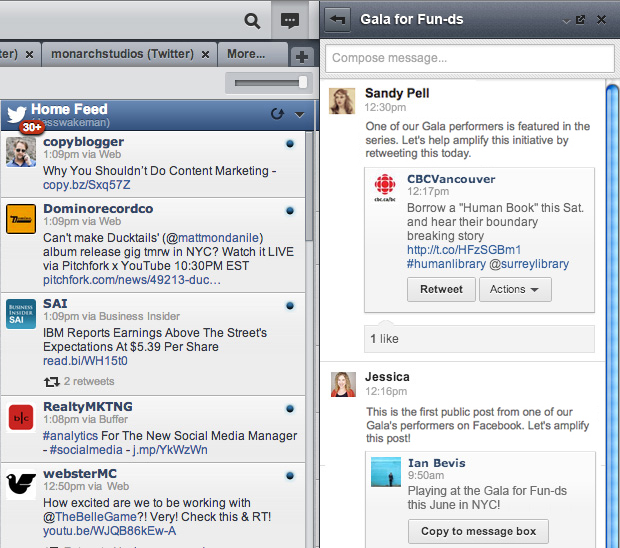 Getting started with Team Member Permissions
When setting up your Team, it is important to consider what permissions you would like to give each member. Depending on their responsibility level and role, you can adjust their permissions so that they have the right level of access.
For example, if you have a team member that is responsible for coordinating the social media outreach for all three of your bike shops, you can give them Team Admin permissions for all three Teams that have been set up within the dashboard. Team Admin permissions will then allow them more control over the activity within the Teams leaving you to focus on running the shops.
To help you understand which Permissions levels are available and how you can use them, read this guide on permission levels in the HootSuite Helpdesk.
A Two Minute Teams How-To
Organize your Team or Teams by naming them. Try regional Teams such as "NY Team" or "Ontario Team" or try setting up your Teams departmentally such as "Marketing" or "Support".
Add a profile image for the Team.
Once you have your Teams set up, add appropriate team members to those Teams (ie. marketers in the Marketing Team).
You can then select each team member's Permission level within the Team.
Lastly, add social networks to the Teams.
Join me in my free weekly webinar to learn more about setting up a Team within the HootSuite dashboard. Also, in the next post we will be learning about internal team communication tool, HootSuite Conversations.

In my last post, I focused on setting up your Organization within HootSuite. If you missed it, get up to speed today. Let me know how you use the HootSuite Teams features! Plus, if there is a HootSuite product or feature that you'd like to learn more about, register for my free weekly Pro Webinars and follow me on Twitter @HootVicky.