Centralize Access Authentication ~ HootSuite Introduces Enterprise Single Sign-On (SSO)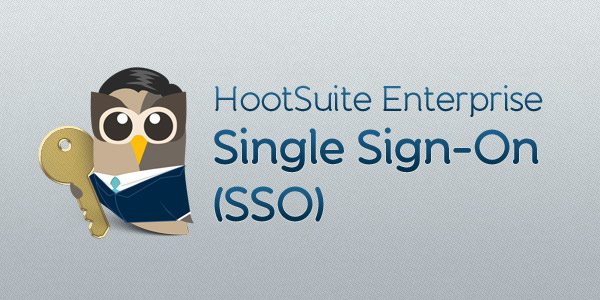 HootSuite Enterprise has extended its member authentication to support Enterprise Single Sign-On. Enterprise team members can now use their company email to access their HootSuite Dashboard. Now, any corporate network that supports Security Assertion Markup Language (SAML) can extend user authentication for corporate accounts in the HootSuite Dashboard.
How can your enterprise benefit from HootSuite Enterprise Single Sign-On? As a network admin, you now have centralized access control. With Enterprise SSO, network administrators can manage access to HootSuite through their employee directory. Once an employee leaves the enterprise network and their company account is deactivated, their HootSuite account will also be deactivated. This allows admins the ability to keep track of all active accounts.
Enterprise SSO will reduce the number of passwords in your network. There is no longer a need to have a password for your Enterprise network login and your HootSuite login. Each user will now have one key to open both doors.
Enterprise SSO How-To
To use Enterprise SSO:
Go to Hootsuite.com and click the login button in the top right corner.
Select the "Single Sign-On user? Login here" option.

Enter your HootSuite username (email address) and click "Single Sign-On".
If you are already logged in according to the SAML identity provider, you will be logged in automatically to HootSuite.
If not already logged in, you will be redirected to a 3rd-party authentication server.
Enter credentials for the SAML identity provider (the corporate network).
You will be logged in to HootSuite and redirected to the HootSuite dashboard.
Enterprise Tools
HootSuite continues to expand features for Enterprise to provide you and your team with a powerful set of tools to maintain your social business. Designed to help you build a social enterprise, HootSuite Enterprise now includes Enterprise Single Sign-On.
As the suite of Enterprise features grows, keep in the know by following @HootBusiness on Twitter to find out about further integrations and developments.
Learn more about HootSuite Enterprise or contact us to set up a demonstration by visiting hootsuite.com/enterprise.