Sochi-al Listening: How Hootlet Helps Journalists Get Olympic Scoops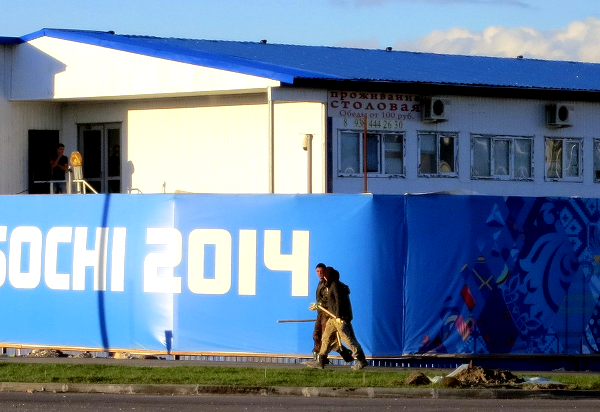 As 11,000 members of the international media descend on Sochi this week, the challenge of covering these Games is becoming clear. Finding a place to sleep appears to be the first hurdle to cross—organizers admitted Saturday that only six of the nine media hotels in the mountain cluster were finished. Security, of course, is a bigger concern. Putin has promised that his vaunted security apparatus will prevent the kinds of terrorist attacks that shattered Volgograd only weeks ago. Will it also prevent access to the real story?
A big part of great journalism is being in the right place at the right time. In Sochi, that's going to be hard. Adding to the infrastructure and security woes for journalists, the accreditation for access to the venues is limited to only 2,800 "media professionals" who apply a year in advance. But social media has taught us that sometimes the best reporters are not media professionals, and often what it takes to get a great story is just one person with a  smartphone in the right place at the right time. The trick is finding that person.
The Games will produce a social media cacophony. Huge crowds on Twitter will be talking about the latest triumph or tragedy on the snow and ice. The vast majority of those people will be responding to what they've just seen on television or read about online. That's not news. The only way to cover a story that's developing within one of those locked down venues using social media is to filter the fire hose of messages by time and place. Time is easy—that's what Twitter does best. The place problem is where Hootlet comes in.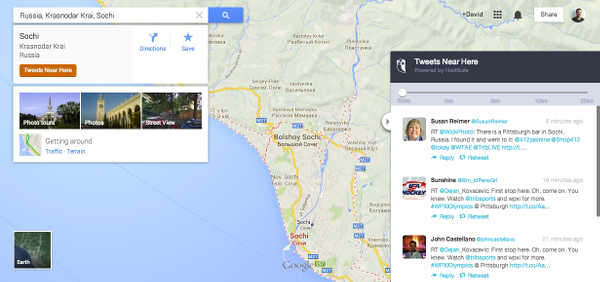 Hootlet is a free Chrome plugin that lets you share content to your social networks from anywhere on the web. When you first install it, you'll barely know it's there, but don't let the subtlety fool you—it's a very powerful tool. In addition to making it faster and easier to post from within your browser, it adds results from Twitter to your searches. This gives you a layer of real-time social insight on all your searches, and it's especially useful when you search for a place in Google Maps. Whether it's a dramatic moment that happens off-camera or an athlete who decides to celebrate a medal-winning performance by turning up at the party dressed in a rainbow flag, there will be photos and Tweets—many geo-tagged and easily found by social savvy journalists using Hootlet.
The ability to view relevant Tweets on any search will help every Games-watcher better understand what's happening inside Fortress Sochi. Journalists, though, listen for different kinds of things, often in very specific places. And with Hootlet, they've got a tool that will help them bring us the real story from the 22nd Winter Olympics.