Infographic: Social Media Disaster Response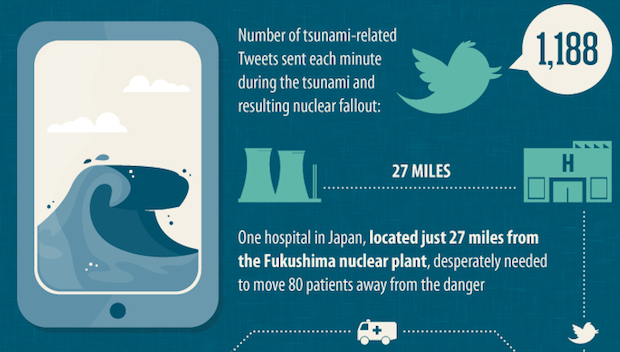 The tsunami in Japan; the earthquake in Haiti; Hurricane Sandy in the United-States.
These disasters, and many more like them, have in the past few years illustrated the wide applicability of social media in disaster response. Due to its broad reach and 'un-wired' nature, social media has become a go-to tool in emergency situations and natural disasters.
Twitter, Facebook and other social networks have been used for everything from fundraising to reaching people who are trapped, from communicating with rescue workers and the power company to letting family members know that their loved ones are safe and sound. Social media has helped people in ways traditional resources couldn't.
The University of San Francisco's Online Masters of Public Administration program recently released an infographic called "Social Media: The New Face of Disaster Response." The infographic goes into more detail about how social media has been used in specific disaster response situations, and serves as strong evidence as to why it should continue to be used in the future.

For more resources on disaster response:
Let HootSuite help you with your emergency response plan. Try it today.