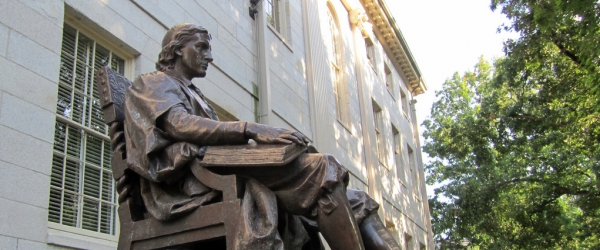 Social Media Face Off: Yale vs. Harvard
Yale University vs. Harvard University—it's an age-old rivalry. The highly respected Ivy League schools consistently battle for the top spot on college rankings. And while we can't tell you which school will earn the top spot next year, we can tell you which one is winning in social. Now that the academic year has ended and the seniors prepare to graduate, let's find out which school is social's valedictorian by putting the schools head-to-head in this week's Social Media Face Off.
In order to compare the universities in social media, we set up search streams for each in the uberVU via HootSuite platform, making sure to include the main Twitter handles for both schools (@Yale and @Harvard) and common hashtags (#yaleuniversity, #harvarduniversity). We've compared the results from a two-week window (May 15-29) to determine our winner.
Let's find out which Ivy League school is earning As in social.
Round One: Mentions
In round one, the Crimson came out swinging. With 243,233 mentions, Harvard easily beats outYale, which posted 67,485 mentions. That's more than three times as many mentions!
As you can see on the line graph, Harvard hit a large spike in mentions on May 17. We did some digging into the mentions and found the day before, Harvard honored Venezuelan opposition leader Leopoldo Lopez with an alumni achievement award for his "support of democracy and transparency." Lopez, who has been held in a military prison since his February arrest during a protest rally, is a 1996 graduate of the Harvard Kennedy School's Master in Public Policy program. His wife accepted the award on his behalf, reading a letter he had written from jail that social was eager to share.
Winner: Harvard
Round Two: Sentiment
In round two we'll add more context to the mentions of each university by comparing sentiment levels. Harvard brought in more mentions, but which school had the most positive mentions? Both universities posted similar numbers with each registering 9% negativity. Yale's positivity was a decent 20%, but Harvard manages to take the win with 24% of its mentions registering as positive.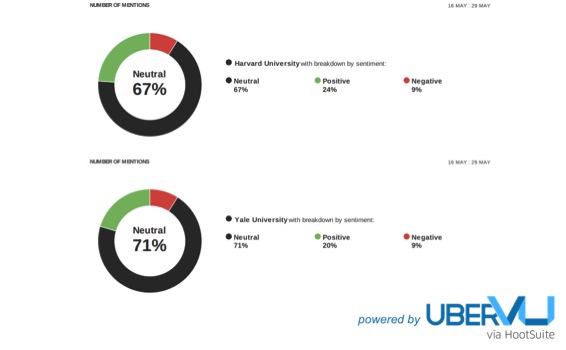 Winner: Harvard
Round Three: Engagement
With a score of 2-0, it's looking bleak for Yale. Perhaps the Connecticut-based university can earn a win in engagement. To find out, we'll compare the number of RTs, Likes and Shares each university name brought in, which will show which school is driving the most engagement across Facebook and Twitter. Harvard starts out strong, easily winning RTs, but the Likes race is much closer withYale just falling behind. Harvard then bounces back to dominate in Shares, which wins the round for the Massachusetts-based Ivy League school.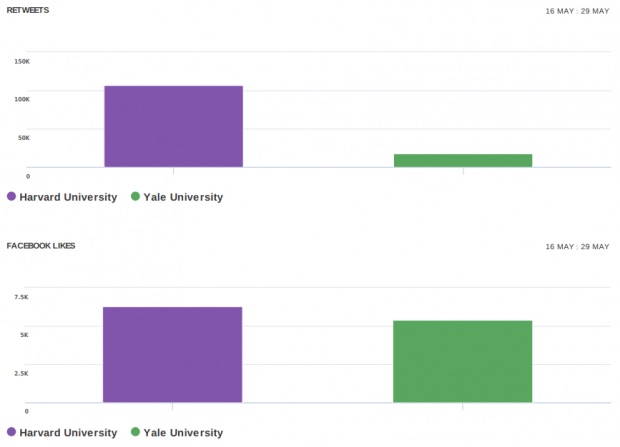 Winner: Harvard
Overall Winner: Harvard
With wins in all three rounds—mentions, sentiment and engagement—we declare the winner of this Social Media Face Off to be Harvard. That's a clean sweep for the Crimson!
Want to see how your social stacks up against your biggest industry rival?