Learn Social Media in the Classroom, Succeed in the Workforce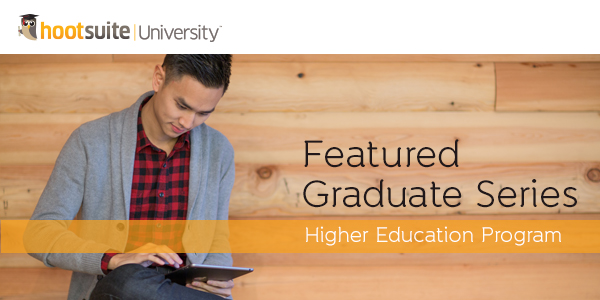 The Featured Graduate Series shares the stories of successful graduates who have been through HootSuite's Higher Education Program, highlighting their accomplishments with social media in today's digital workforce.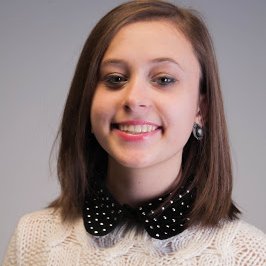 Meet Adelyn Biedenbach, Coordinator of Digital Media & Communications for the NHL's Florida Panthers. Adelyn's experience with HootSuite University's Higher Ed program taught her about the social networking benefits of social media, lessons she ultimately used to help her land a job with the Panthers.
Adelyn explained to us that, more than anything, HootSuite University helped her understand the human element of social media strategy. It sounds simple, but it's a refreshing look at why you can't rely on automation to be successful on social or in your career.
Social Media as a Networking Tool
Whether you're already working or on the hunt for a job, social media is a great tool for connecting with professionals in your field. Through HootSuite's Higher Education Program, Adelyn was put in touch with other students and HootSuite Campus Ambassadors who shared her passion for social media. They discussed the industry and practical tips, learning about social media while building valuable personal connections.
"The core of social media is being social, after all, and HootSuite's Higher Education Program allowed me to connect all of the digital with real people and real uses," Adelyn said. "I feel that HootSuite is a tool for networking with people in your industry and allows you to congregate easier around conversations that interest you or your brand. It helps you to pinpoint those conversations with search streams and makes it all to easy to join, quantify and make the most of them."
Social Media and the Job Hunt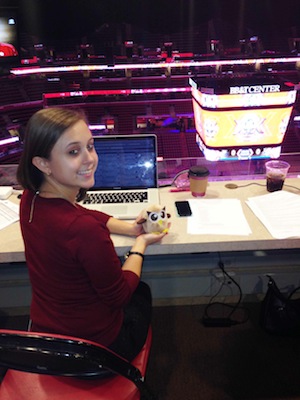 According to a Jobvite survey of recruiting professionals, 94 percent of hiring managers use social networks at some point during the recruiting process, and 93 percent say they are likely to look at candidates social profiles. To improve your odds while on the job hunt, consider how you might use networks other than LinkedIn to connect with decision makers at companies you're interested in. Here's what Adelyn suggests:
"HootSuite's Higher Education program, and the educational content from HootSuite University, taught me that people are accessible. It's inexcusable to just submit an application online. Applicants (especially those seeking social media jobs) would be remiss to not reach out to HR managers and employers on Twitter or LinkedIn."
Beyond connecting with hiring managers, social helps you gain experience and knowledge that will help you during the interview process. By engaging industry professionals in forums like the #HSUchat Twitter chat, Adelyn was exposed to a number of professionals working in social media in disciplines ranging from sports to healthcare. Between these social experiences and the more structured education of the Higher Ed program, she gained insight that proved useful in her pursuit of a social media job.
"I certainly think that being HootSuite Certified helped in my job hunt. In all of my interviews, I spoke about my experience with HootSuite, both through the Higher Ed program and my time as a Campus Ambassador," Adelyn said. "It helped me paint the picture of my experience in social media and also helped me to shape the strategy and skills that I could bring to those positions I was interviewing for."
Working in Social Media:
Through her drive and commitment to social media engagement, Adelyn earned a fantastic job with the Florida Panthers. Now, working in social media, she still looks to the HootSuite case studies and videos to "refresh and reset her ideas." "
"The background of the coursework and participation in HootSuite Higher Ed gave me the confidence and framework to make decisions and drive engagement," she added.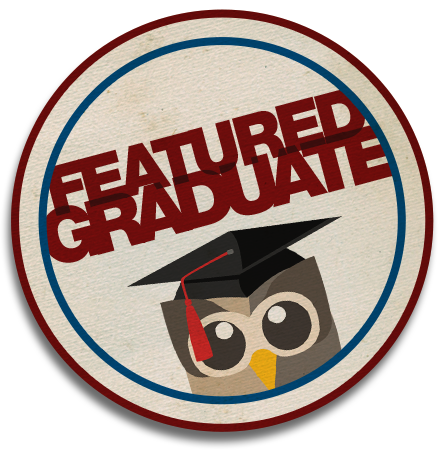 A big thanks to Adelyn Biedenbach for sharing her story and insight with us. You can follow her on Twitter here.
Are you a professor teaching social media in your classroom? As part of HootSuite's Higher Education program, students and professors are given free access to HootSuite Pro and HootSuite University for 90 days. Empower yourself and your students with the skills needed for today's digital workforce.