An Ode to Social Media Moms
Let's talk about moms. With Mother's Day just around the corner (Sunday, May 12, for the stragglers out there), we have an overflow of heartfelt sentiment and appreciation for these special women in our lives. They've been there for us to soothe every wound, fill our bellies, and remind us to put on a jacket. They're strong, wise, and now, more than ever, a lot of them are incredibly tech savvy. In fact, more women use social media than men in North America. Your mom is probably on Facebook.
In honor of Mother's Day, we wanted to recognize women and their influence in social media. Let's give it up for the mommas out there who broke the stigma of a male-dominated tech industry; the successful "Mommy Bloggers" who continue to bestow their wisdom upon millions of readers every day. Through social media, moms have been able to speak out, share their expertise, and engage with their audiences. Even Groupon had their "mom" hashing out Tweets with all their followers for a day: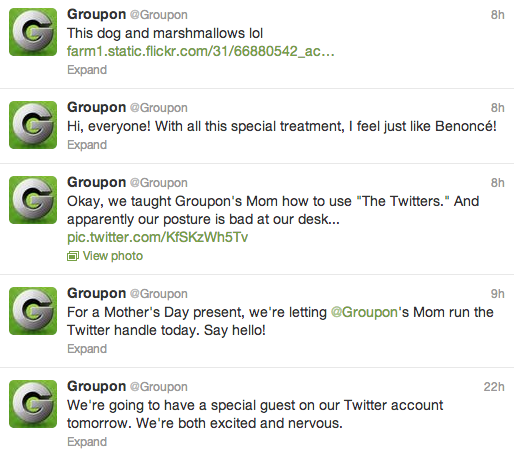 Sure, some of them just use Facebook to play Farmville. But many are doing some amazing things.
Some are funny:
For all who were mortified when your mom joined all of your favourite social networks, here are a few redeeming Tweets from some really cool moms who have taken Twitter by storm. 
"If you haven't listed every single thing your kid is afraid of and hates to eat and told them "THAT'S WHAT JAIL IS" You're doing it wrong." – Kelly Oxford, @kellyoxford (Screenwriter & New York Times Bestselling Author)
"You may not have candy for breakfast, now finish your pop tart." – Laney Griner, @laneymg (Mother of baby in "Success Kid" meme)
"The singular sign of a parent who is doing their job is their unwillingness to let their children watch the Star Wars prequels." – Heather B. Armstrong, @dooce (Professional Blogger)
Some are helpful:
While being a mom is a full-time job, these women have been able to showcase their incredible talents through the help of social media.
Karen Walrond, @Chookooloonks
Tweets about: photography, legal tips, general advice
Stacey Ferguson, @justicefergie
Tweets about: tech, social media, legal tips
Heather Solos, @HeatherSolos
Tweets about: home decor, organization, and kitchen skills
Some are inspirational:
Who cares more about you then your mom? But even with all that love pointed your way, moms have made room for other people in their hearts. Check out these moms who are using social for some very good reasons:
Jennifer Perillo, @JenniferPerillo
Katie Allison Granju, @kgranju
Katie lost her son to a drug-related incident in 2010. She shares this tragedy via social media in hopes to encourage other parents who might be experiencing the same grief.
Brene Brown, @brenebrown
Brene uses her blog and tweeting to inspire her followers to be courageous through tidbits of wisdom on authenticity, vulnerability, and empathy.
At the end of the day, all we want is for you to take your mom out to brunch. #MomsRock
Want to follow some amazing moms on Twitter? On the HootSuite social media management dashboard, you can create a stream to follow a list of all your favourite Tweeps.
You can also learn more about Women in Technology right here on our HootSource blog: The Power & Influence of Women in Social Media, Women in Technology: Balancing Out the Pool, Women in Technology: Education & Mentorship Programs.