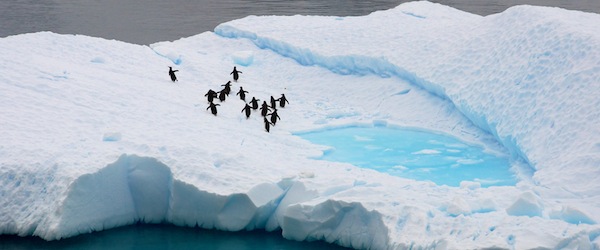 Social Media Tactic: The Tip of Your Social Media Iceberg
Behind every brand's Instagram upload, Tweet, or Facebook post there should be strategy. While a Tweet may appear singular and effortless, these updates should actually be just the tip of the iceberg, and below the surface is a more complex social media ecosystem of new technologies, products, and services that make up a brand's social media strategy.
A Common Misconception in Social Media
Understanding the digital and social media ecosystem is challenging. It's especially challenging when the common misconception suggests that social media is more superficial than it really is. What the majority of people don't understand is that social media is more than just the sum of its popular social networks. It's a complex digital ecosystem that is constantly changing and expanding, and too often organizations start to incorporate social by adding technologies and tactics. In order to navigate this ecosystem, your company needs an advanced social media strategy in place first.
This the why HootSuite partnered with Newhouse to create the Advanced Social Media Strategy (ASMS) certification program. The ASMS certificate addresses this misconception and breaks down the entire social media ecosystem at a strategic level, for professionals looking to accelerate their digital skills and knowledge.
Understanding the Iceberg
In the first module of the course, the analogy of an iceberg is used to represent what social media looks like to the casual observer and what social media is to brands deploying their marketing strategies.
When imagining the visible part of the iceberg above water, this is comparable to the visible parts of social media social media and reflects the tactics being deployed – over Facebook, Linkedin, Twitter, Tumblr, and so forth.
Now picture the rest of the iceberg that is submerged, dwarfing the tip that is out of the water. This is reflective of the strategies behind the tactics, and of the company's mission, values, goals, and objectives they want to accomplish with a social media strategy.
These components of advanced social media strategy are usually not visible from the outside of an organization or campaign, and include:
Social Research – Audit your current social media status and assess how it is working for you. Determine which sites are the most beneficial to post to and when to post to them.
Monitoring – Listen to relevant conversations online and figure out who is currently connecting to you via social media, which social media sites your target market uses, and how your social media presence compares to your competitors.
Training and Support – Ensure you and your team are well versed in the fundamentals of social media. Fundamental social media training and education within HootSuite University will help any organization get up to speed with current social media strategies.
Measurement and ROI – Identify the right metrics to use to measure your progress towards social media goals. Find out who's reading, responding to, and reposting your social media posts.
Audience Analysis –  Identify your target audience for each type of content.
Content Planning –  Identify what type of content you intend to post (and where), and promote via social media.
Social Media Objectives – Choose social media goals that tie back to your key company objectives.
Social Capacity – Decide how large you want your social media presence to be, and how you will manage it.
To make sense of the underlying strategy, components, and infrastructure being built around the bigger social media ecosystem, enroll in the Advanced Social Media Strategy certification program.
This blog post is the second in a series about the Advanced Social Media Strategy (ASMS) certificate. Each post will give the reader tips about improving your social media strategy as well as provide insights into the ASMS certification program.